Welcome back to the second quarter of the Modern HST Sampler! If this is the first time you're reading this, fear not, you can join in at anytime. Start with this one or go back to the beginning, it's up to you. This year, we're making 24 modern half-square triangle quilt blocks, and by the end of the year, you will not only have a beautiful sampler quilt, but you will have some well-honed HST making skills. If you need more information, you can find out more about:
This quilt along has been structured so that you slowly ease your way into half-square triangles. We started off with 4″ finished HSTs (4.5″ unfinished), and now we're tackling 3″ finished HSTs (3.5″ unfinished) for this quarter. We're still using the same methods of making the half-square triangles – 2 at a time, 4 at a time, and 8 at a time – it's just that this time the HSTs are a little smaller at 3″ finished (3.5″ unfinished). This week's block looks quite reminiscent of Mountain, however, thankfully Jess and I happened to have designed them in "mirror image" and also using different construction methods – this one doesn't leave any spare HSTs, and incorporates print squares too. Plus, I designed mine to point sideways not up like Mountain 😉 but of course you can point it whichever way you like!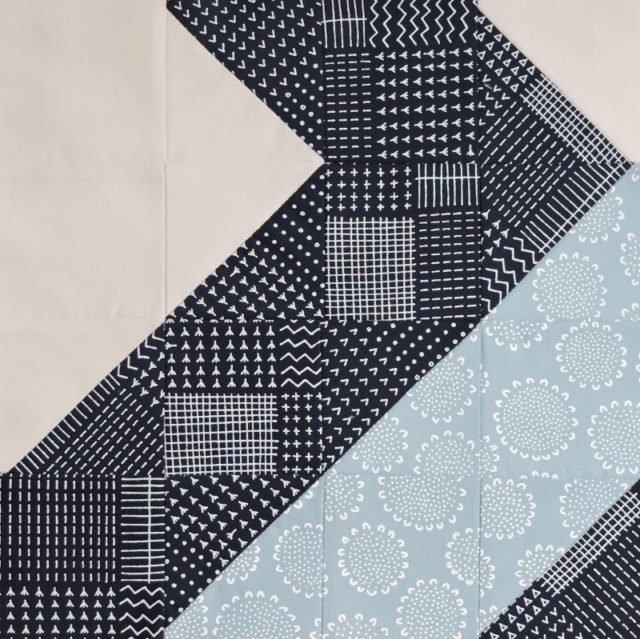 Fabrics used from the Modern HST Sampler Kit:
Blueberry Park Navy Rough Patch, Blueberry Park Fog Dotty Sunflowers, Kona Oyster
Diagonal
Fabric Requirements
Print 1 (navy)
4 – 3.5″ x 3.5″ squares
2 – 6″ x 6″ squares
Print 2 (light blue)
2 – 3.5″ x 3.5″ squares
1 – 6″ x 6″ square
Background
2 – 3.5″ x 3.5″ squares
1 – 6″ x 6″ square
Block should measure 12.5" x 12.5". Use a 1/4″ seam and press seams toward the darker print, or as directed.
Instructions
Step 1. Pair a 6″ Print 1 square with the 6″ background square and make four HSTs. Open the HSTs and press the seam towards the print fabric. Trim to 3.5" square. Repeat for the remaining 6″ Print 1 square with the 6″ Print 2 square.
Step 2. Arrange the HSTs and remaining squares to create the Diagonal block layout. Sew the squares and HSTs together to form rows, pressing seams in each row in alternate directions in order to nest seams and reduce bulk. Sew the rows together, pressing the seams open.
Step 3. Press the block, and trim to 12.5" square if necessary, keeping 1/4″ between the outer HST points and the edge of the block.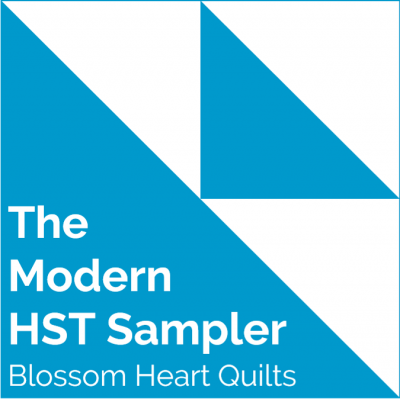 I hope you enjoy making Diagonal too! You can share them on Instagram using #modernHSTsampler (and feel free to tag me too – @blossomheartquilts!), or in the Blossom Heart Quilts group on Facebook, or even link them up to Sew Cute Tuesday. If you have any questions, please don't hesitate to ask in the comments.
Click here for all the Modern HST Sampler quilt block tutorials
Special Announcement
There is something quite special happening this month called May Is For Makers. Please go right now and read the post, because Lindsey has pretty much written everything I could've said, having touched on something that's been on my mind a lot lately – that struggle as a passionate designer between designing everything yourself, and supporting others around you because you know just how much bloody hard work and sweat and tears go into making patterns! The point of May Is For Makers is to buy 5 patterns, one per week (Lindsey suggests one per Monday as there are five Mondays in May), and to share what pattern you have bought and why. It's a great way to share your favourite designer's work with your friends and also a great way to say thank you to the designer for all their hard work!
I know from a recent survey (more on that later this week) just how many people rarely buy patterns because there's so much good, free content around the place. But do you know why so many of us, like me, can do that? Because we also offer paid patterns to help support us. As Lindsey also says, this isn't about getting people to buy our own patterns (in fact, I may be breaking all the "blogging rules" by deliberately not linking to my shop here!). Yes, that would be a nice perk, but it's about supporting your favourite designers and thanking them for their work.
So I thought today's blog post would be a good opportunity to share this campaign, and encourage you to think of who are your favourite bloggers who offer you great content (whether that's tutorials, eye candy or interesting reading) and also sell patterns or products. If shipping is a concern, then simply buy PDF patterns or an ebook! Here are just some of my favourite bloggers (in no particular order) who offer amazing content and also sell products to help get you started:
And so many more are out there too! Please leave a comment sharing your favourite bloggers/designers so that we can check them out too.