Second to squares, half square triangles aka HSTs are the most basic building blocks of patchwork. They can also be quite daunting, with points that get lost and fiddly trimming. But oh my dear, how rewarding it is when you conquer them! And that's the aim of the Modern HST Sampler quilt along – enabling you to sew HSTs with confidence and ease.
Over the next twelve months, we're going to be sewing 24 blocks using a variety of sizes and amounts of HSTs. To do so, there's three methods of making half-square triangles that we're going to be using over and over. So check them out, have a read, and familarise yourself with how they work.
Main ways to make HSTs
1. The standard method of making half-square triangles is using two squares of fabric to yield two HSTs. Straightforward, no bias edges to contend with, easy. But slow if you need more than 2 HSTs in that fabric combination!
2. The alternate half-square triangle method uses two bigger squares of fabric to yield four HSTs. More efficient, will have bias edges if you cut the squares on the grainline, much quicker if you need more!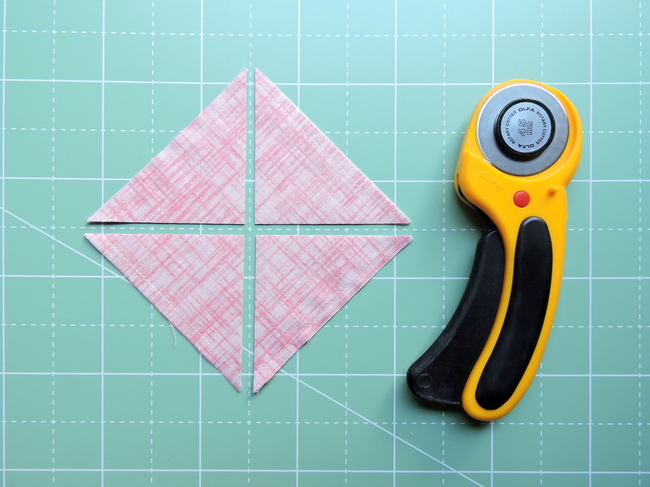 3. The double alternate method, or Magic 8 HST method, of making half-square triangles uses two even bigger squares of fabric to yield 8 HSTs. Very efficient, no bias edges, and great for making lots of HSTs at a time!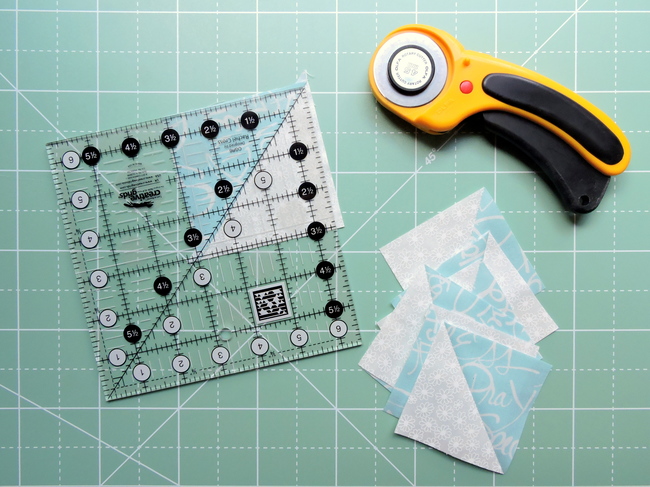 Other methods
And just to fully round out your HST education, here are two other methods for making HSTs to keep up your sleeve…
Did you know you can make HSTs from strips of fabric? If you have a jelly roll, you can make 2″ finished HSTs! And if you've got wider strips of fabric, you can therefore make bigger HSTs.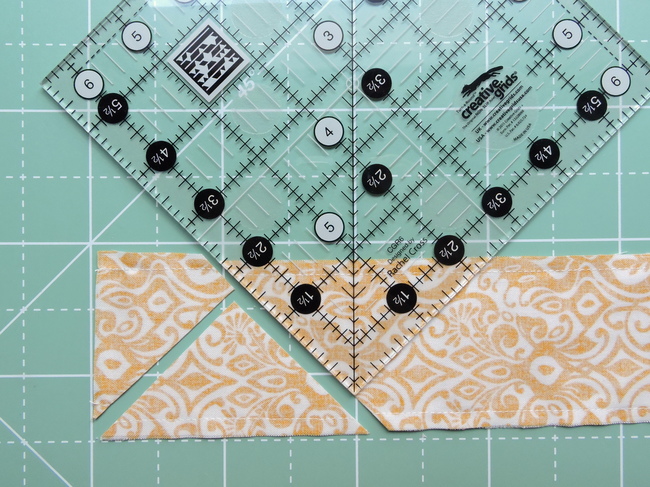 The other way to make many half-square triangles at a time and that are also highly accurate is to use HST paper templates such as Triangles On A Roll, or Triangle Paper. While you can still easily use these papers to make a few at a time, if you're wanting lots of HSTs using the same fabric combination, this is definitely the way to go.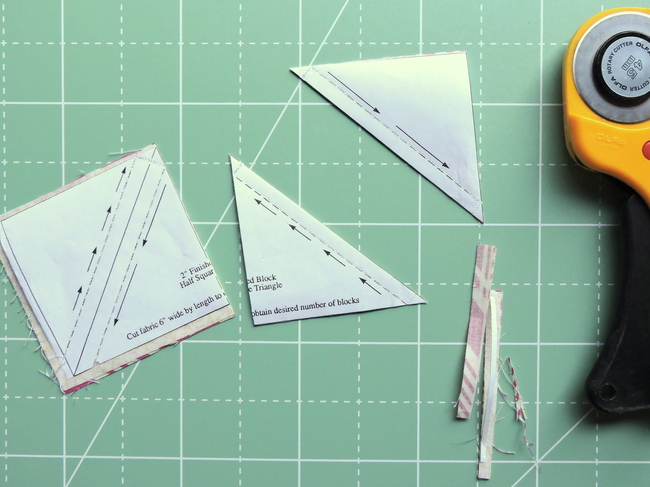 Tips for Accuracy with HSTs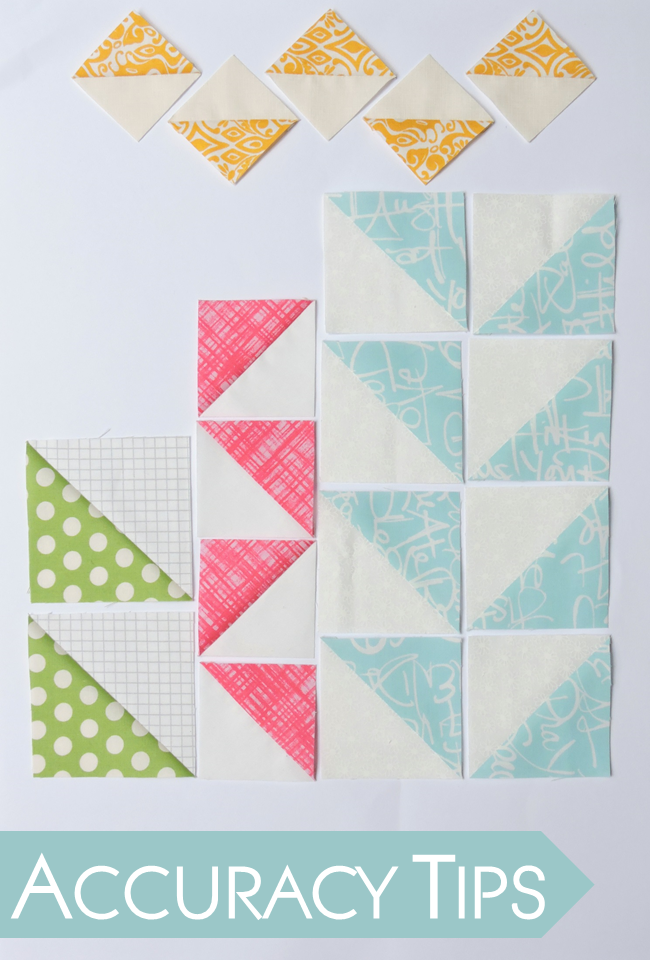 To help keep those points nice and pointy, remember these tips, and in this order:
Cut. It's always important to cut accurately, but considering the added steps between cutting the squares of fabric for making HSTs and the finished HST unit, any wonk or lost millimetre at the cutting stage will be amplified down the track.  To compensate, cut your squares slightly larger than needed now, so that you can easily trim to the perfect square HST later. Also, make sure your rotary blade is shrp, and your cutting mat smooth.
Sew. If you've cut your squares slightly larger than necessary, you will have a little more leeway here with your 1/4″ seam. However, make sure you're not underestimating the seam allowance either! And it still important that your seams are straight – wonky or curvy seams will effect the flatness of your HST, as well as your ability to keep those points nice and pointy.
Press. Press, press, press. I cannot stress this enough! Press your HSTs open properly when you've cut them apart, and press the seam towards the print/darker fabric. A finger press will not do the job properly for half-square triangles, you definitely need to get out your iron for the best accuracy.
Trim. Do not skip this last step. I mean, don't skip any of them, but if nothing else, at the very least you have to trim the HSTs. This is where the magic happens, by making sure that the HST is the correct, square size needed to sew into your block. Use a small, square ruler (I highly recommend the Bloc Loc rulers!) and align the 45 degree line on top of your seam. Trim the edges straight and the dog ears (the point seam end bits that stick out in the corners) off. Rotate the HST unit and repeat for the other two sides.
Half-square triangles are not a unit that can be rushed. If you take your time, you will be highly rewarded with a beautiful block of HSTs! That's not to say you can't be efficient – batch produce each stage instead of doing the cut, sew, press, trim steps for each set of squares individually. Cut them all, chain piece them all, press them all, and then trim them all. The more you use them, the quicker you will become as your muscle memory takes over.
So, are you ready for the first block on Monday?! I know I am! If you have anymore questions or concerns, or tips of your own, be sure to share them in the comments!