With the Modern HST Sampler QAL starting next week, I wanted to share a few tools you might like to have on hand to help you create beautiful and accurate quilt blocks, and especially the HSTs within them.
Minimum requirements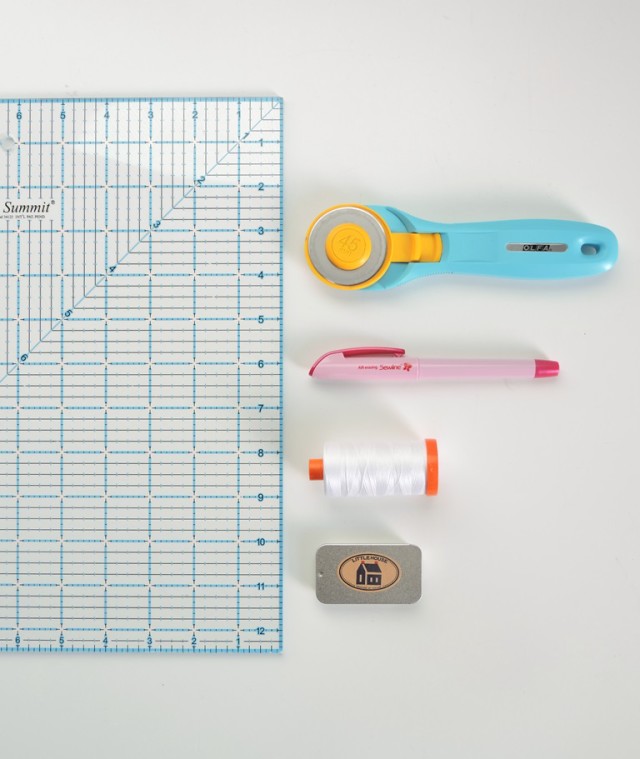 You're going to need a ruler that measures at least 4.5″ x 12.5″, and that has a 45 degree line marked on it. I don't think I've seen any rulers that don't have this line, but I wanted to make sure you are aware of this line on them!  Why 4.5″ with the line? This is so that you can trim and square up your HSTs once they're sewn and pressed open – you align the 45 degree line on your seam. Why 12.5″? So you can cut larger fabric pieces, and trim your quilt blocks to 12.5″ square. It'd be easiest if you have a 12.5″ square ruler, but if your ruler isn't 12.5″ square, you will just need to use your cutting mat markings to help cut fabric and square up blocks.
Make sure you've got a pencil or temporary fabric marker on hand to mark fabric for making the HSTs. I personally like the Sewline fabric pen best, as it is so smooth to use on fabric, but I also use a pencil if that's closest!
You will also need your standard quilting basics like a rotary cutter, neutral thread for piecing (I use Aurifil 50w in 2021 or 2024), pins if you like to use them when sewing, and an iron.
Recommended rulers
I get it, rulers can be expensive, but they are something you use over and over and over again in your quilting. And why should you invest in more of them? Because the smaller the ruler/the closer the size of the ruler to the fabric you're cutting, the more accurate the cutting or trimming of your fabric and HSTs. This is because you have less ruler to manage and thus less chance of slipping and accidents. There are two that I recommend you have on hand for the Modern HST Sampler QAL.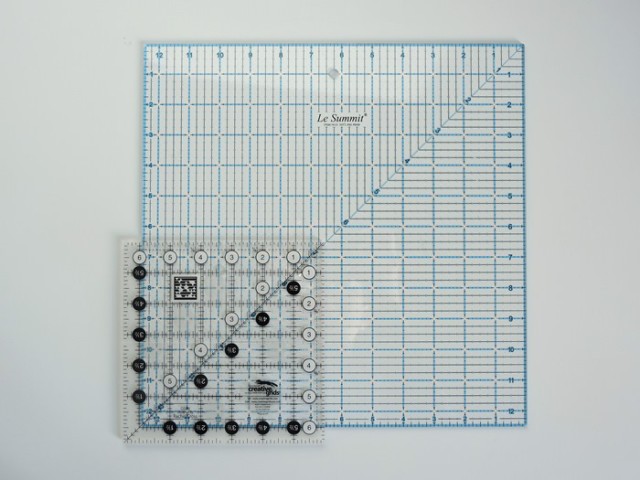 6.5″ x 6.5″. Square rulers are incredibly versatile! This size will help you accurately cut the smaller pieces needed for your blocks, as well as to trim your HSTs. I use and love the Creative Grids version, as it includes the whole and half inch measurements, has two frosted sides marking a 1/4″ line, and the other two sides have a 1/2 frosted line. The bottom also has textured spots manufactured into the ruler to grip onto your fabric!
12.5″ x 12.5″. The 12.5″ square ruler allows you to accurately cut larger pieces of fabric such as the larger squares of fabric for making HSTs, as well as squaring up the quilt blocks! I have a generic one bought at Spotlight, but almost look forward to the day it breaks and I can get the Creative Grids one… no, seriously!
Rulers available at my sponsors:
Gotham Quilts
The Loopy Ewe
Shabby Fabrics
Fat Quarter Shop
Luxury recommendations
Bloc Loc HST ruler. If you invest in a new ruler for this quilt along, MAKE IT THIS ONE. The Bloc Loc rulers come with a special "channel" cut in the bottom that locks onto your HST seam, trapping it and holding it tight so that it doesn't slip around while you're trimming the many HSTs you'll be making over 2016! After using other rulers to trim my HSTs for years, I finally got one at QuiltCon last February. Life. Changer! I definitely wished I had gotten it earlier! They come in a range of sizes, from 1.5″ (HSTs to finish at 1″) up to 12.5″ – if you have the exact same size as the unfinished size of HST you're trimming, you can simply trim all 4 sides at once. Otherwise, you just rotate the ruler and HST and trim two at a time. I have the 5.5″ one as that was all the store had left, but a 4.5″ one will cover you for this quilt along.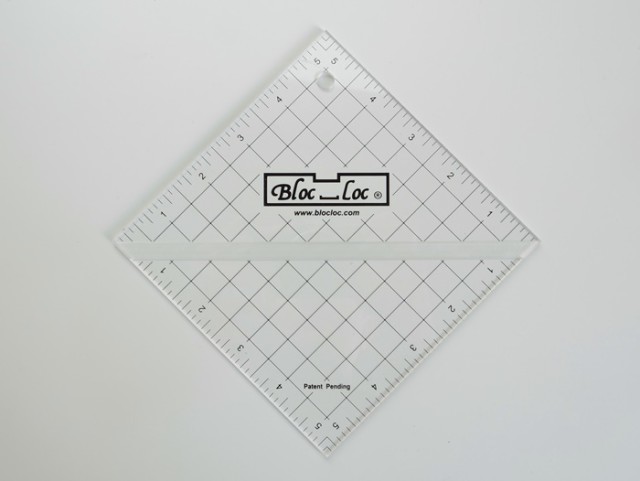 Available from:
Fat Quarter Shop
Rotating cutting mat. This is one that I don't actually have myself yet, but is at the very top of my quilty wishlist. In fact, it's the very first thing I will be buying when I move back to Australia at the end of March! As I am also making 99 tiny 6″ finished blocks for the 1930s Farmer's Wife quilt, I know how much of a game changer it will be to be able to trim blocks and HSTs by simply rotating the mat instead of both the ruler and the fabric. Several friends have purchased one themselves because of the Farmer's Wife quilt, so I definitely know how highly useful it is for cutting and trimming.
Available from my sponsors here:
Shabby Fabrics
Fat Quarter Shop
I am very aware that quilting is an expensive activity, so please don't think that you need to rush out and grab each and every one. None of these recommendations are absolutely, 100% cannot-QAL-without-them tools, but they definitely will make your Modern HST Sampler life 00% easier this year! I have slowly purchased them (or, WILL purchase them, ha!) over the years and I would not be recommending them if I did not absolutely love them and how easy they've made my sewing.
What about you? What are your favourite quilty tools to recommend?