Having gotten into quite a rhythm designing, making and sharing quilt block tutorials, I wanted to keep up the momentum in 2016. And what better topic to focus on than a modern HST sampler, and make it into a proper quilt along!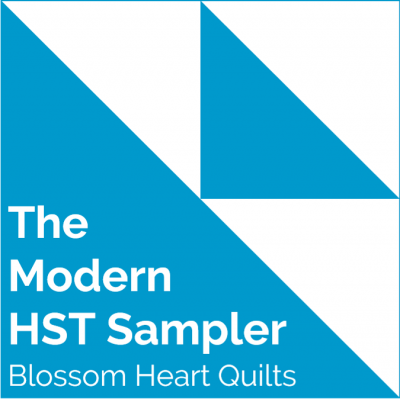 The Modern HST Sampler quilt along uses 24 half-square triangle block designs from myself and select Australian guest designers to teach you a variety of methods to create HSTs. Starting off easy with simple designs and large HSTs, you'll be very comfortable working with half-square triangles of all sizes and combinations by the end of the year!
About the quilt
Throughout 2016, we'll be making 24 quilt blocks. Each one finishes at 12″ (12.5″ unfinished), and will feature a range of HST quilt block designs that range from the familiar, to more unique and modern designs. The designs are also a mystery until they're released, to make it more fun!
The quilt is designed to be finished with 2″ finished sashing, which makes for a finished quilt size of 58″ x 86″. As-is, it makes a generous single/twin bed-sized quilt. Adding a slightly wider outer sashing/border would easily bring it up to a double/full bed-sized quilt.
Why the Modern HST Sampler quilt is unique
Being very involved in the Farmer's Wife 1930s Sampler Quilt sew along has made me very aware of just how daunting half-square triangles are to many quilters, something I hadn't really noticed so much before. HSTs are something I'm very comfortable with myself, and I want to help you become more comfortable with them too! So the Modern HST Sampler has something very unique about it.
Most, if not all, HST sampler quilts feature sixteen-patch block designs. This means that all the half-square triangles are 3″ finished. In the Modern HST Sampler, we will actually be making a mix of nine-patch and sixteen-patch blocks.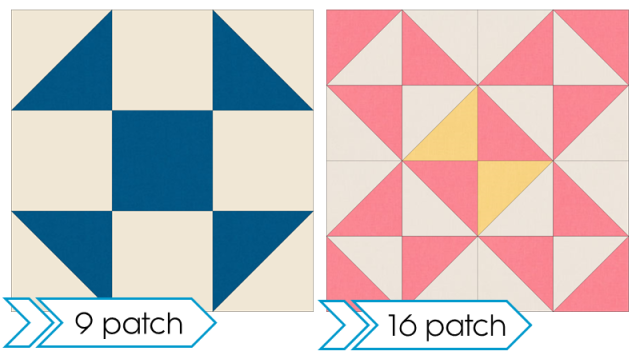 What does that mean? It means that we'll be making a range of sizes of half-square triangles, ranging from 1.5″ finished to 4″ finished. Fear not, we're easing into the smaller ones! We're also going to be covering the three main ways of creating half-square triangles – traditional (2 at a time), alternative (4 at a time), and eight at a time – to get you really comfortable with all methods and options of making HSTs.
I've carefully structured and ordered the block designs to start with the easiest nine-patch blocks, and thus 4″ finished HSTs, and work our way to more complex block designs at the end of the year. I will add in one more little juicy hint about the blocks – they also include squares and/or rectangles in the design. Not every single patch of the block is an HST!
Guest designers
It has been so much fun working with other designers and aesthetics over the past year, that I wanted to do it again. And the guest designers didn't let me down, they have certainly got some WOW blocks in store for you! Who are they? Well, we have Jane from Quiltjane, Ms Molli Sparkles, Keera from Live Love Sew, Melissa from Ms Midge, and Jess from Elven Garden Quilts. All of these people are incredible designers, whose work I absolutely adore and also bring different styles to the table.
Quilt along dates and details
The quilt along officially starts when the first tutorial goes live on January 11! A new Modern HST Sampler tutorial will be shared roughly every fortnight (every other week).
Community

What's a QAL without a hashtag?! If you're sharing your blocks and progress on Instagram, the official tag to use is #modernhstsampler – by adding this to your photos, we can all easily check out your work and double tap that photo to heart it!
You can also use the Blossom Heart Quilts Facebook group to share your progress and chat with other QALers, whether that's asking questions or celebrating your HST successes, and of course cheering on others.
And at the end of each quarter (every 3 months), there will be opportunities for you to share your progress on the blog via a linky party. You don't need a blog to be able to link up – you can add photos directly from Instagram, or even just straight from your computer!
Fabric needs
Ooh, now here's the fun part, hey?! Fabric talk! You will need:
16 fat quarters of assorted prints
2 1/2 yards background fabric
1 1/2 yards sashing fabric
5 yards backing
min. 62″ x 90″ batting
5/8 yards binding
It's hard to be prescriptive about how many prints to choose, as it depends totally on how you interpret the block designs, and how many colours and/or prints you want to include. Having said that, I recommend choosing a palette of 4-5 colours, with 3-5 fat quarters for each, to make a pretty stack of fabrics to choose from for the year.
But here's the fun news that will definitely make the fabric choosing part of the process sooo much easier for you – the Fat Quarter Shop have teamed up with me to offer you a Modern HST Sampler quilt kit! Inspired by the rich colours of Morocco, this bundle includes everything you need to make your Modern HST Sampler quilt top, including the sashing and binding.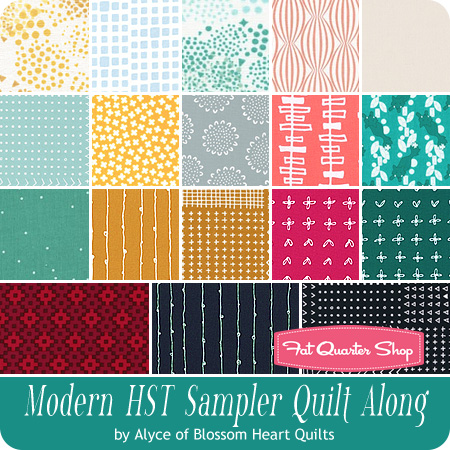 I carefully selected the prints, inspired by my Moroccan Story board on Pinterest, to include a range of light and dark shades within each colour. There's dark and mysterious navy, jewelled pinks, rich turquoise, and golden mustard, all set against the sandy colour of Kona Oyster for the background and sashing, and framed by a deep turquoise binding. I will be using this bundle myself to sew my Modern HST Sampler quilt! It includes prints from Blueberry Park by Karen Lewis Textiles, Rhoda Ruth by Elizabeth Hartman, Anna Elise by Bari J., Cotton + Steel, and Art Gallery Fabrics. This colour palette has long been calling out my name, I just can't resist the saturated beauty of the deep jewel tones. I can't wait to start playing! The Modern HST Sampler kit is expected to ship in early January, so be sure to click the magic pink words – Notify me when this product is in stock – so you can snap it up when it's in!
So, what say you? Are you in? The easiest way to make sure you keep updated on the Modern HST Sampler blog posts is to follow my blog – you can follow via Bloglovin or your preferred RSS reader, you can get daily emails of blog posts, you can subscribe to my newsletter which goes out every Tuesday and includes the links to the past week's blog posts.
If you have any questions, leave a comment below and I'll get back to you!