The only possible way to end this year off for Blossom Heart Quilts is to share my finished sampler quilt top of all 25 blocks from The Bee Hive quilt block tutorial series! Which ended up too big for my quilt holder to hold, so pinned up on a wall (that's juuuust too small to hold it properly!) it was… No glamour shots here today, folks.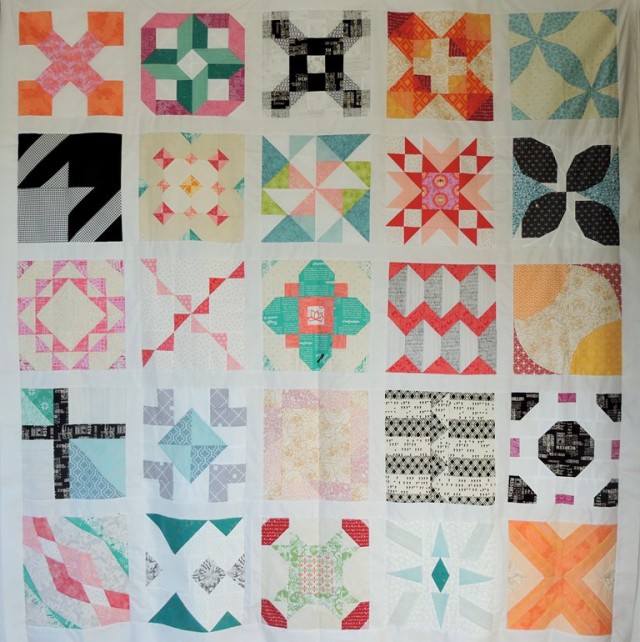 When it came time to decide the layout, I realised I could either spend an hour fussing around with colours and value placement, or I could just go for a chronological by starting with the first block, Tic Tac Toe, and working my way across and down to end with Treasure Hunt. As you can see, I went for chronological with one minor difference – I moved the Quatrefoil quilt block to the very centre as I used my favourite fabrics for it, in particular the lotus flower in the middle.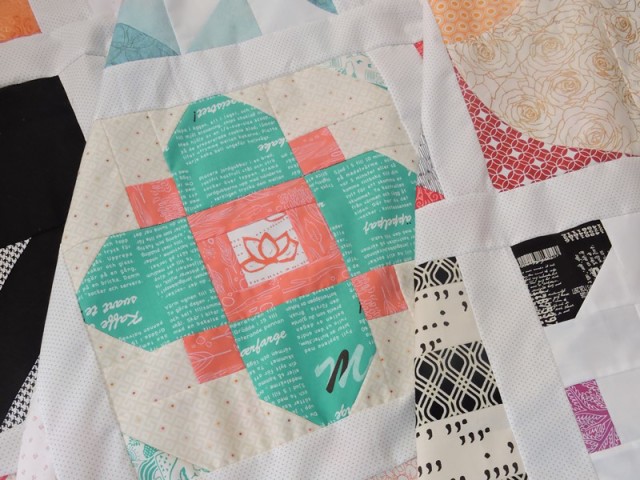 I was tossing up whether to do cornerstones or not between the sashing, but decided that I wanted as much space between the blocks as possible to let them breathe and shine on their own. I used a tiny Daiwabo dot fabric so that it had a little interest and colour to try and unify the various background fabrics I used within the blocks.
As for my last post, How To Quilt A Sampler Quilt, and this sampler quilt in particular? Well, I'm not going to be quilting it for the next few months, at least. As it finishes at 72″ x 72″, adding batting, backing and a ton of thread for quilting would add too much weight at a time when I'm trying to keep weight low low low ahead of our move back to Australia! One option I'm considering is to send it on ahead to Australia by itself to a long-armer… less to pack, and already getting ahead of the game because from mid-March to early July, I won't be sewing much, and especially not quilting a large quilt, while moving back/staying with the in-laws for 3 months.
So there we go,  fabulous end to the year! There is just one more post for this year, already scheduled in for Christmas Eve – a special present from me to you! So stay tuned for that, and I'm off to enjoy the kids' winter holidays and our final Christmas here in Japan.