Jess is the next guest designer, sharing the fifth block for the Modern HST Sampler QAL. If you need more information, you can find out more about:
Hi, I'm Jess, otherwise known as Elven Garden Quilts. I'm the mum of three smallish people (11, 8 and 5) and I'm obsessed with all things quilty. I'm a scientist by training, but since having my youngest child I've discovered quilting and I'm now lucky enough to work in the textile industry. I work part time at a fabric shop, teach a huge variety of patchwork and quilting classes on a weekly basis, design for magazines and blog in between all these things.
When choosing fabrics for this block, you could choose a dark, medium and light colour fabric from a single colour family as I have done, or I think it would also look great if you use three colours adjacent to each other on the colour wheel (for example blue/green/yellow).
You can also find me at:
Instagram | Facebook | Pinterest | YouTube

Mountain
Fabric Requirements
Fabric A (navy)
4 – 5" x 5" squares
Fabric B (teal)
3 – 5" x 5" squares
Fabric C (pale aqua)
1 – 5" x 5" square
Fabric D (background)
1 – 4.5" x 4.5" square
2 – 5" x 5" squares
Block finishes at 12.5" x 12.5". Use a 1/4″ seam and press seams toward the darker print, or as directed. You will have a leftover HST unit – save it for potential use later on.
Instructions
Step 1. Pair up the 5" x 5" squares as shown in the photo below, i.e. two navy/teal pairs, two navy/background pairs, one teal/aqua pair. Use these pairs of squares to make four navy/teal HSTs, four navy/background HSTs and two teal/aqua HSTs. Open the HSTs and press the seam towards the darker fabric. Trim to 4.5" square.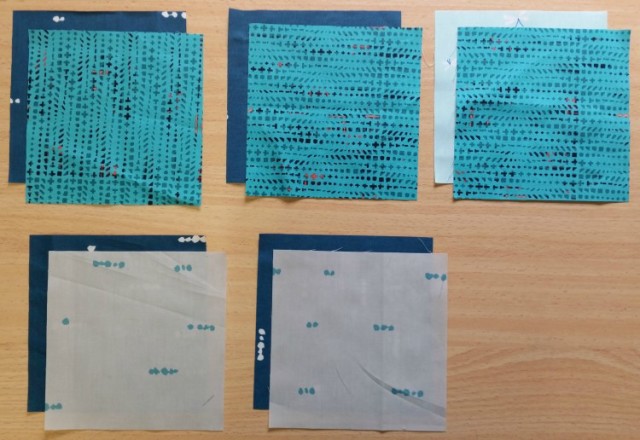 Step 2. Arrange the HST units from step 1 and the remaining background pieces to create the block.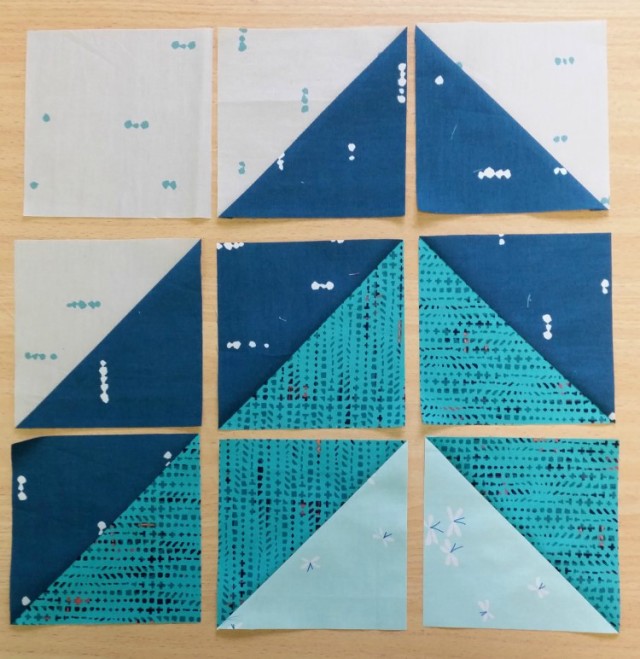 Step 3. Sew the block components into rows, pressing in the direction indicated by the arrows.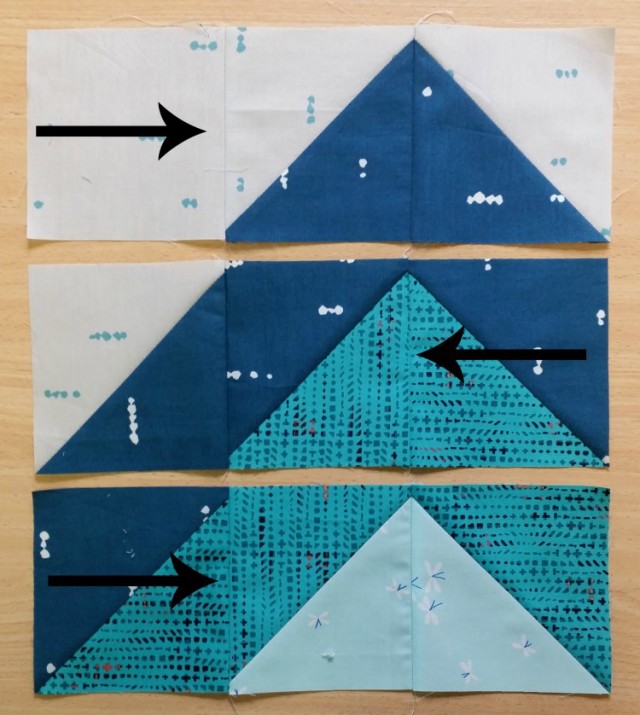 Step 4. Sew the rows together, pressing your seams open.
Step 5. Press the block, and trim to 12.5" square if necessary, keeping 1/4″ between the outer HST points and the edge of the block.
Alyce's Block
It's blocks like these that are why I chose the fabrics that I did for the kit! I love me some colour play, and Mountain provides the perfect opportunity to use three shades of the same colour. Of course, make it your own, just like you all have been doing already! I'm loving seeing how you're all interpreting the block patterns.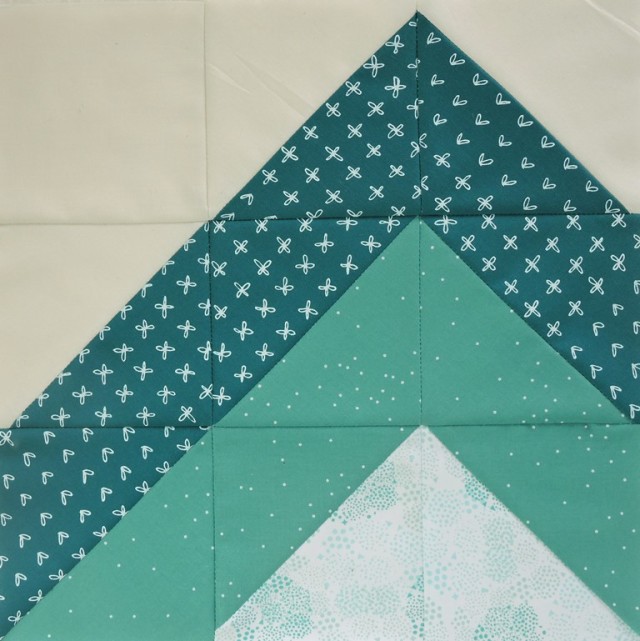 Fabrics used from the Modern HST Sampler Kit:
Blueberry Park Ultra Marine Sprouting Row, Cotton + Steel Basics Turquoise Sprinkles,
Anna Elise Frost Geo Mist, Kona Oyster
You can always interchange the methods to work better for your fabric or preferred methods. Be aware that if you're using the kit, the fabric was calculated to use the recommended methods. You should be ok to interchange occasionally, but just be aware of this factor.