Half square triangles are incredibly popular blocks in quilting, as you have seen in The Bee Hive! This week, we're going to have a look at a few different HST tutorials (and the maths formula!) to make half square triangles, or HSTs, to help you improve your skills, your confidence and your accuracy.That way you can choose which method will work best for the pattern you are making and for the fabric you have to choose from! Just swap methods to create the desired finished size of HST, and you'll be good to go.

HST Tutorials
Let's take a look at the most common ways to construct HSTs – the standard and alternate methods. You can find the full HST tutorials and the math formula already on my blog!
Standard Method
The standard method is the one where your two squares of fabric yield 2 half square triangle units.
Alternate Method
The alternate method uses larger squares of fabric to form 4 half square triangle units.
These methods are great for when you're working with smaller pieces of fabric, like scraps, or charm packs and layer cake precuts. It's also very useful when you only need a small amount of half square triangles, either in number or in that particular fabric combo, for a quilt block.
The HST tutorial and math post goes into more discussion about which method is better for what situation, but I will mention it here too because I know some of you will be wondering – if you cut your alternate method squares with the grain, your HST edges will be on the bias. This really isn't a problem if you're aware of this potential problem and sew and press carefully. Or you could be sneaky and cut your squares on the bias so that your HST's edges will be straight on the grain!
Patterns

The kinds of patterns that work well for these methods need only a few HSTs in a particular colour combination.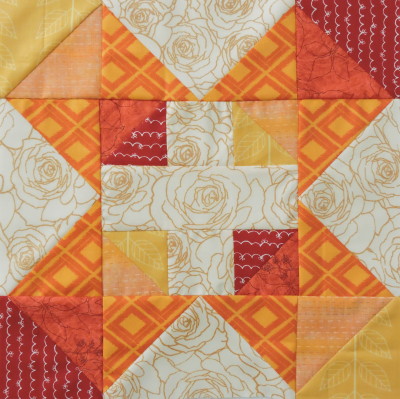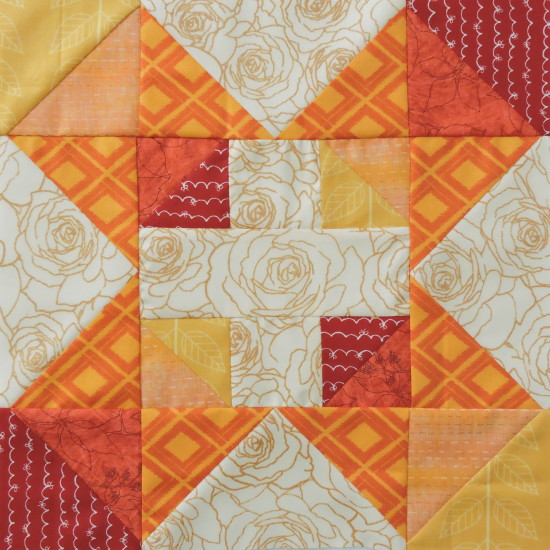 You use the standard method to create the HSTs in the Autumn Chain block.
The alternate method would be useful for using a few different combos of print/background HSTs for the Ripples block.
Other HST tutorials:
– HSTs: Eight A Time
– HSTs: Strip Method
– HSTs: Triangle Papers