Half square triangles are incredibly popular blocks in quilting, as you have seen in The Bee Hive! This week, we're having a look at a few different ways to make half square triangles, or HSTs, to help you improve your skills, your confidence and your accuracy! Today we're looking at HST triangle papers – this is the best, most accurate method of creating large amounts of half square triangles, but also works for smaller amounts when you're particularly concerned about accuracy.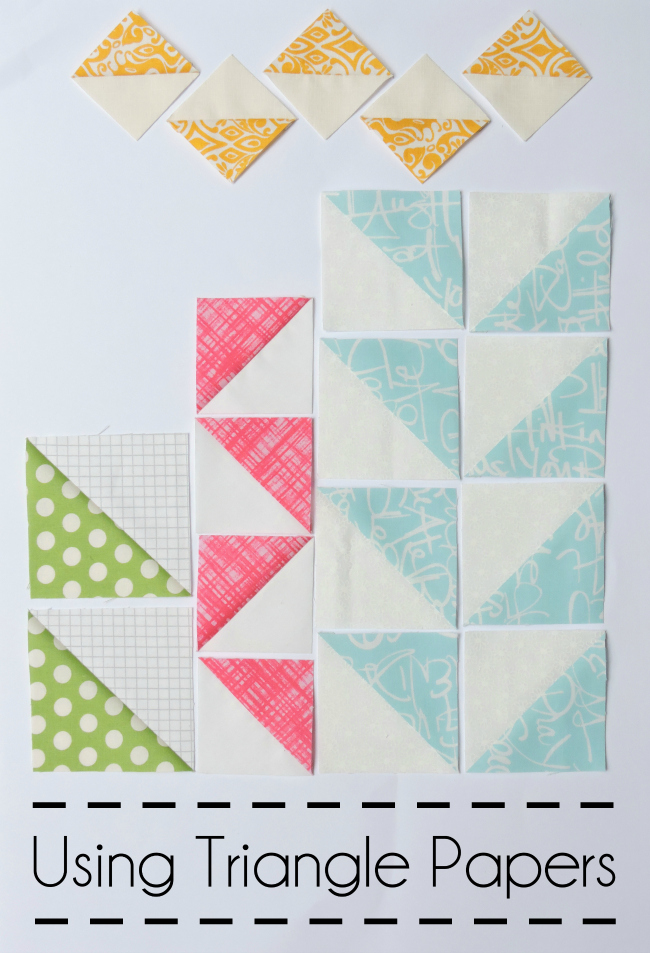 Triangle paper templates are available in a variety of formats and brands: Triangle Paper by Primitive Gatherings and Triangles On A Roll (both available at the Fat Quarter Shop), and Thangles are just some options of ones available for purchase. You can even find some free printable options around the place using Google! The advantage of using a store-bought option is that they come on especially thin paper that make it easier to sew on and tear off, and the continuous rolls mean you could theoretically sew as many as you like in one go!
HST Tutorial
Step 1. They are very simple to use, simply cut your two pieces of fabric as directed by the brand, and place them right sides together. Place the paper template on top and pin together.
Step 2. Reduce your stitch length (I use 1) and sew along the dotted lines. Backstitch at the start and end of each HST dotted line to secure the stitches in place for when you tear the paper off.
Step 3. Cut along the solid lines and trim any excess fabric around the outside.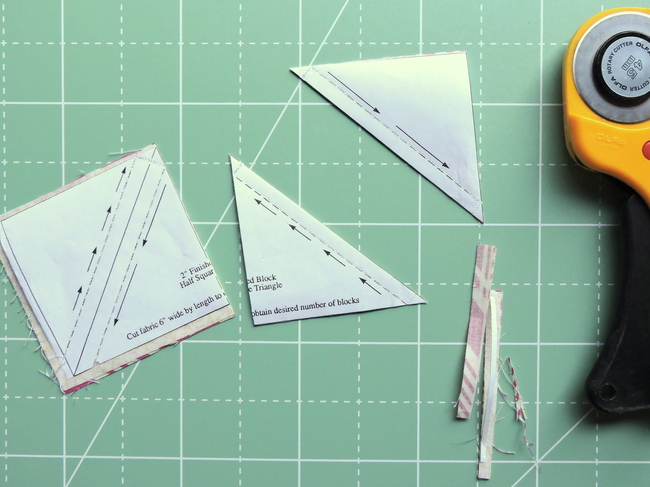 Step 4. Slowly peel off the paper, press open (I press seams toward the darker print) and trim off the dog ears.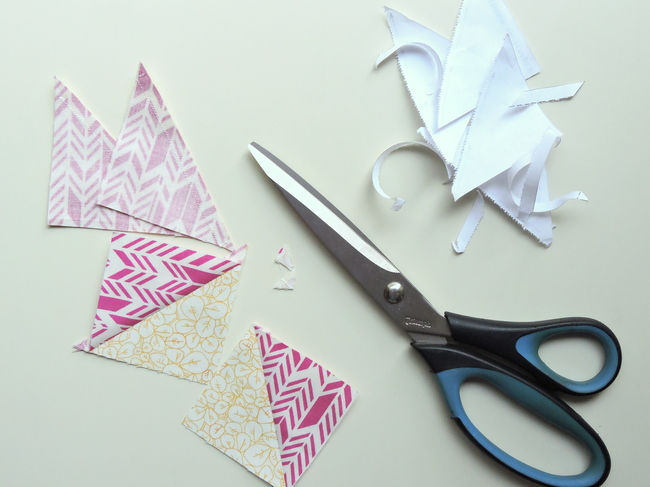 Tips
– Buy the finished size you need the HSTs to be. For example, to make the Ripples 12″ block, I used the 2″ papers to yield 2″ finished HSTs.
– You can cut the fabric exactly the right size, but I'd suggest adding a 1/4″ around the outside edge at first to give you a little wriggle space until you're used to them.
– When I say backstitch at the start and end of each individual HST's seam, I mean it! Nothing worse than pulling the paper off and accidentally pulling out stitches too.
Patterns
Go find your favourite pattern or design inspiration or tutorial on Pinterest! I've created a HST Love board just to indulge my our love for this beautiful quilting block.
Other HST tutorials:
– HSTs: Two and Four Methods
– HSTs: Eight A Time
– HSTs: Strip Pieced