One thing that has surprised me about being in the quilt pattern business is the number of emails I get from people asking for opinions on what to choose for a quilt backing. As someone for whom the backing is almost an after thought, something I usually decide towards the end (and preferably something I don't have to piece!), offering my suggestions on quilt backing has challenged me a little! So I thought I would share a few things to consider when choosing a quilt backing.
Quilting
Are you wanting the quilting to stand out on the back, or are you happy for it to blend in more? If you would like the quilting to stand out more, than go for a fabric that is more solid than print. I love using Tula Pink's Freefall widebacks as they have enough solid colour to allow the quilting to show up. I've used the grey and the yellow, and I used the pink one on the back of my original Geode quilt (that uses Eureka by Emma Jean Jansen on the front).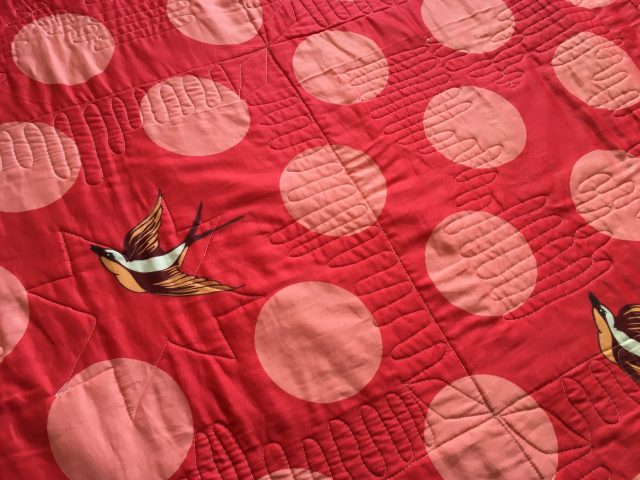 If you are having your quilt sent to a longarmer, than this will also have an impact on your backing. Especially in how much you need! Longarmers will need at least an extra 4″ of backing on EACH side of the quilt, if not more, so as to allow them to properly load the quilt on their machine. Many will also not quilt minky or flannel, as the lint and tension issues are more than they are willing to deal with. You will need to have a chat with your longarmer to find out their specific requirements before making your backing fabric decision.
Thread Colour
Tying into the quilting consideration is to consider what thread colours will be used for the quilting. General practice is for the bobbin thread colour to be the same or very similar to the top thread so as to reduce the chances of seeing either one from the opposite side if there are the occasional tension issues. Are you ok if the bobbin thread doesn't blend in, or would you prefer that it doesn't stand out on the back?
For this Little Ruby quilt, I used a mustard lawn from Spotlight for the backing. When quilting it, I used my favourite Aurifil 2140 for the bobbin to blend in with the lawn, and matching threads for the top for the daisies, and white for both for the hexagons.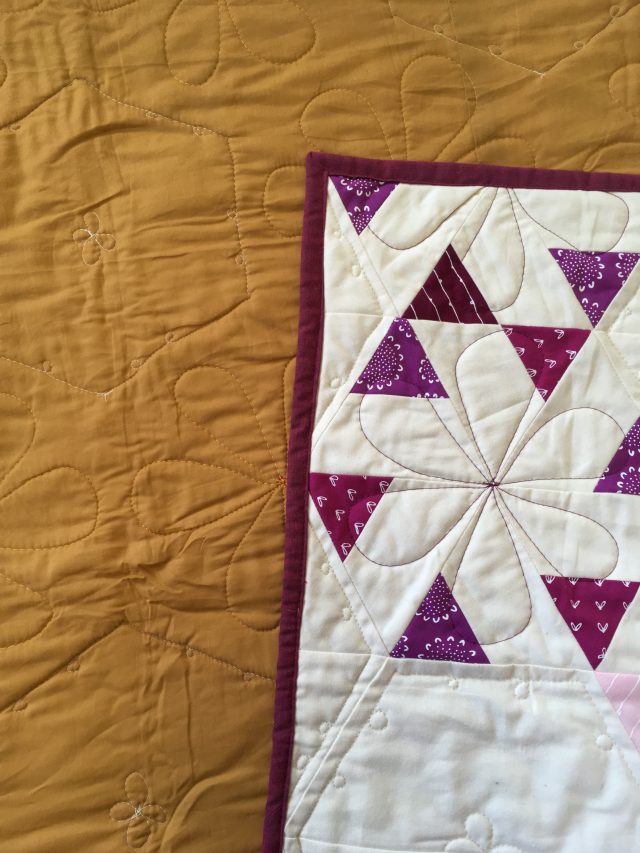 Quilt Usage
If I am making a quilt that I know will be thrown around on the floor and loved a lot, and especially if I think it may be used outside, then it's best to choose a busier print that will help disguise any marks or stains. This means it's a great opportunity to bust out your favourite large-scale prints! Something like a large Amy Butler floral is the perfect example of both large-scale and busy. This pretty one is from Soul Mate Poplin and you can see the ruler underneath for perspective on the size of the print.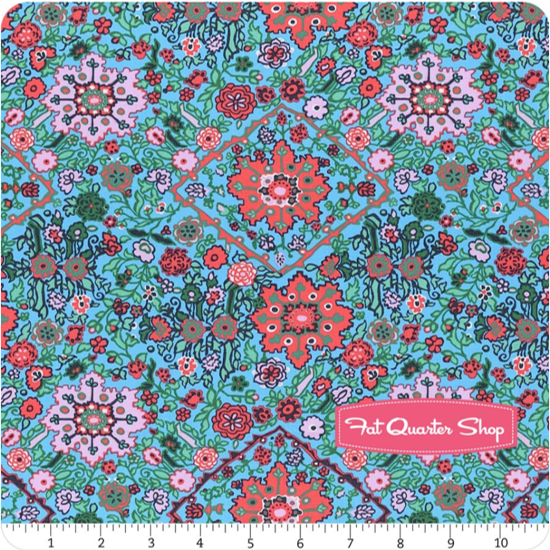 Wideback or Pieced or Scrappy
Do you choose a wideback fabric, or piece normal yardage together, or use up scraps? This depends on how much more time/effort and money you are willing to invest in the quilt.
Wideback fabrics are a great, quick option for finishing off quilts as they come 108″ wide. This means that as long as the shortest dimension of your quilt is under that, then you won't need to piece your backing. Also, when you run the numbers, it's cheaper per square yard compared to normal 44″ wide quilting cotton, which means you will spend less than you would buying full-priced quilting cotton to use as backing. However, the range of prints and colours is much more limited than standard quilting cottons, and the quality can vary. I've used a Moda Bella wideback, and had a terrible time quilting it as it was a bit thin and I had a lot of batting fluff coming through. Although it was on a baby quilt that has since been well-used and loved and washed, and has held up just fine.

I now mainly use Free Spirit wideback fabrics, especially Tula Pink's Freefall, as the quality of the fabric is topnotch and very soft and luscious. I also have some experience with Carrie Bloomston (Windham Fabrics) and Carolyn Friedlander (Robert Kaufman) widebacks, and they feel and work exactly like standard quilting cotton.
Pieced quilt backings refer to whenever you have to piece fabric together to bring it up to the right size for your quilt. For the sake of this article, I'm going to use it to refer to when you use the same 44″-wide fabric to create your quilt backing using one or two seams. And it's this kind of backing that most quilt patterns refer to when providing fabric requirements for the backing of the quilt.
For the Geode quilt pattern, the back cover includes the fabric requirements for both pieced and wideback, and the instructions inside include how to cut the yardage to piece the backing.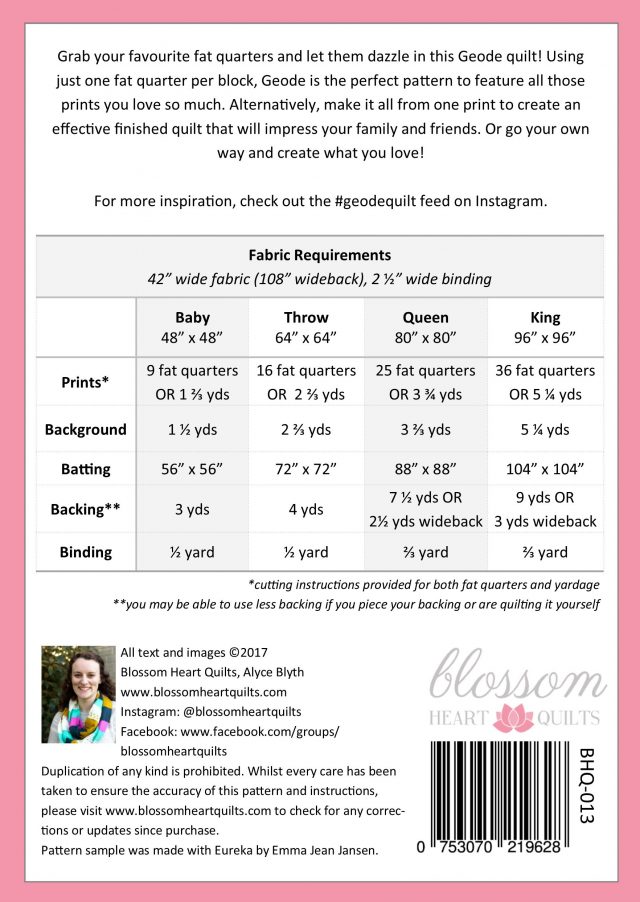 And there's quilty bonus points if you try and match your print across the seams! It's tricky, but does give one a great sense of accomplishment when achieved. Can you spy the seam in the Kate Spain backing of my Aurora quilt? It's not 100% perfect, but when you apply the metre/yard rule (can you see it from a metre/yard away?), it's invisible!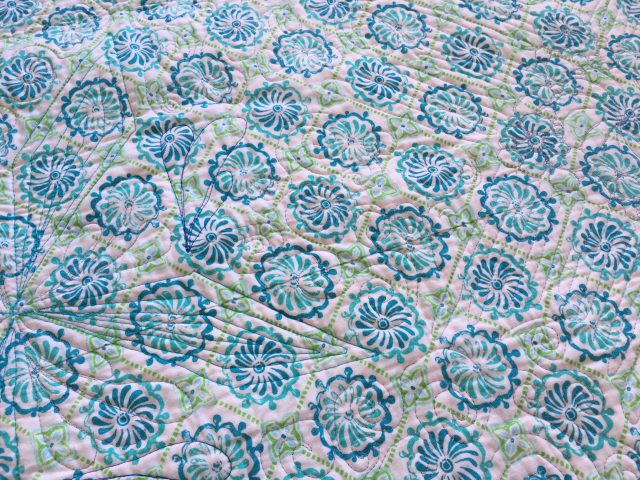 Scrappy quilt backings refers to when you collect a wide range of scraps, often leftover from the quilt top, and piece it together to create the backing. This kind of backing involves sewing a lot of seams, perhaps even a leftover block or two, and a bit of puzzle work too! It's rare that I do these, but sometimes it's useful when I'm well and truly over the fabric I've used for the top and I can piece it together for the backing. Scrappy backings are also a great way to save money!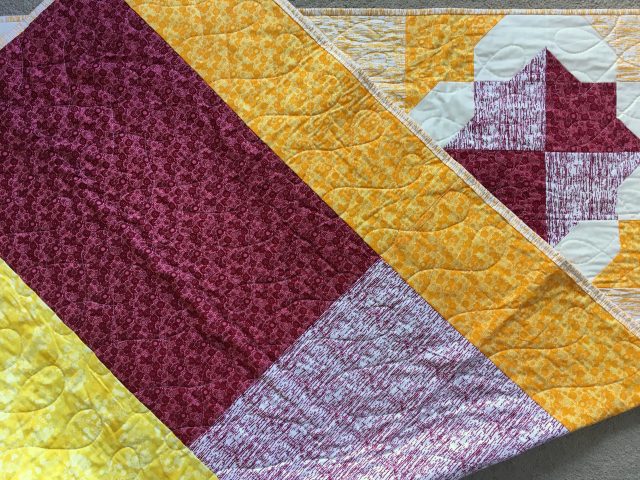 The main thing to be aware of with scrappy backings is that it usually means a range of colours, and you need to be aware of how that may effect your choice of thread/bobbin colour when quilting if that's something that's a concern for you.
My Baby Geode Quilt Backing
For my baby Geode quilt, I knew three things:
I wanted to use up the rest of the Tula Pink fabric from the top.
Chances are this will be used as a playmat/on the floor, as the baby is due this week and lives in tropical Queensland. No need for a bed quilt just yet… if ever! So the backing needs to be "dirty floor" proof.
To make up the difference from the Tula scraps to make it big enough, I wanted to use my stash. I have plenty of assorted 1-2 yard pieces that would work.
I placed the quilt top down on the floor, and started laying out the Tula leftovers to create a patchwork array large enough for the length of the quilt. After piecing that together, I then pulled out a few pieces from my stash to see what would work. I found this bright, colourful Mary Engelbreit for Andover Fabrics that I had grabbed 2 metres of while on clearance from Spotlight. It's dark enough to not show any dirt from the ground, and the colours coordinate really well with the Tula prints. So I added that to the Tula patchwork and now I'm ready to baste! Next week, I'll be sharing about how to baste your quilts – both pin and spray basting.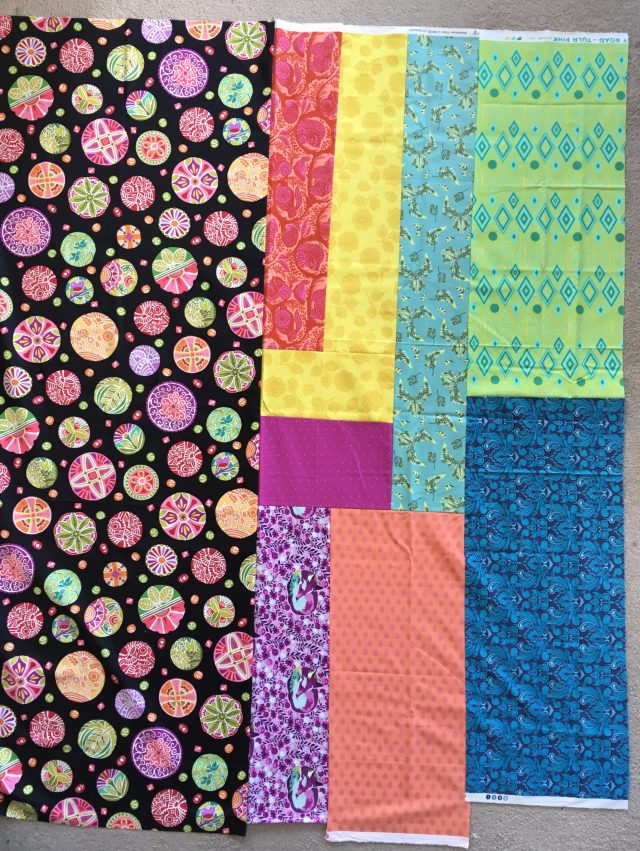 What about you? How do you choose your quilt backings? Leave your tips in the comments below!
Post contains affilliate links.