Inspired by the logo of a local Moroccan restaurant, I'm thrilled to finally share my Geode quilt pattern with you all!
What's awesome about this pattern is that each block can use one fat quarter for the print. And with each block finishing at 16″, it means that you can easily use your hoarded fat quarter bundles to quickly make a decent-sized quilt! But fear not, you can also use yardage – the pattern includes instructions for both fat quarters and also yardage. I used a fat quarter bundle of Eureka by Emma Jean Jansen, with a couple of solids thrown in the mix too, and I just love the golden metallics.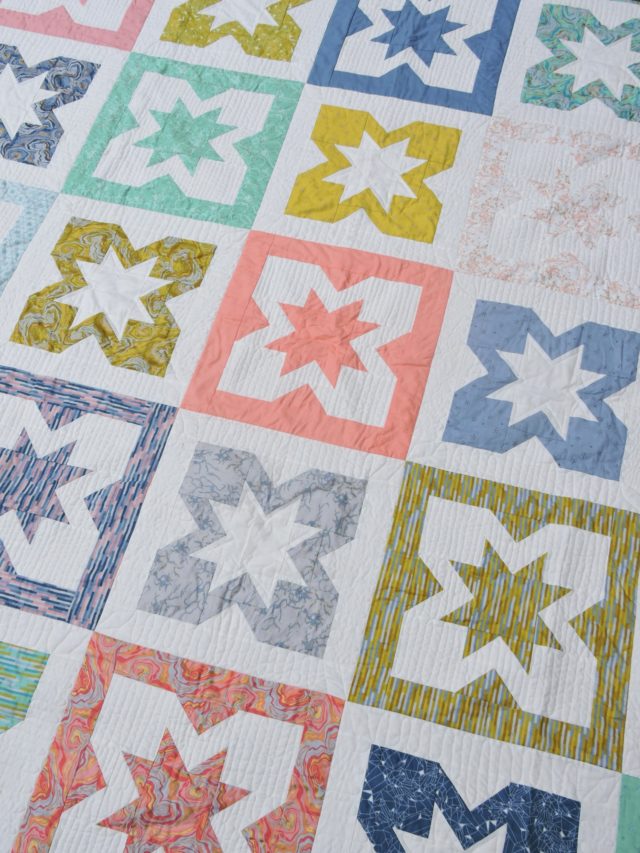 In fact, that's where this pattern got it's name from – the block with the background as the border also reminds me of a crystal formation. And made in the gold rush/goldmine inspired fabric, it reinforced that effect! So, Geode it was.
As usual, I had this pattern tech edited by Caroline, and sent out to pattern testers, which means that now is the super fun part of the show where I get to share what the incredible pattern testers have made!
Starting with the baby size quilts that finish at 48″ x 48″. Sondra used some V & Co. fabrics to make her quilt top. I love the colour combo!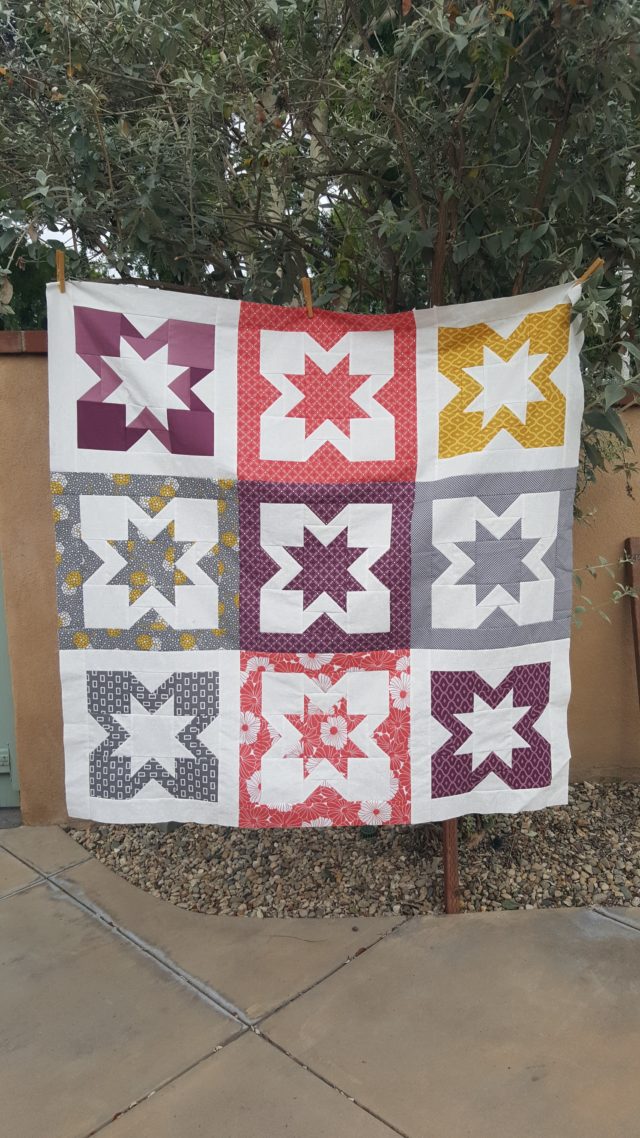 Meanwhile Jenn took her baby Geode quilt to Dublin to one of the most famous gardens in the world to photograph! A gorgeous setting for a gorgeous quilt.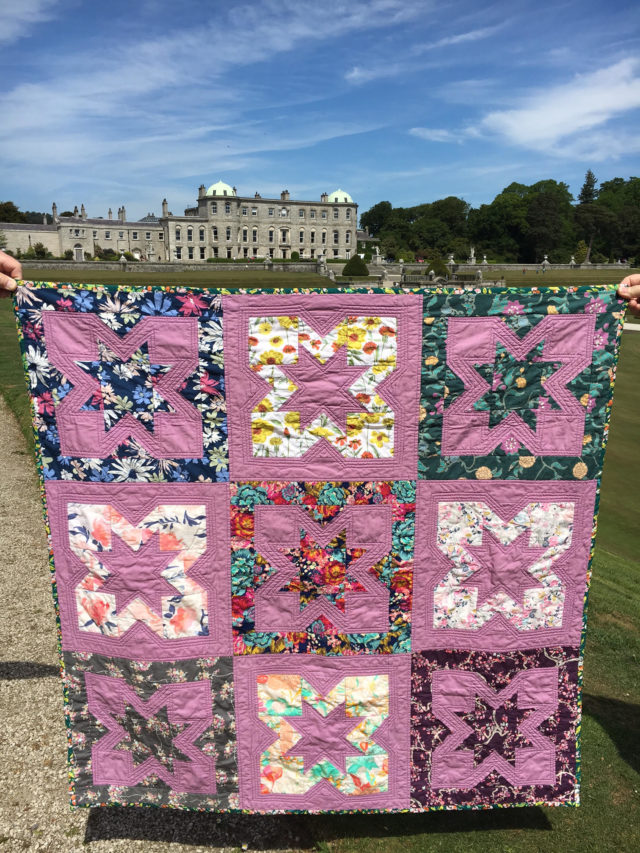 Kara's fabric placement has create a very effective look for her baby quilt – that pop of chartreuse is cool!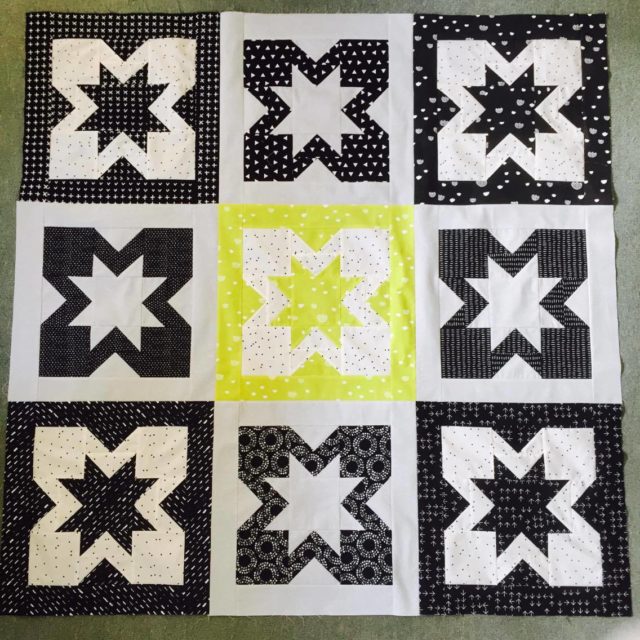 Another great use of colour placement is Kris' baby Geode quilt. Especially with the choices of fabric!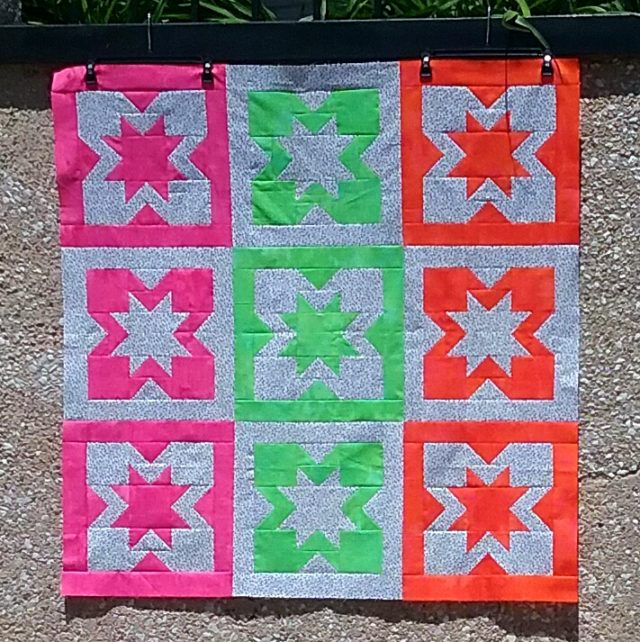 Josephine had a bit of a border mix-up, but I think that this "unintentional design decision" still looks intriguing, don't you?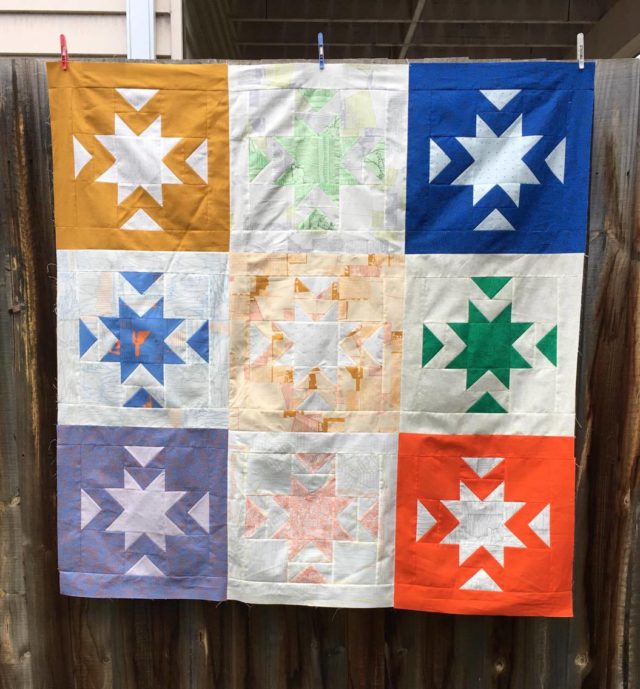 On to the throw quilts, that finish at 64″ x 64″, and Melissa used just one print fabric for her Geode quilt.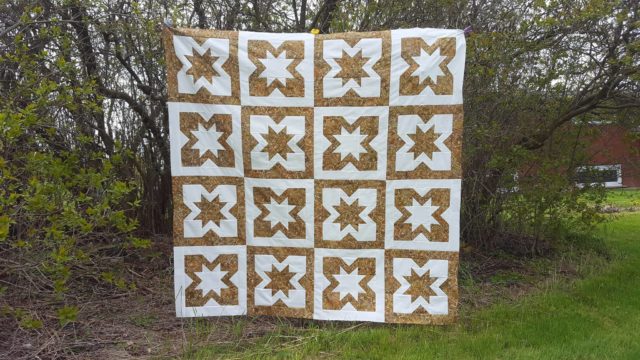 She also made four test blocks, they're a bit cool with the dark background!
Then there were a couple of testers who couldn't resist making 20 blocks for their throw quilt, making it 64″ x 80″ instead. Luisa's blues and greys Geode quilt is very serene, and actually quite masculine too. She also fully finished her quilt – big brownie points for her!
And Rebecca's colour palette is delicious. You know I love me some mustard!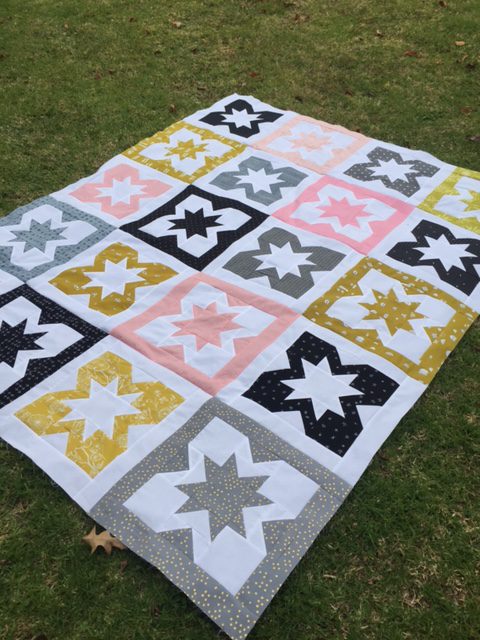 The queen sized quilts finish at 80″ x 80″, like Kat's gorgeous Carolyn Friedlander version (which she whipped up just before her twins were born, no less!).
Beth's version is made up in Cotton + Steel, and those teal and plum tones are just gorgeous.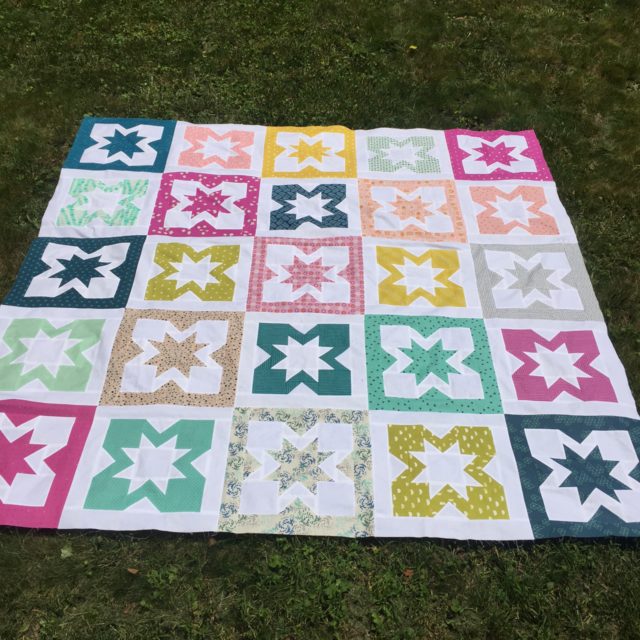 Kate started making her queen size quilt before realising that she had less of of the Essex linen than she had expected! So stay tuned for this one finished…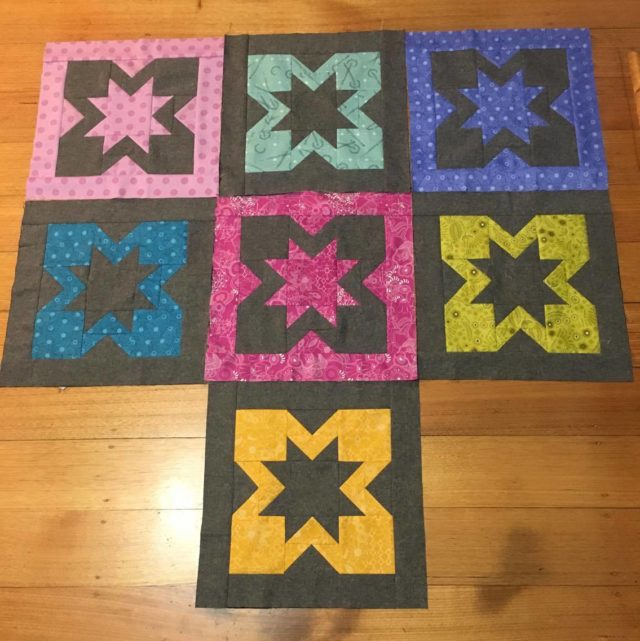 Finally, we have the king size Geode quilts, that finish at 96″ x 96″. This one by Gemma is beautiful!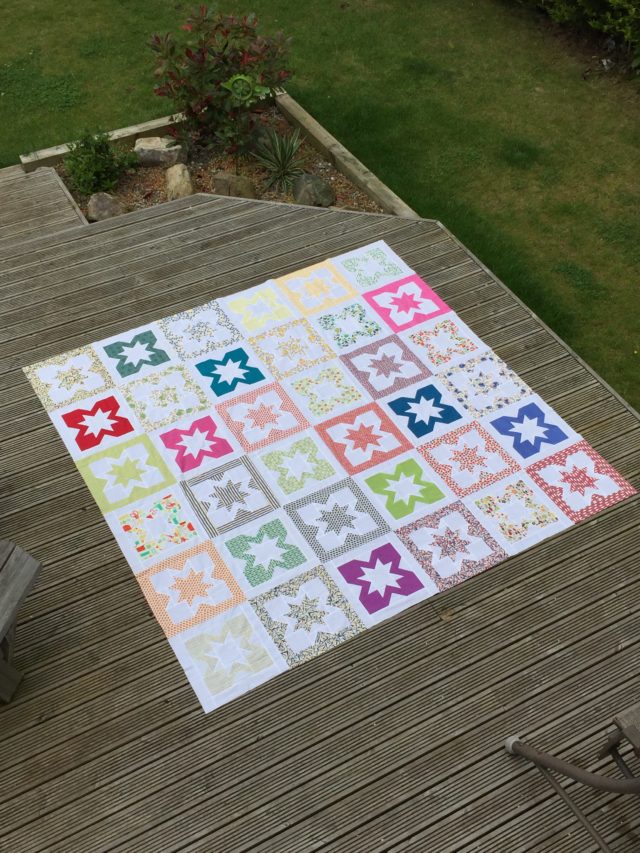 And this one by Joanne R is just so sweet in Bonnie & Camille fabrics.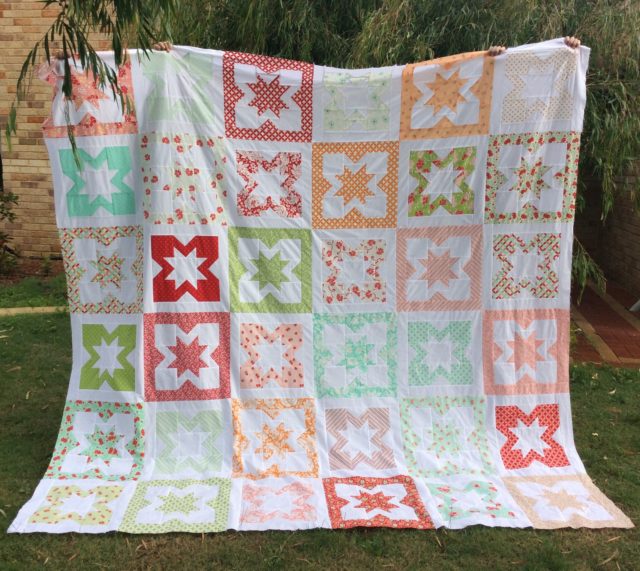 What a gallery of quilts! I just love how different each tester has made their Geode quilts; they've made the pattern their own to suit what they want and need. Create what you love, with love, to love!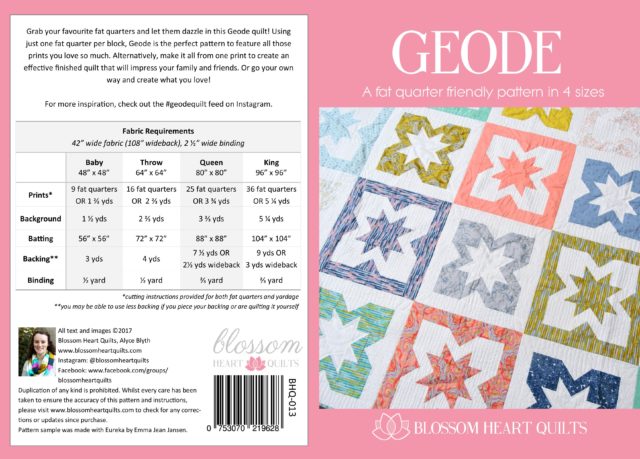 If something has sparked your interest and inspired you to create your own Geode quilt, then you're in luck, because for the next three days, it's on sale for just $7.50! That's for both the PDF and the paper patterns.
PDF patterns are now available on:
Pre-order a paper copy from my store now, and I'll send them as soon as they arrive (delivery expected early next week).
Sale ends 11:59pm (AEST) June 16, 2017.
If your quilt store is interested in carrying Geode, or any other of my patterns, please check out my wholesale page for more information!
You can check out more of the Geode quilts on Instagram under #geodequilt!