Late last year, some friends approached me with an idea – to collaborate with five other Australian quilt designers to create a new and exciting medallion quilt pattern inspired by our beautiful country. My heart leapt at the concept! I've always said that upon my return to Australia, I wanted to dig deep and get involved in the Aussie quilting industry. This quilt is pretty much the epitome of that desire! Working with other Aussie designers and using an Australian designer's fabric to create a modern quilt pattern inspired by our stories and our lives that also teaches a variety of skills and techniques.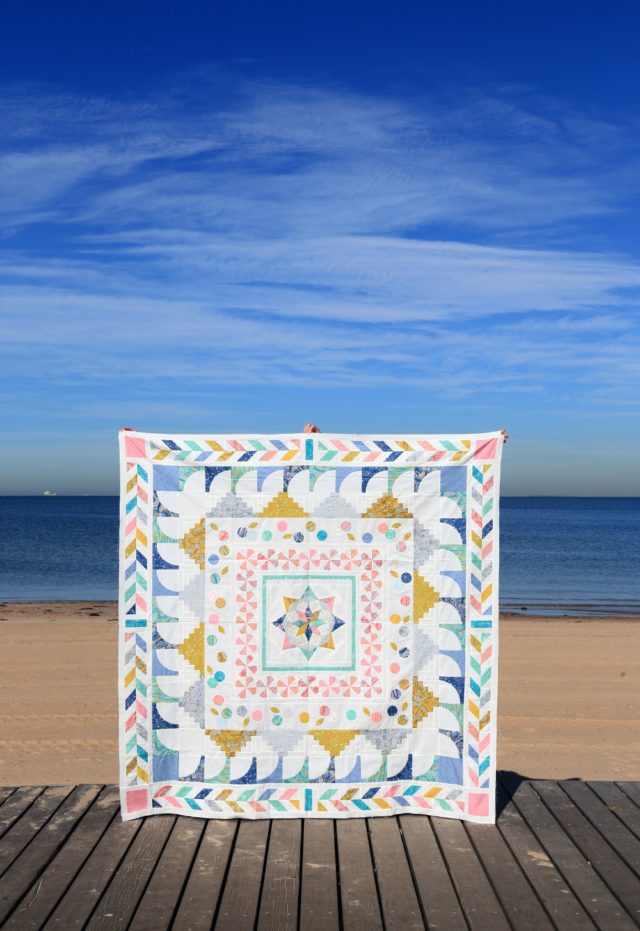 This quilt, Girt By Sea, is the result of this collaboration, coordinated by the irrepressible Modern Makers Retreat. It starts with an English paper pieced centre featuring an eight-pointed star, then works its way out through half-square triangles, appliqued circles and leaves, log cabins, drunkards paths, before ending on the final border of half-square triangles encircling the quilt.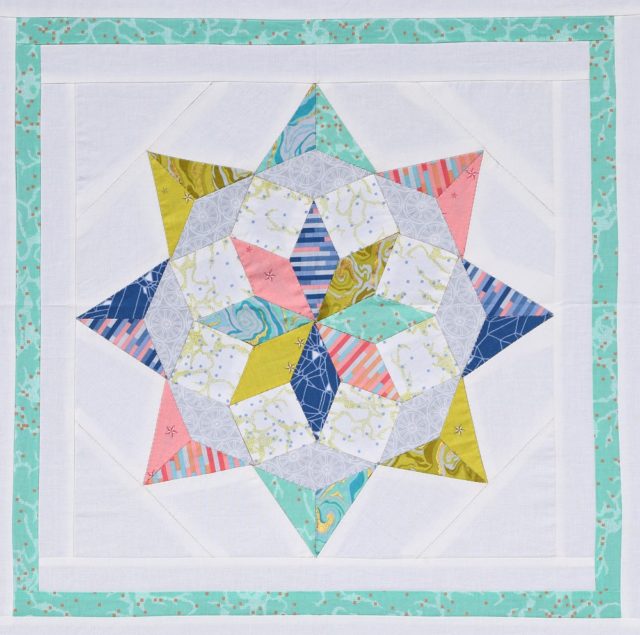 I'm honoured to be included in this amazing list of designers, whom I will let tell their own stories behind their designs!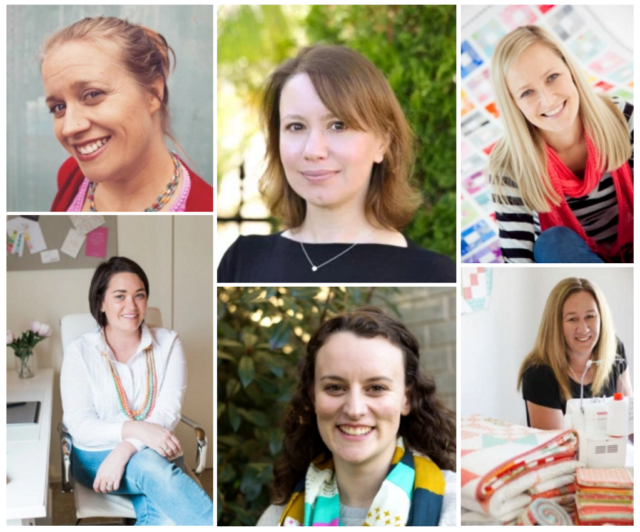 Jodi Godfrey of Tales of Cloth | Sedef Imer of Down Grapevine Lane | Emma Jean Jansen
Keera Job of Keera Job Design Studio | Alyce Blyth of Blossom Heart Quilts | Peta Peace of She Quilts A Lot
My border are the log cabins, carefully rotated to create "Ragged Ranges". I was inspired by the hills and mountains that have always surrounded every place I have lived, and also make up a large part of Australia's eastern coast. We used Emma's latest fabric range, Eureka, together with Kona Snow to create our borders, so I chose the greens and some greys to represent the grassy hills up close or the hazy blue/grey mountains in the distance.
What I love most about this quilt is that it can become whatever you want it to be, whatever you want it to represent. The Modern Makers girls are creating their own very different versions! You'll have to check them out on Instagram – @behind_lilpipdesigns, @jackiegilles, @thebaronessdesigns – to see what they've come up with.
I'm making mine from all Carolyn Friedlander fabrics, together with white Kona, and have been inspired by the various "rainbow borders" of Australia, starting with the red centre. Well, orange, because Carolyn Friedlander doesn't do red! I'm so excited to finally be putting my, uh, plentiful stash of Carolyn's fabrics to work. Also, Aurifil 80w for English paper piecing? So smooth and fine! I'm excited to try it for the applique border!
So if you're up for a fun project to work on over the next few months with us, I can highly suggest Girt By Sea. I'm not at all biased!