For regular Sew Cute visitors, you will notice this is a little late going up today. The past few days have been pretty busy with the start of summer holidays here in Japan!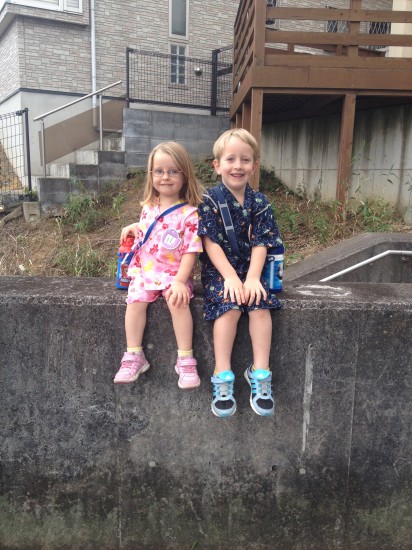 On Saturday, we had our preschool's matsuri aka summer festival. Imagine around 400 little kids aged 3-5 years old running around doing traditional matsuri activities like carrying homemade floats and dancing all while wearing traditional-ish clothing like these guys! Oh yes, ah-DOR-able!
Sunday and Monday were then taken up with our Sunday School camp which, despite at least 100 mosquito bites between us 4 alone, was so much fun! Even my language barrier of limited Japanese wasn't really an issue (we go to a Japanese Lutheran church). The rest of Monday was then busy sleeping it all off! And applying Stop Itch cream…
Help me!
The rest of our summer holidays are already shaping up to be pretty busy, with other mini trips and play dates and special preschool holiday pool days filling up the calendar quickly. Plus I still unfortunately have my English teaching work for most of the time! So, who would like to help me?
I am looking for 6 fabulous people to guest host Sew Cute Tuesday here over the next 6 weeks! You will need to choose 3 projects from the previous week to feature, and of course you are also very welcome to share a bit about yourself and your blog, including what you're currently working on or recently finished! And you will need to email this to me by the Friday before your Tuesday slot so I can schedule it in. I will do the linky itself, so you don't need to worry about setting that up.
If this is something you're interested in doing, please let me know in the comments! I will email those I've selected by Thursday, and next week's guest host will have until Sunday (Japan time!) to email me the post.
Link up
And after all that, please link up your latest sewing or stitching post! Don't forget you can link up from Instagram, plus use #sewcutetuesday so we can find everyone there too.
Loading InLinkz ...