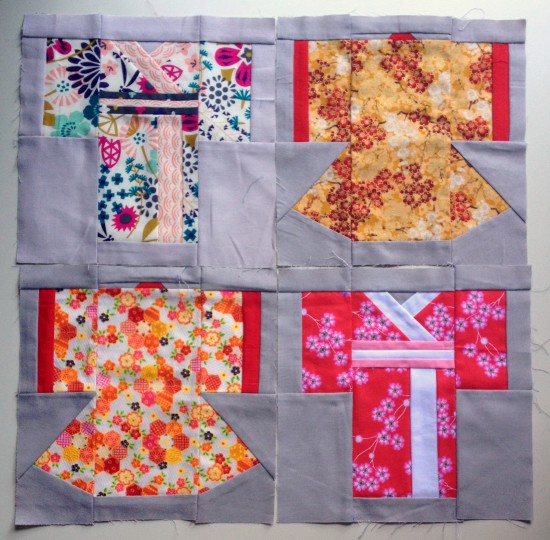 For my month in Wombat Stew Round 2, I designed this paper pieced Kimono pattern with two options – the front view or the back view. The front view is a great opportunity to have a play with choosing different fabrics and colours for the belts, while the back view is perfect for showcasing a beautiful print! I was thrilled with all the blocks that arrived from the girls, although as these things go, I still haven't pieced them together. But when I do get to piecing them all together, it will be a tall wall hanger for our stair case.
And now I'm also finally releasing the pattern so you can make it too! It's a two-for-one pattern including both the front kimono pattern and the back kimono pattern, with each block finishing at 8″. Those with a keen eye might notice that the pattern is "flipped" as I later realised the correct side to wrap the front of the kimono is on the opposite side. So kimonos made with this pattern will be properly worn! This is a very quick pattern to piece, and definitely a great pattern for beginners.
As always, the pattern is available via Craftsy and Etsy. I hope you enjoy making your own beautiful kimono! I would love to see your blocks and final products: feel free to share them on my Facebook page, add them to the Flickr group or even tag me on Instagram – @blossomheartquilts.