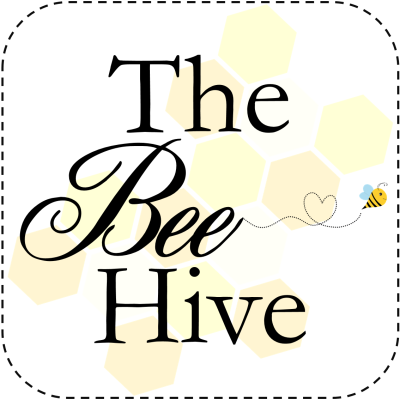 Please welcome Jennie from Clover and Violet, and her beautiful Quatrefoil quilt block!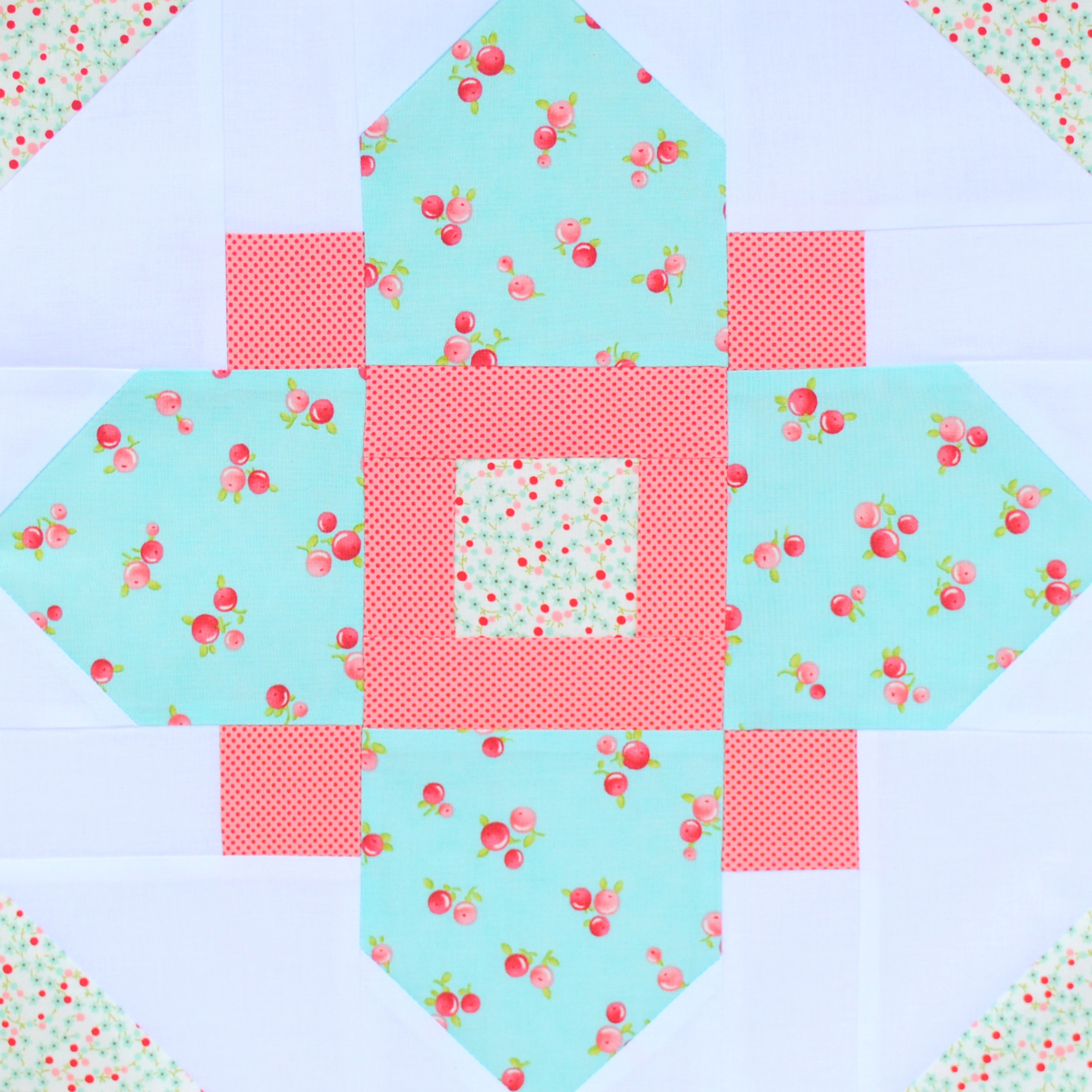 Fabric & Cutting
Fabric A (Turquoise)
4 – 4 ½" x 4 ½" squares
Fabric B (Pink)
4 – 2" x 2" squares
2 – 2 ½" x 1 ½" rectangles
2 – 4 ½" x 1 ½" rectangles
Fabric C (Mint)
5 – 2 ½" squares
Fabric D (White/Background)
8 – 2" squares
4 – 2" x 3" rectangles
4 – 3" x 4 ½" rectangles
Read all directions before beginning. All seam allowances are ¼". RST = Right Sides Together. Finished block is 12 ½" square (12" in a quilt).
1. Petal Blocks
Draw a diagonal line from point to point across the eight 2" square of Fabric D. Place one Fabric D square on the corner of one 4 ½" square of Fabric A. Sew along diagonal line (a) and trim ¼" from the line toward the outside of the quilt (b). Press open (c). Repeat on one adjacent corner (d). Make four Petal Blocks.

2. Center Block
Using the two 2 ½" x 1 ½" rectangles of Fabric B and the 2 ½" square of Fabric C (a), sew the rectangles opposite each other to two edges of the square (b). Then use the two 1 ½" x 4 ½" rectangles of Fabric B (c) and sew opposite each other to the center strip (d).

3. Corner Blocks
Use one 2" square of Fabric B and one 2" x 3" rectangle of Fabric D (a), sew together along the 2" edge (b). Sew one 3" x 4 ½" rectangle of Fabric D (c) to one 4 ½" side of the first unit (d). Then, using the same method as the Petal Blocks, sew one 2 ½" square of Fabric C to the corner opposite the Fabric B square (e). Make four corner blocks.

4. Assemble the Block
Arrange the blocks into three rows as shown below (a), pressing the seams toward the Petal Blocks in each row. Sew the rows together to make the finished block (b). When sewing rows like these, I often press the seams open or toward the center.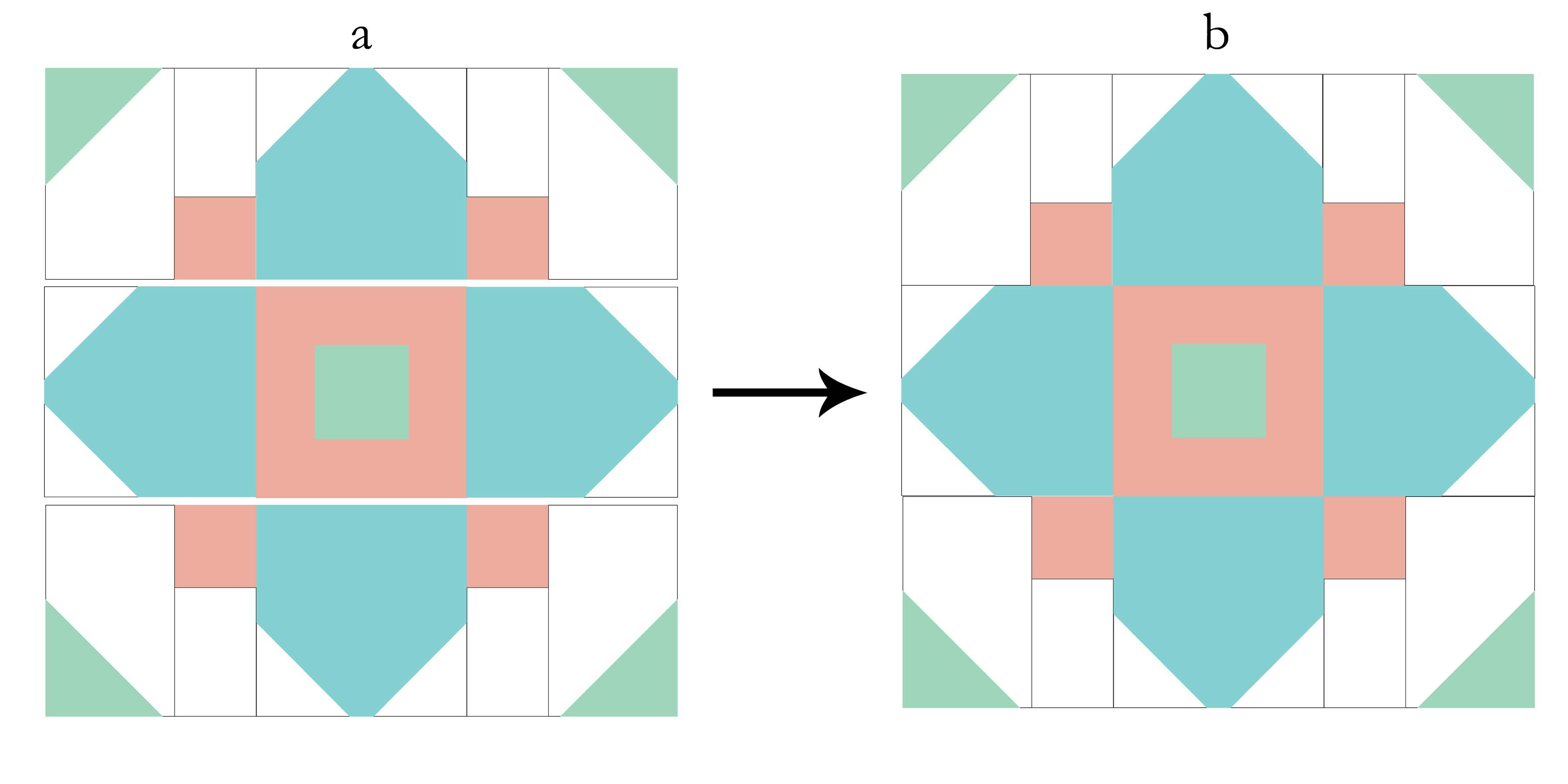 And you're done! Here's a sample quilt using the Quatrefoil block: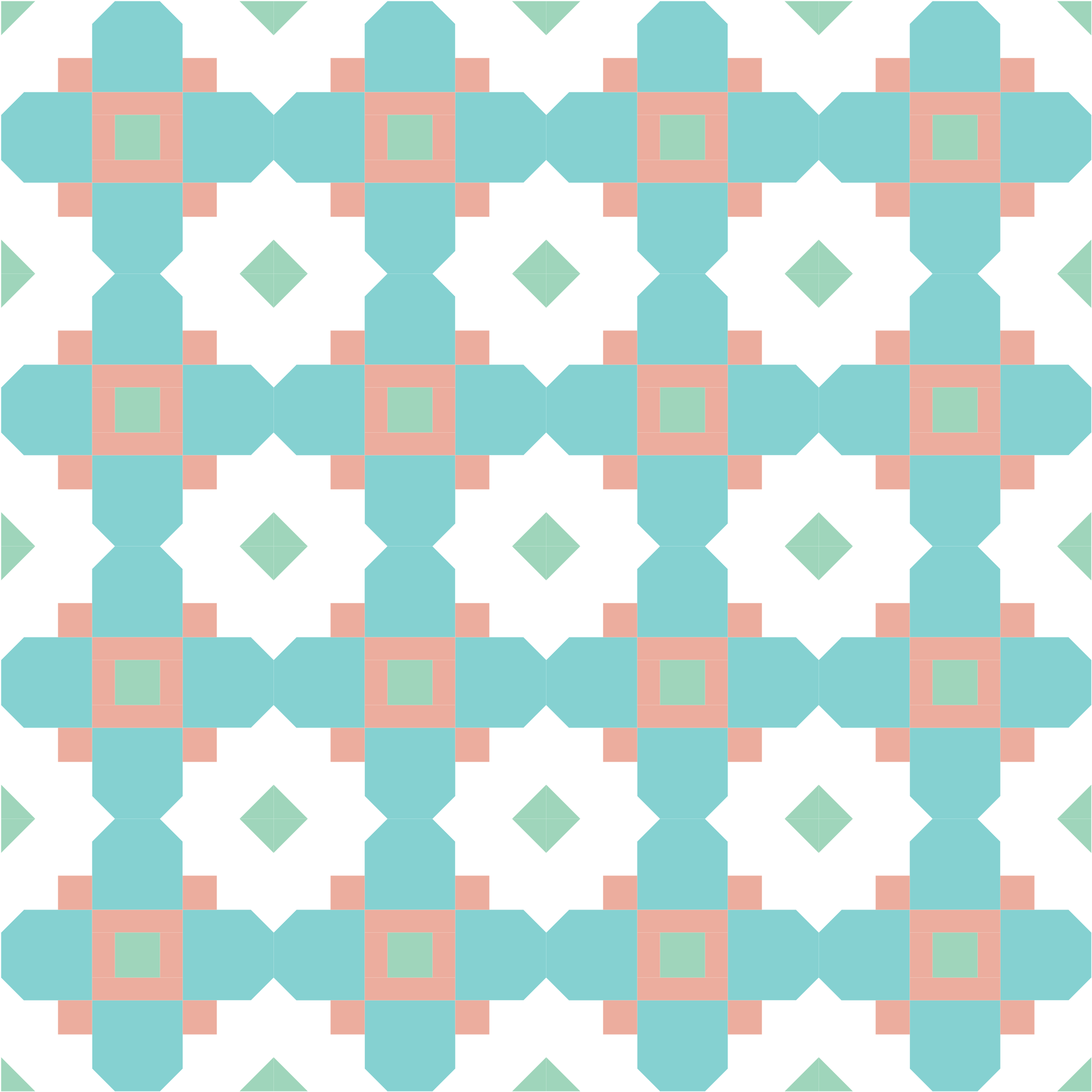 There's also a PDF download of this pattern for you if you prefer to use that when making it! Download it here.
Alyce's Take
This is such a beautiful pattern! I had to make it the day the amazing Kamala print from Lucky by Lotta Jansdotter arrived – the lotus in the centre is practically my Blossom Heart Quilts logo!! (I may or may not have bought 5 yards to hoard forever…). This block also incorporates some of my most favourite prints and colours ever – the Tula Pink background, that amazing emerald green from Lighthearted by Ayumi Takahashi, and my favourite coral print by Sarah Jane. With such a print to fussy cut in the centre, how could I not?!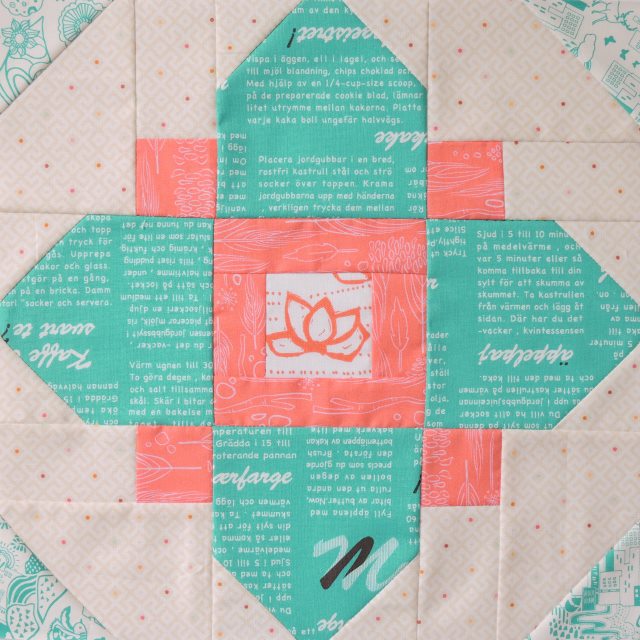 You'll notice that instead of using the lotus on the outside corners, I went for a Frances Newcombe print that is the same shade of green as the Lighthearted print. This block will also be the centre-most block in my quilt that I make from all the blocks from The Bee Hive… hm, there's supposed to be 24 blocks this year, maybe I should do a bonus block to make it 25 blocks for the year, and thus a 5×5 layout just so this block can be dead centre of my quilt… what do you reckon? Want a bonus 25th block?! Maybe it'll be a Christmas one… geddit? 25th block on the 25th!
---
This month, the beautiful Rita from Fabric Please is offering 25% off everything in store with the code beehive! Simply shop to your heart's content and enter the code at check out. She has flat rate shipping, and you can use the code as often as you like!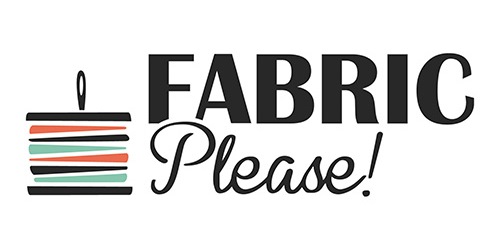 You can find all the block tutorials on the original The Bee Hive post. If you're sharing your blocks or quilts from The Bee Hive on social media, be sure to use #thebeehivequilts and @blossomheartquilts and @cloverandviolet so we can find your awesome work!
If you are in a swarm for The Bee Hive, please see the quilting bee etiquette post for answers to any questions you may have. If it's Quatrefoil-specific regarding the block construction, please ask in the comments on this post and I will answer it here so that everyone can benefit from the question/answer.