20/07 UPDATE: As the organiser of the Yokohama quilt show, Patchwork Tsushin, has gone out of business in June 2015, it would suggest that the Yokohama show is not happening this year. I will keep this post updated when I find out myself!
It seems to be about the time of year that people start planning trips to the Tokyo quilt shows, either the Tokyo International Great Quilt Festival held at the end of January or the Yokohama International Quilt Week in early November. Because I've been getting quite a few emails asking for tips and advice about the shows! So here's what I tell them.
Which show – Tokyo or Yokohama?
I've admitted this before, but I personally prefer the Yokohama International Quilt Week, seeing as I have the luxury of playing favourites! The Yokohama show is smaller but the quilts are still just as inspiring, and with much smaller crowds, you can actually see and enjoy the quilts better. Plus they have at least two special exhibits by international quilters, and when you're one of the only foreigners around, this means that you have the chance to have personal conversations with incredible quilters like Weeks Ringle! Not to mention checking out quilts by people such as Kaffe Fasset in close detail.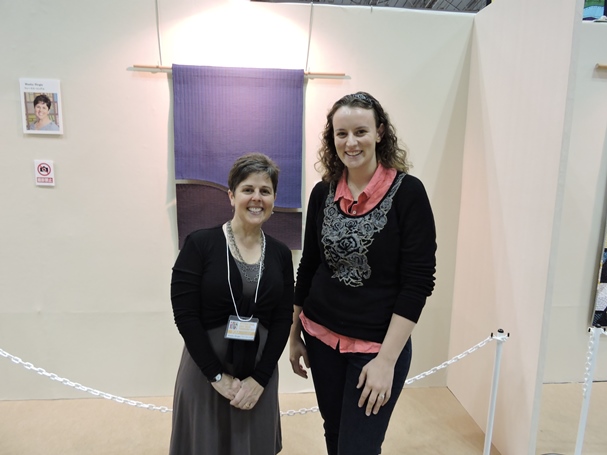 However, I will always recommend the Tokyo International Great Quilt Festival for those who have to choose just one. It's bigger – both in the number of quilts and shopping booths – and after all, it's the TOKYO QUILT SHOW! You are also able to take photos of all the quilts (very few allowed at the Yokohama show), and there is a lot more English on the quilt labels (mostly kanji at Yokohama) too. But if a November trip works better for you and your needs, then you will certainly not be disappointed by the Yokohama quilt show!!
How many days should I allow for the Tokyo quilt show?
When it's just me whizzing around the show to see all the quilts and photograph them to share with you all, and not doing any shopping, I can be done in under 2 hours. When I'm with friends and shopping, it's an all-day event.
Besides your travel itinerary and how much time you (or your travel buddies!) are allowing for fabric-related adventures, one thing to take into consideration is whether you are doing any fabric shopping elsewhere in your trip. Are you going to Nippori or any other fabric shops? If the show is your one chance to go shopping, expect to be there all day, or go a second day.
Where should I stay?
Now, I am not a travel agent, so I don't know if there are any special deals or packages at nearby hotels, nor where the best hotels are! There are hotels right next door to both the Tokyo and Yokohama venues, but that's as much as I can tell you. The Tokyo Dome is easily accessed by a range of different train lines, with a JR and a subway station right there. The Yokohama show requires a short subway ride from the JR Yokohama station, which is on the same line as Tokyo and Shinagawa stations. Google Maps will help you plan how to get around Tokyo using all the different train lines by using the public transport option in Directions when going from your location to your destination, as it tells you what train lines you need for your connections, including what colour the line is!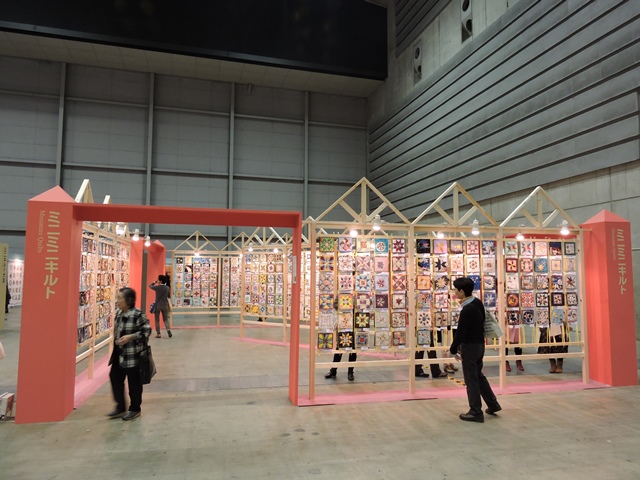 What should I take?
Besides lots of cash for shopping?! No, seriously, you need to take plenty of cash if you're going shopping. Japan in general is still VERY cash-based, even at international events like the quilt shows. You can purchase plenty of different foods and drinks within the venues, but I'd still suggest taking a bottle of water and a couple of little snacks to keep you going between meals. A backpack is very useful to help hold all your personal items plus whatever you pick up along the way while still keeping your hands free for taking pictures! If you're expecting to shop up a storm, I'd also suggest packing a second reusable shopping/tote bag that you can carry on your shoulder to collate all the little shopping bags into one bigger, comfortable-to-carry bag.
Coffee note – If you're anything like me and need a coffee during the day to help keep your quilty energy up, there are limited options inside the venues. There's a tea and coffee pop-up "restaurant" at the Tokyo show, but the lines can be very long to get in, and I'm not sure they do take-away. As an iced coffee drinker anyway, I just grab one from a convenience store on my way and keep it in my bag for later. At the Yokohama show, you can leave the show and get a stamp on your ticket for reentry, and just outside the exit is a convenience store where you can buy iced or hot coffee.
Any other general tips?
In no particular order, here's a few tips I've learned along the away after going to 5 Japanese quilt shows:
– To beat the crush, do some shopping first, or at least have a quick browse to get the lay of the land so you know where to go later on. Particularly at the Yokohama quilt show, I like to go shopping in the morning, have a lunch break and rest the feet, then slowly check out the quilts in the afternoon when it's a little bit quieter.
– If you really want to avoid the particularly large crowds, don't go on the first day or the weekend. It'll be busy every day, but those days are particularly busy! Also, double check the opening times because it's different for the first day and the rest of the show.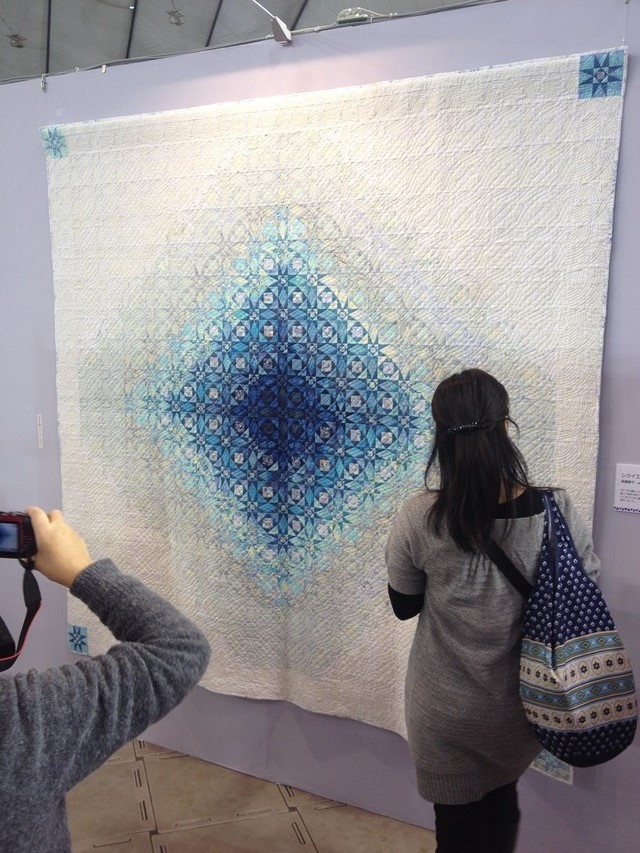 – When trying to take photos of quilts, be patient. There may be people looking at the quilt up close, or walking past, but just wait and you'll get your chance. And on the whole, people are very respectful of those trying to take photos – pausing to let you get a snap before walking past, or walking around you. Likewise, do the same to others around you if they're trying to take pictures too!
Other Japanese quilting posts:
– Yokohama 2012
– Tokyo 2013
– Yokohama 2013
– Tokyo 2014
– Yokohama 2014
– Tokyo 2015
– Fabric Shopping in Tokyo: Nippori and Yuzawaya
– Fabric Shopping in Tokyo: General Tips
If you have any questions, feel free to leave a comment and I'll try to help you as best as I can!