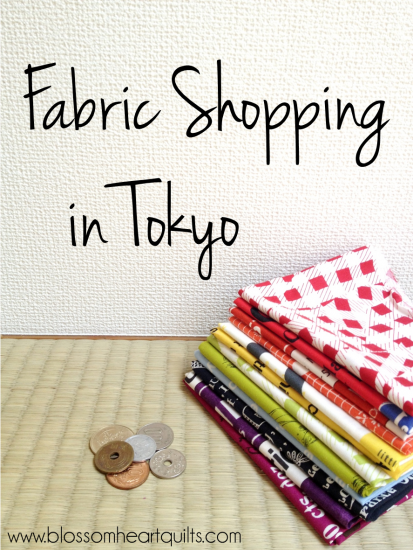 Last time I went shopping with Molli Sparkles, I was inspired to finally write up a proper post sharing all my tips for fabric shopping in Tokyo. This time I went to the Yokohama Quilt Show with him and had a blast! So this time I'm going to share some Japanese to help ease your fabric-splurging way.
Japanese Yen
Japan is perceived to be quite modern and futuristic in many ways. And yes, in many ways it is. However, not when it comes to spending your money. Japan is still very cash-based, with not as many places accepting cards as you might think. Big department stores, supermarkets, Yuzawaya and Starbucks thankfully do, but if you're headed to Nippori Fabric Town or any of the smaller fabric stores, you'll need to be carrying cash. If you need to get more cash from your card, Japan Post and Seven Eleven ATMs will accept any foreign card with a Visa symbol on it. Don't worry, they both have English language buttons!
Japan uses the Yen, which on a good day, you'll get roughly 100 yen for US$1, 90 yen for AUS$1, 160 yen for 1 GBP or 134 yen for 1 Euro. For comparison's sake, a tall Starbucks latte is 380 yen (including tax). And if you're pounding the fabric pavement in summer, you'll want to make that an iced latte! Yen comes in notes and coins – a 1000, a 5000 and a 10 000 yen note, and six different coins: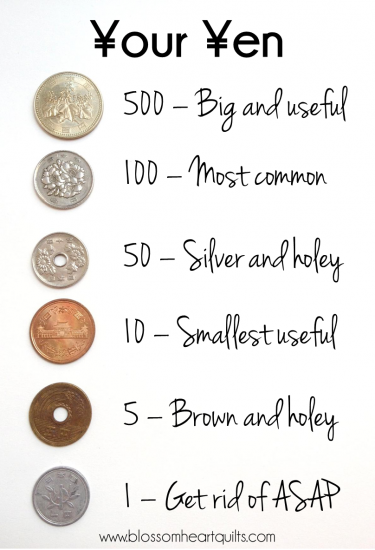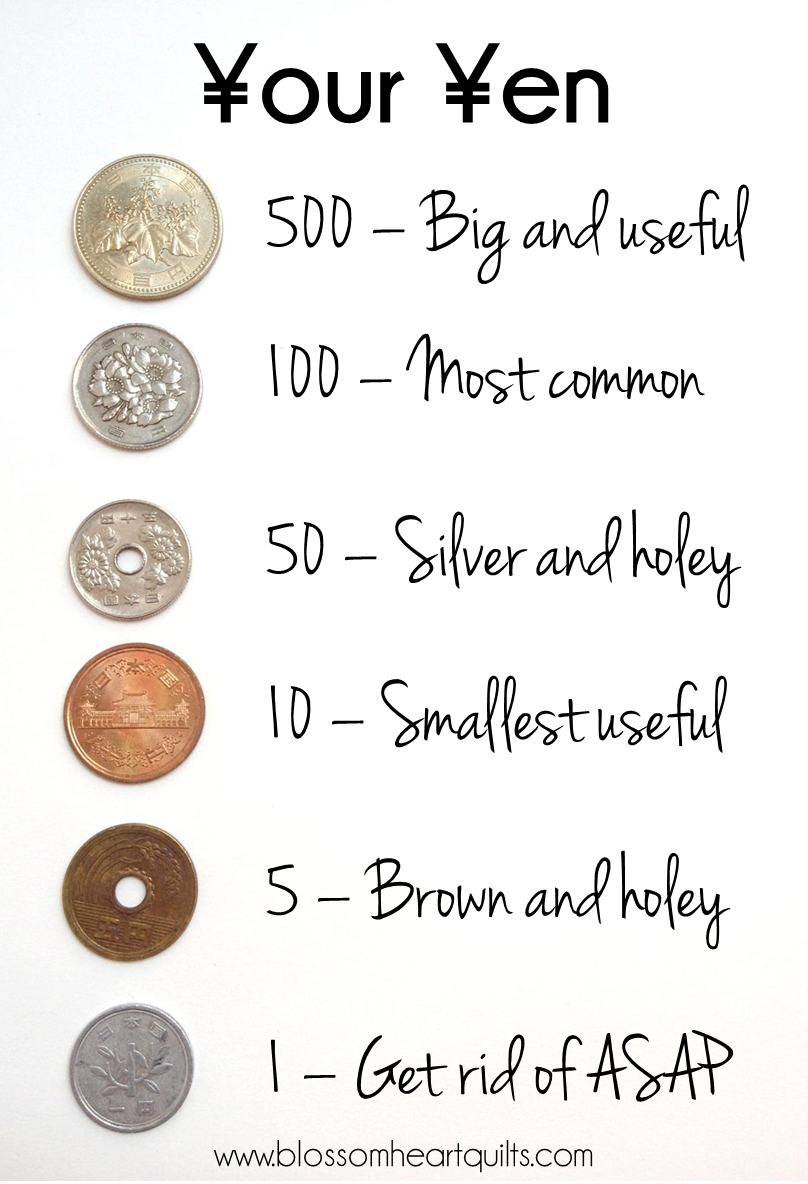 As you go, you'll be collecting a lot of coins. They're useful for grabbing a quick drink from one of the millions of vending machines dotted around (they don't take 5 yen or 1 yen), or a snack from the nearest conbini (convenience/corner store). I would highly recommend bringing a purse/wallet that has at least two divided sections for coins to make it easier to use them instead of getting overwhelmed. I put 5s and 1s in one section, and the rest in the other so as to make sure I use up the little guys.
Japanese Numbers
While you might be able to make do with charades and pointing at rulers, let me help make your shopping just a little bit easier and teach you the numbers you'll need to know for getting your fabric cut. I've tried to select universal pronunciation guides and examples, so hopefully this will cover Brits to Aussies to Yanks! But definitely have a listen to the Youtube video of a Japanese native saying the numbers.
The easiest part about learning Japanese is that every character/syllable/sound is always pronounced the same way. None of this 5-different-sounds-for-the-letter-A business! And it's always a short vowel sound, so don't drag them out. Here's the pronunciations in written format with the pronunciation guide next to it:
1 = ichi (itchy)
2 = ni (knee)
3 = san (sun)
4 = yon
5 = go (as in, God)
6 = roku
7 = nana (nuh-nuh, not Nanna)
8 = hachi (huh-chi)
9 = kyuu (as in, queue)
10 = juu (as in, Jew)
Going higher than this is as simple as being literal, for example, 11 is simply "ten one" = juu ichi. Twelve is therefore "ten two" = juu ni. Twenty is then "two ten" = ni juu. Thirty = san juu. Forty = yon juu. So you only need to remember 1-10 and you've got it!
Now lets add some measurements, remembering that Japan works in metric and you order fabric in multiples of 10cm or 1 metre:
Centimetre = senchi
Metre = meta (as in, metaphysics)
So 50cm is "go juu senchi"; two metres is "ni meta". Or if you want it all, simply say "zenbun" ('bu' as in book) – this means "everything"!
When it comes to paying for your goods, if shops don't have a cash register with a display for you to read the total of your shopping bill, they will quickly type it into a calculator and show it to you. There will either be a plastic tray attached to the register, like at Yuzawaya, or a coloured plastic tray on the counter for you to place the money.
A note for paying by credit card – Yuzawaya has a small credit card surcharge. They will also ask if you're paying in one payment, as you can set it up to come off your card in installments. In my experience, as the shop assistant is jabbering away in Japanese far too fast for me to understand, they have always pointed at the surcharge notice sign and then held up one finger as they ask this payment question. Just do as I do – nod while maintaining a slightly confused look on your face!
Hopefully this will help your fabric shopping trip to Tokyo and beyond! As always, leave any questions in the comments!