Yes, that's right folks, TGIFF is in da house! For those who are new around here, welcome to Japan! Yes, this Aussie is currently living in Japan with her family while her husband does the sciencey stuff for a few years. So please take your shoes off at the door, come on in, and, let me show you around a little!
I'm Alyce (pronounced "Ah-lease" not Alice) and I love sewing, Japanese bakeries, blogging, quilt designing, iced cafe lattes, Project Life and an empty laundry basket. And maybe not in that order. I also kinda have 5 jobs – mum/wife, English teacher 2 afternoons a week, virtual assistant, Japanese fabric seller and designing quilt patterns. Six if you include contributing at And Sew We Craft. Life sure isn't boring around here! But how else can I avoid studying Japanese?! You might also know me as the host of the other coolest weekly linky party around – Sew Cute Tuesday!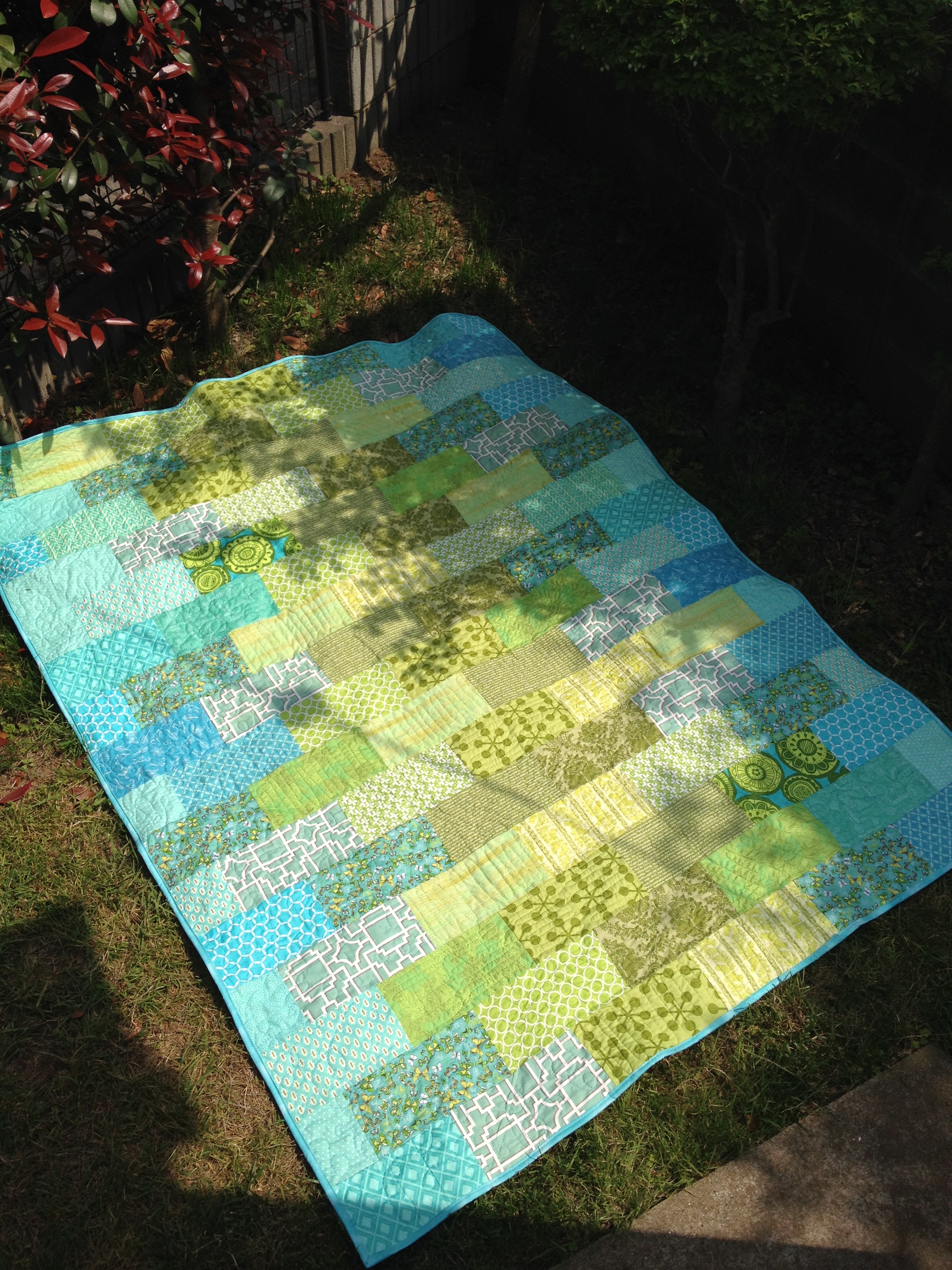 Alright, let's get down to business… I am so pleased to have finally finished my Lala Salama quilt! The theme is River Of Life, and I think I got the river feel going, yeah?! I used a range of stash fabrics, scraps, and a few locally-bought fabrics cut into 5.5″ x 10.5″ rectangles. I then had a lot of fun playing with colour progression and layout – as usual, longer than it took to actually piece it!
I had been majorly procrastinating the quilting of this one due to its large size (60″ x 80″) and thus big weight. I wasn't wrong, getting a headache after each quilting session due to a too-high table and tiny sewing machine, but I got there, and I love the gentle, all-over texture.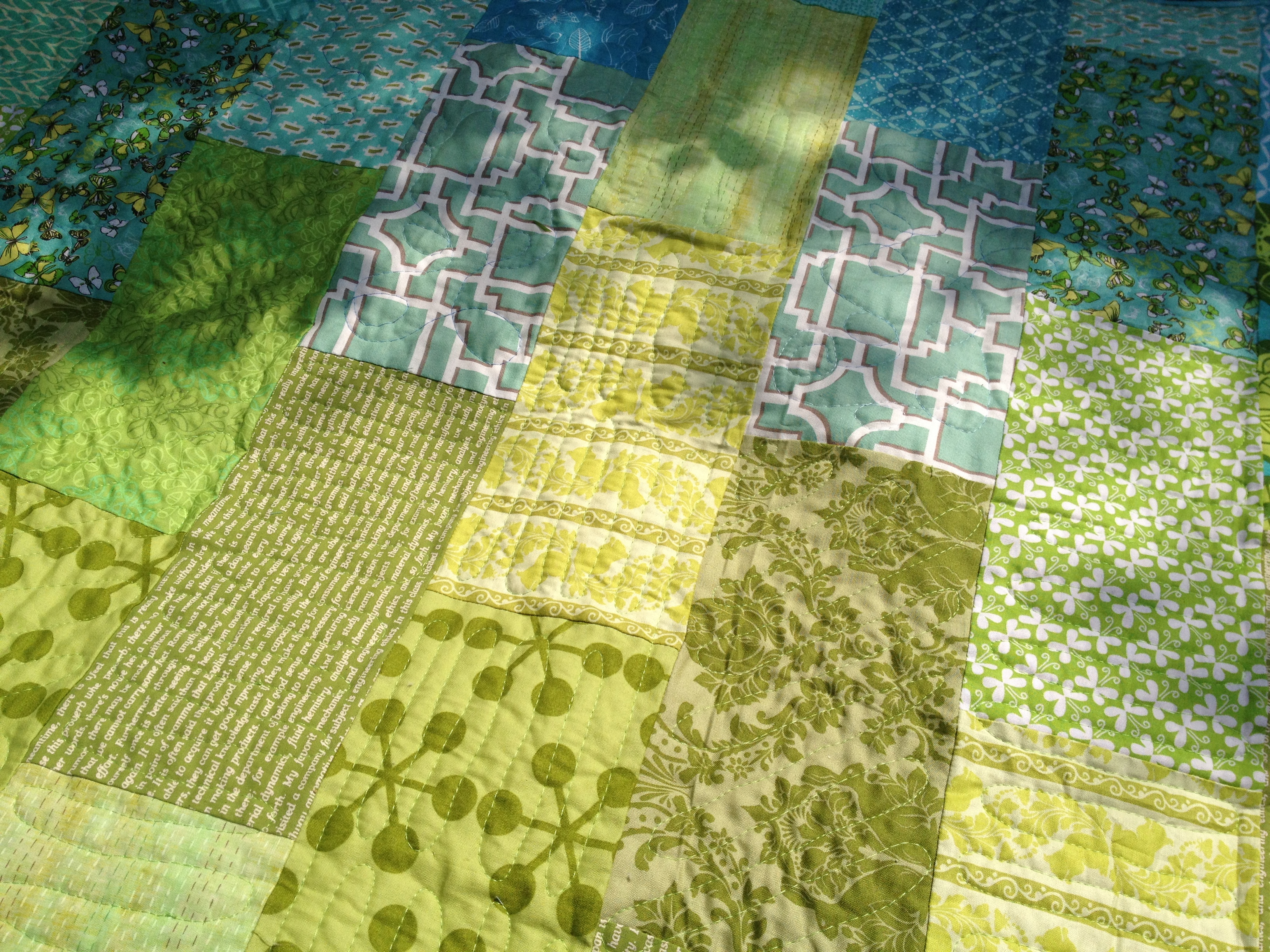 Each grassy green row alternated between vertical, diagonal or horizontal squiggle lines to give some landscape-esque texture in Aurifil 5017 40w. The aqua and blue sections got random swirly loops meandering all over the place, like swirling water, in a variegated blue – Aurifil 3770 40w.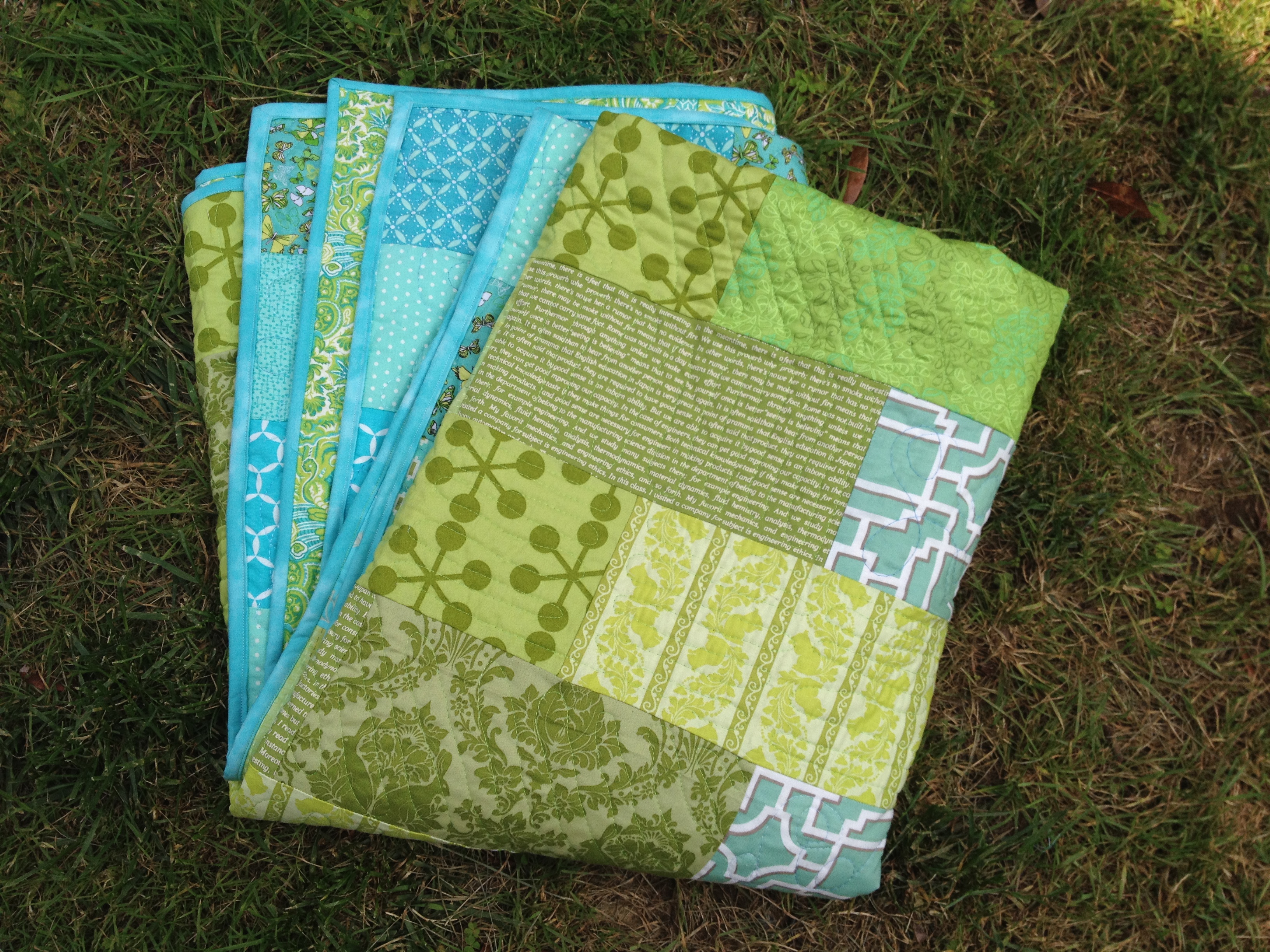 I used the closest fabric to a batik that I've ever used, with a gently mottled blue for the binding. Although I think technically it would be classified as a Hawaiian fabric? As per the requirements, it was machine-stitched down, and I tried the back-to-front method for the first time. This is where you sew it onto the back of the quilt and then stitch it down on the front. It definitely made it a lot easier to get right first time instead of missing segments on the back when stitching in the ditch on the front! Although it's definitely a bit messier looking. I'm not convinced on the look, but it certainly is a lot easier and quicker. For the back I used the same green thread as before, and Aurifil 2600 50w blended nicely into the blue.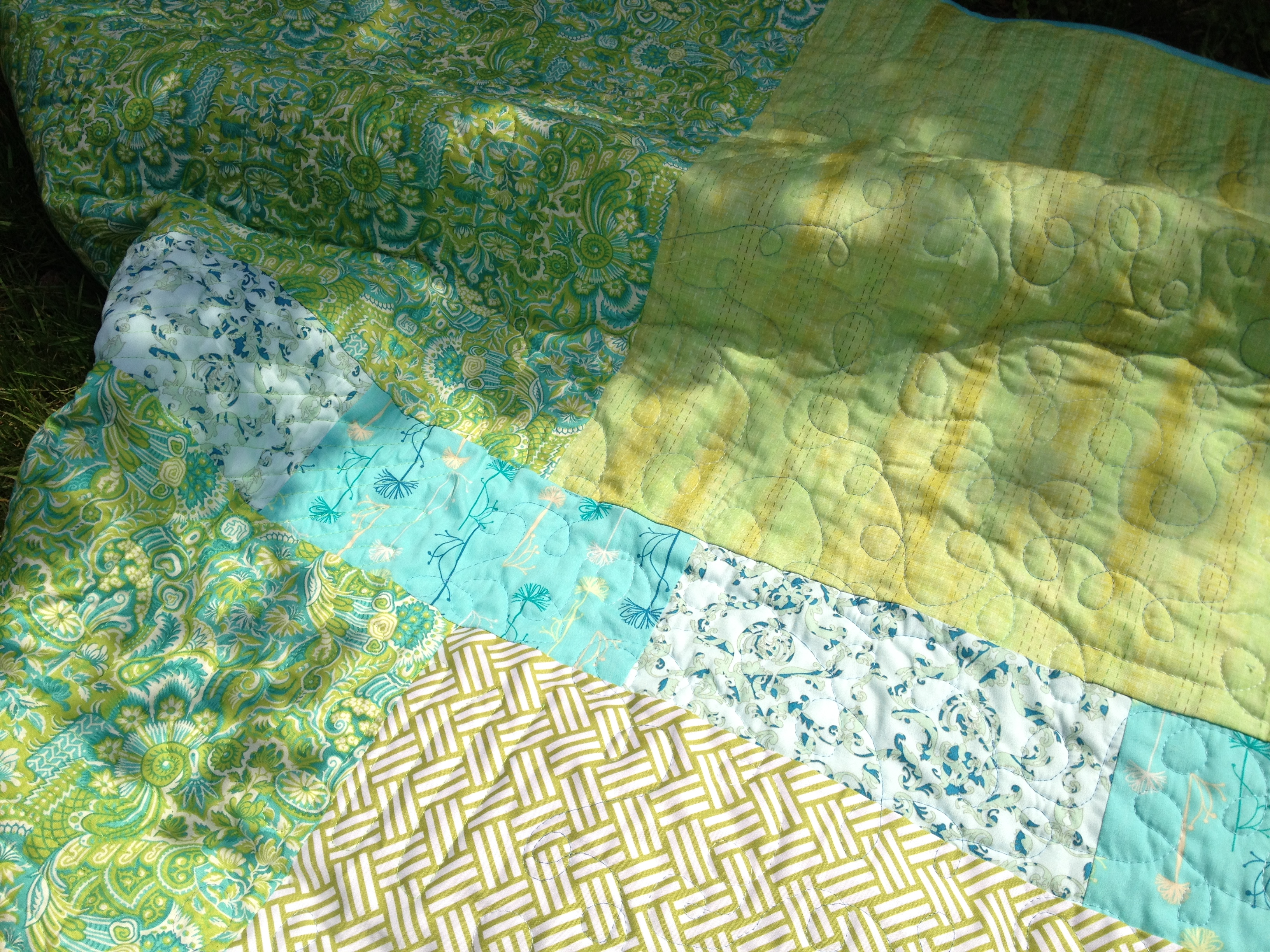 The backing was pieced using a gorgeous Anna Griffin print, some Jennifer Sampou Studio Stash, and Cloud 9 Geocentric (a very lightweight canvas), with a strip of scraps.
Now I need to package it up and send it on its way to Kenya where it will cover a bed in the Bethany Kids Children's Center at AIC Kijabe Hospital in Kijabe, Kenya. If you would like to make a quilt for this project, they would love some more so they have spares when it's washing time! Please check out all the information here.
Now show me your latest finishes! And as the TGIFF ladies would say, this is for FINISHED sewing projects and be sure to link back to this post so others can join in the fun!
Loading InLinkz ...