I've decided I need to make more rainbow quilts. This is my third major rainbow quilt this year, and I'm becoming a little addicted to the colour ordering. It's pretty darn fun, guys, I tell ya what!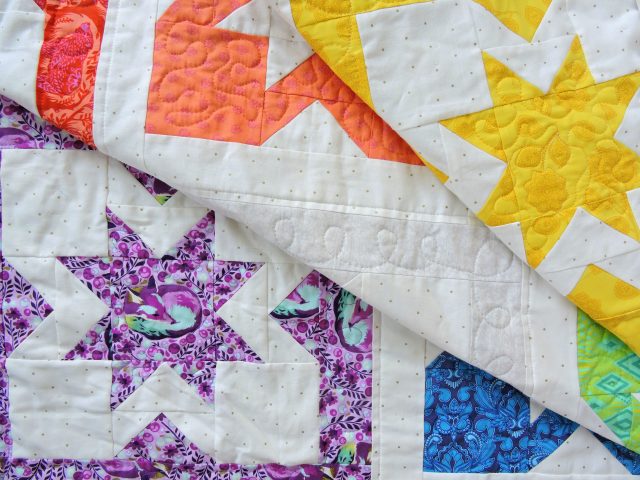 This rainbow baby quilt was made for a very special baby – my brother-in-law's first child. As they were waiting until the birth to find out what they were having, I decided that a rainbow quilt was in order. And hey, why not finally use some serious Tula Pink fabric while I'm at it! I love her work as an artist, but her fabrics aren't usually to my style. So I kept it on the calmer side of her fabrics and went for some of the blenders to use with my Geode quilt pattern.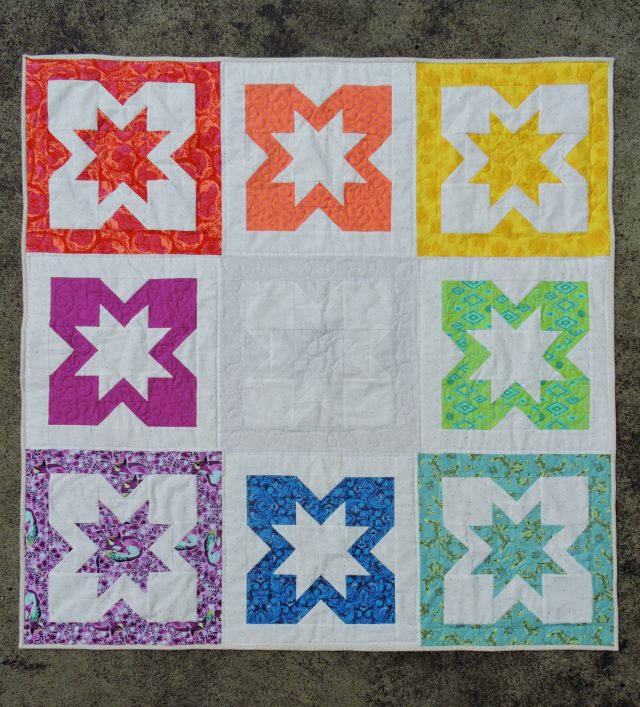 I added some fussy cut critters to make it more fun, and I really like the effect that the light grey central block helps tone it all down a touch.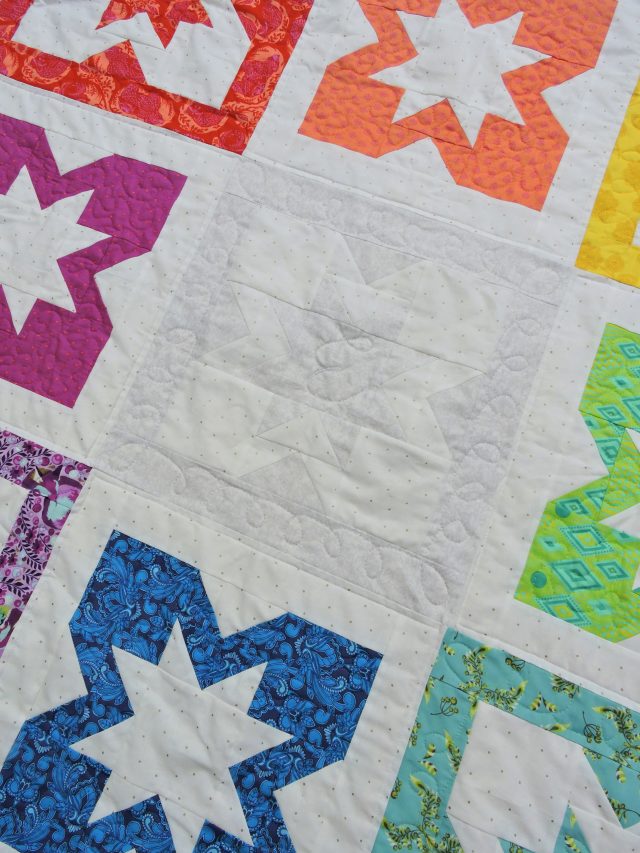 When it came to quilting, I first ditch-stitched with pizzazz in the four background-bordered blocks. In the prints of those blocks, I added a loose meandering stipple.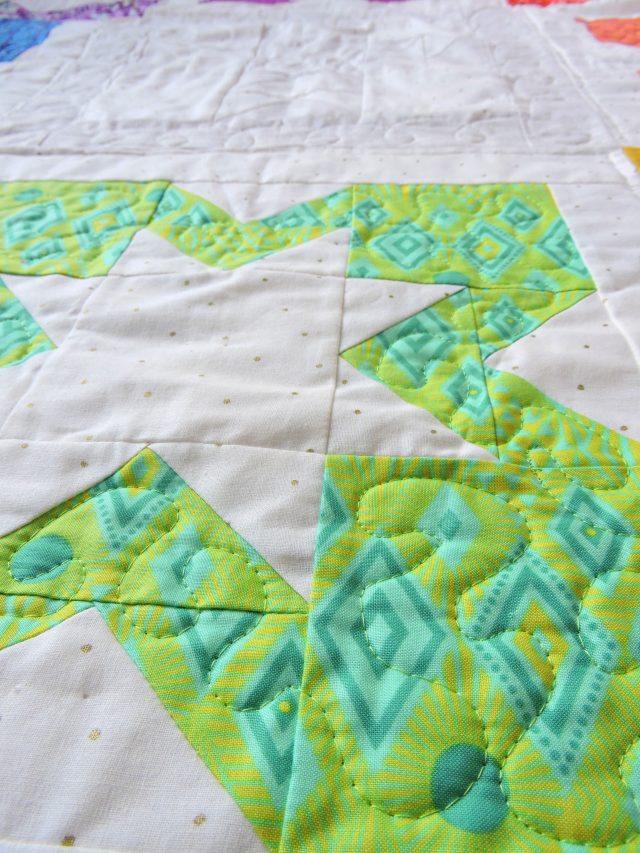 For the other blocks, I did a loopy design around the border. After the first couple of blocks, I realised I should have added a "downward" loop into the outer flying geese, but oh well! For the stars, I was inspired by seeing Angela Walters' work on Tula Pink's quilts at Australian Quilt Market, and outlined one of the motifs on the fabric, before doing a loose meandering stipple to fill in the rest of the space. This made the motif puff out just a little, and I love the effect!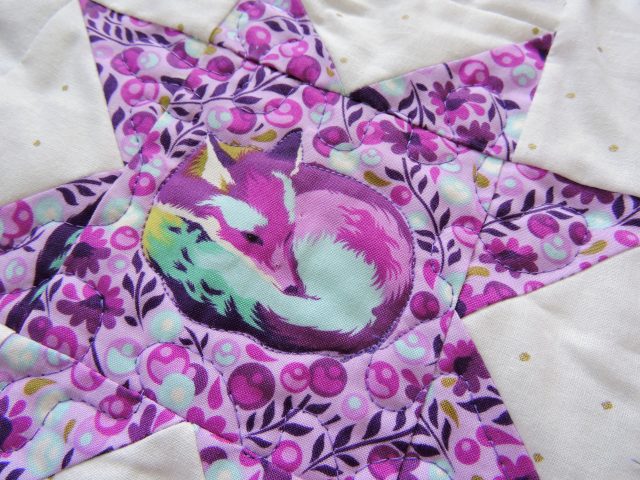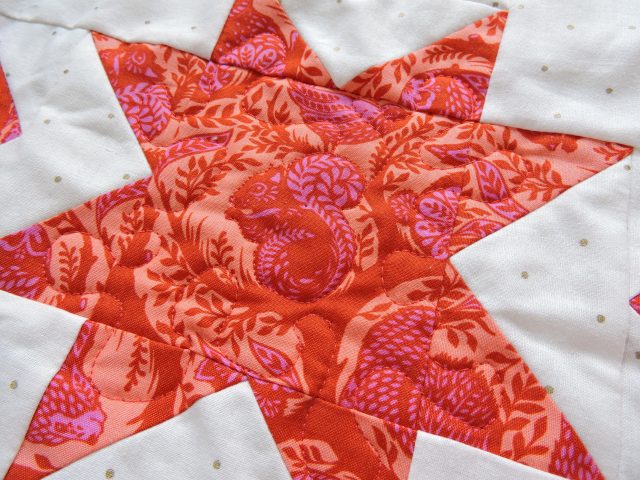 All the thread, Aurifil of course, was colour matched to the prints – from red through to magenta: 5002, 2220, 3920, 5017, 2835, 1128, 1243, 2535. For the grey, I used 2600, and did something a little special for the star! This quilt was always destined for my brother-in-law's first baby, and my newest nephew was born last Saturday. I free-motion quilted a little monogram for his first name in the centre of the star. Such a sweet, personalised touch!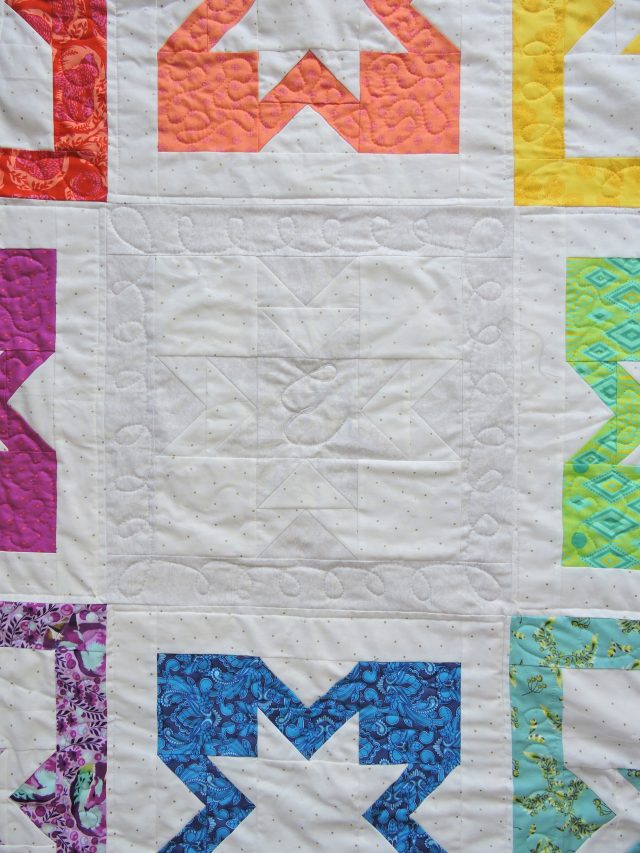 Choosing a binding fabric was a bit hard! My default is a darker colour to "frame" the quilt top, but in the end, I went with a lighter print – a cream/gold Carolyn Friedlander print – so as to let the blocks float a bit more. The design is a crosshatch with metallic golden touches, just like the metallic gold spot that I used for the background fabric.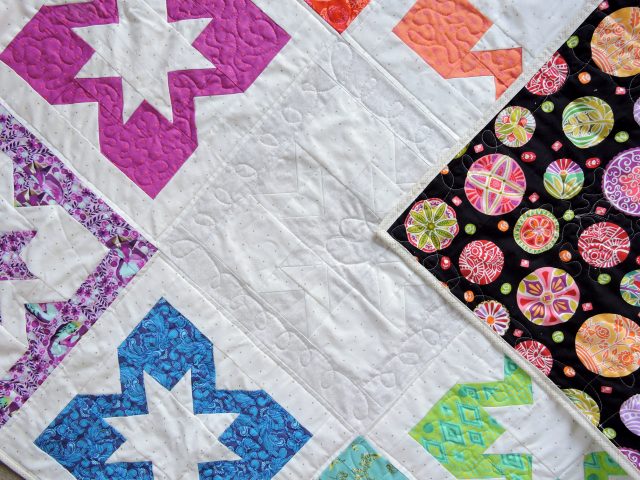 As usual, I machine bound this quilt, and I'll be sharing my method for that tomorrow, including my cheat way for joining binding tails. When I first shared that method via Instagram stories, I had so many messages about it! So now I'll finally have put it up here on my website for referring to it in the future. It's not a method to be used for quilt shows, but for everything else? Lifesaver!
The backing was half scrappy, half yardage – a Mary Engelbreit print I found at Spotlight, that was fun and colourful and the colours matched the Tula Pink fabric pretty well!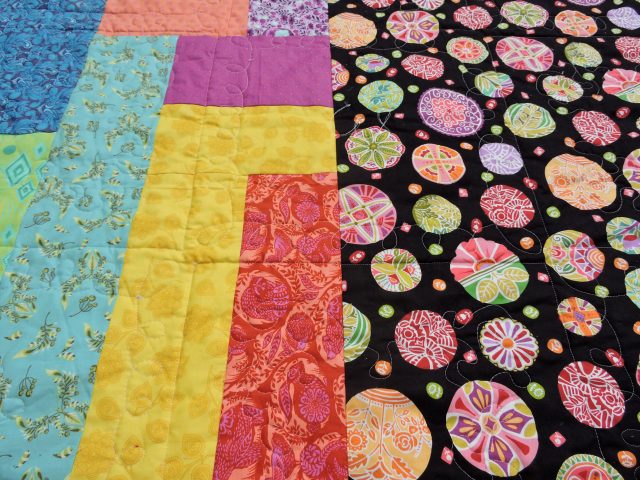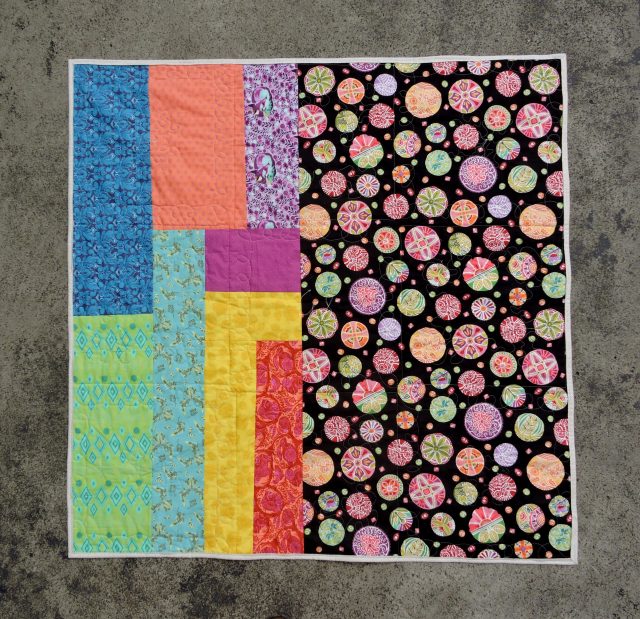 And now that it's finished, this Tula Pink rainbow quilt is being wrapped up, ready to hand deliver at Christmas!