It's certainly been the year for Aussie quilt designers and their books! It's such a thrill to see my friends succeed, and I know that there's more to come. We're too talented a bunch here Down Under to stop us 😉 Today, I'm excited to share more about one in particular – Fussy Cutters Club: A Boot Camp for Mastering Fabric Play
 by Angie Wilson from Gnome Angel, and show off what I've made with it.
Fussy Cutters Club Book Review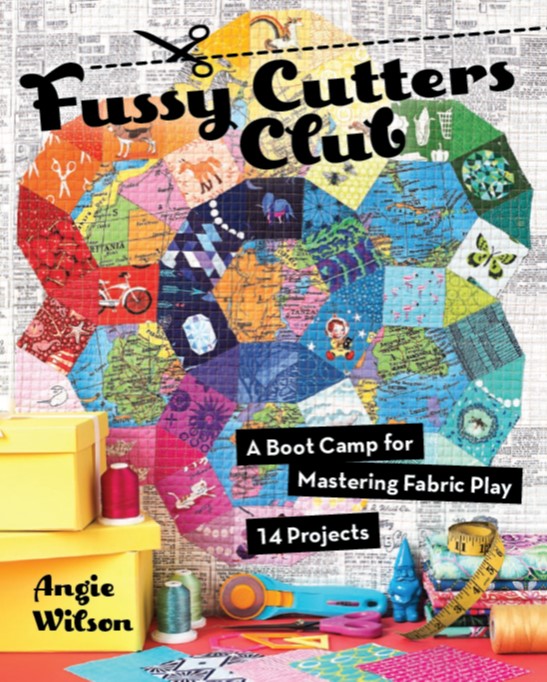 It's no secret that I'm a fan of fussy cutting where possible, and Fussy Cutters Club has a great range of projects on which to test your fussy cutting skills. There's a good mix of smaller projects that are a quicker make…
And then there's some bigger projects ranging from mini quilts through to full-sized quilts. What that means for you is that whether you're a beginner fussy cutter, or champion at it, there will be a range of projects to suit your Fussy Cutting Skillz.
And with such a range of techniques used, it also means it's a great way to practice your Quilting Skillz! From the humble nine patch block turned pot holder (meaning you've got a quick and easy gift!).
To the Rainbow I-Spy quilt that will charm children of all ages.
And the show-stopping cover quilt made by English paper piecing!
Super Star Coasters
With my new-found love of English paper piecing this year, I thought I was ready for the upping the ante when it comes to fussy cutting EPP. Sure, I can carefully cut out a single motif, but trying to perfectly match the same motif six times?! Gulp! Thankfully, Angie walks you through how to fussy cut a repeating motif in Fussy Cutters Club.
So, I pulled out some favourite fabrics that would work at the small scale to create an interesting repeat, and started playing. It's moments like these that a small hinged mirror would come in handy, but alas, it's just up to me and my quilty eye to make it work! The book includes templates for a 1.5″ sized diamond, but I already had 2″ papers and acrylic templates from Tales Of Cloth from my Cherish quilt project, so I went with that size instead.
I ended up deciding to play with the pattern of the fabric, rather than an image/novelty print, and this Tula Pink print has always been a favourite. I had the perfect purple-ish grey stripe by Jennifer Sampou to fussy cut for the background! Once I settled on the motifs I wanted to use, I used a Sewline pen to trace around the template onto the fabric to make sure I had them all the same, and then cut it out with a 28mm rotary cutter around the template. For EPP, I glue baste my fabric to my papers, and then use a coordinating Aurifil thread in 50w to stitch it all together. I can't recommend quilting clips highly enough to help hold it all together while sewing them!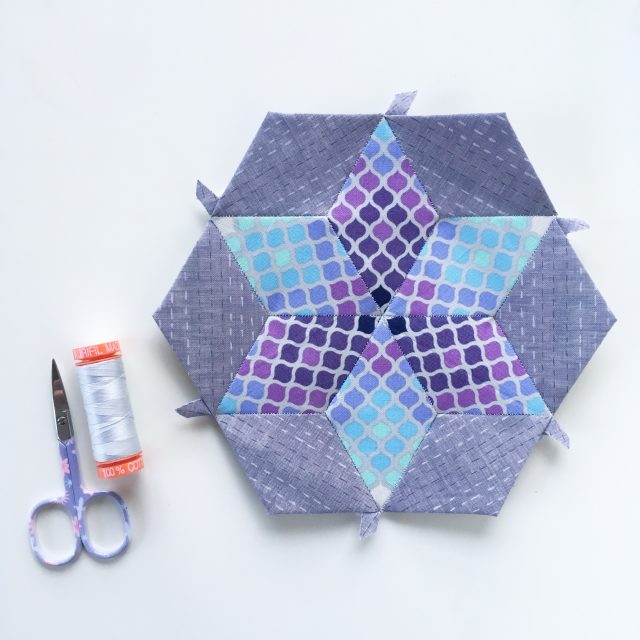 I decided that I'd add some simple hand quilting to finished these off, so I basted then pulled out some Aurifil 12w to quickly add some stitches. I used leftover binding from Tula Blue quilt to finish it off. It was a little bit of a challenge to bind a hexagon, not going to lie! But I'm pleased with the outcome.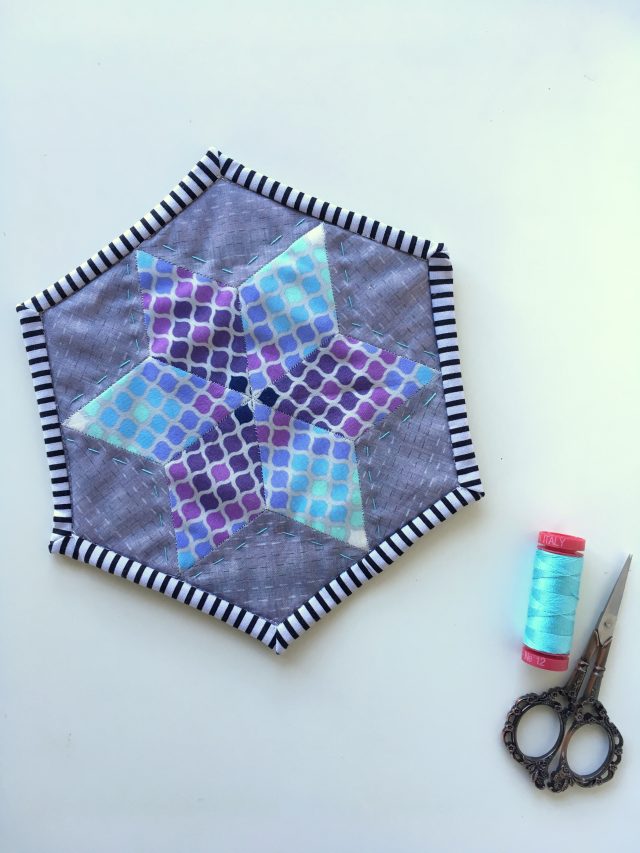 These would be perfect for a Christmas gift, as they're quick to whip up and can easily be personalised to the recipient. Although not this one, as it's destined for my bedside table!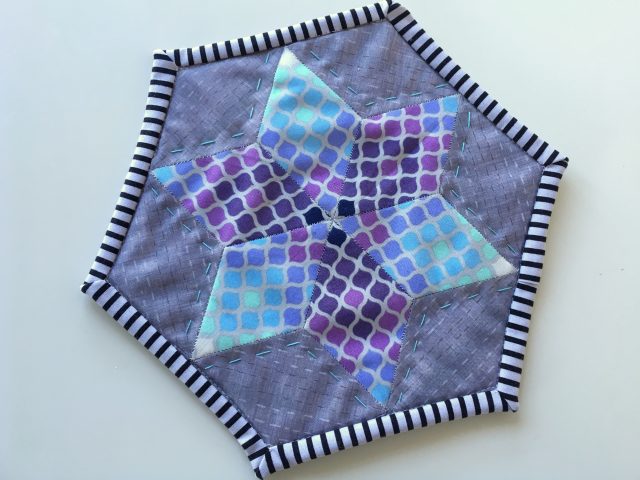 Talking of which, this a great book to add to your Christmas list this year! I'm not the only one stitching up a project from Fussy Cutters Club. Check out what everyone else is up to on the blog hop:
7 October 2017 – C&T Publishing
8 October 2017 – Lisa @ Sweet Little Pretties
10 October 2017 – Alyce @ Blossom Heart Quilts
12 October 2017 – Kerry @ Kid Giddy [GIVEAWAY]
14 October 2017 – Cat @hellofromcat
16 October 2017 – Molli Sparkles [GIVEAWAY]
18 October 2017 – Peta @ She Quilts A Lot
20 October 2017 – Kirsty @ Bonjour Quilts
22 October 2017 – Nicole @ Snips Snippets
24 October 2017 – Bernie @ Needle & Foot [GIVEAWAY]
26 October 2017 – Kristy @ Quiet Play
28 October 2017 – Lucy @ Charm About You
30 October 2017 – Sandy @ UpStairsHobbyRoom [GIVEAWAY]
1 November 2017 – Raylee @ Sunflower Quilting [GIVEAWAY]
3 November 2017 – Bec @ Skyberries
4 November 2017 – Angie @ GnomeAngel
And there's a few fun things happening to celebrate, including pins and a swap, so check out the Fussy Cutters Club website for more information!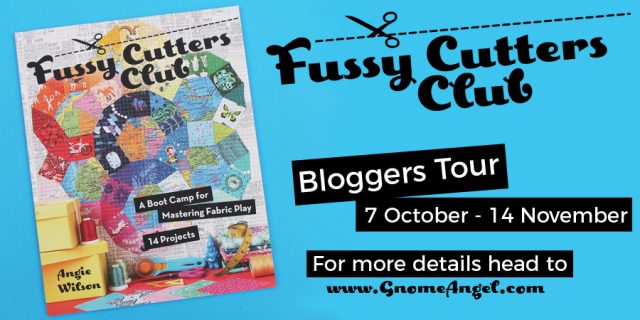 I was provided with a copy for review purposes. All opinions and wonky EPP points are my own! Post contains affiliate links.