Well, sorta finished… It's quilted, bound, and on our bed, but the journey isn't over juuuust yet…
I am BEYOND thrilled with this quilt. I started out making Tula Pink's City Sampler quilt with a grand plan of having my blocks making a dark grey-white-dark blue ombre as well as paying tribute to a variety of my family's favourite bits and pieces. And it went above and beyond my expectations!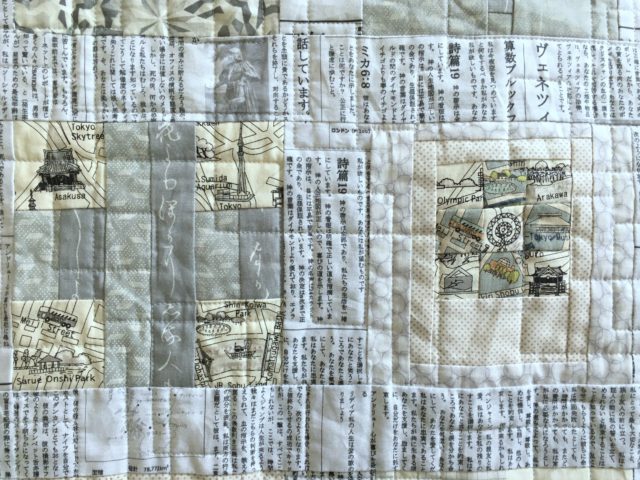 I have absolutely no regrets in how often I included fussy cuts pieces of Tokyo map fabric. I love that I included subtle hints of Star Trek… and then actual Star Trek fabric.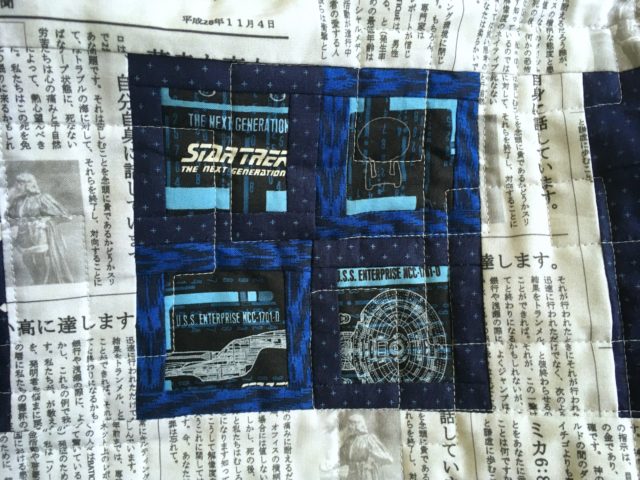 I love that I got to use funny Engrish fabric from Japan that I fussy cut to remind me of my English teaching years.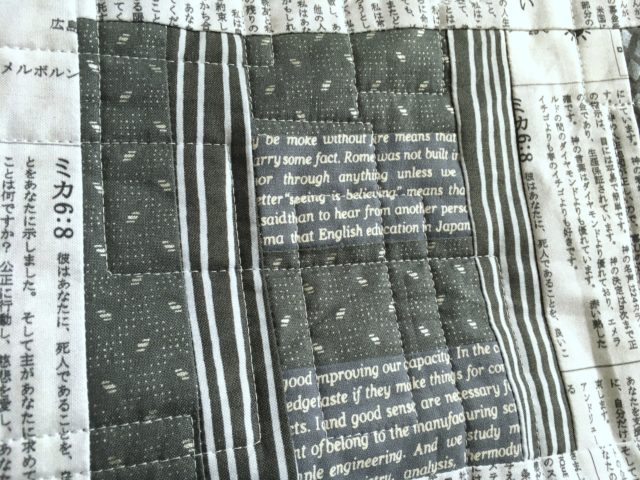 And some of my favourite Japanese prints in general.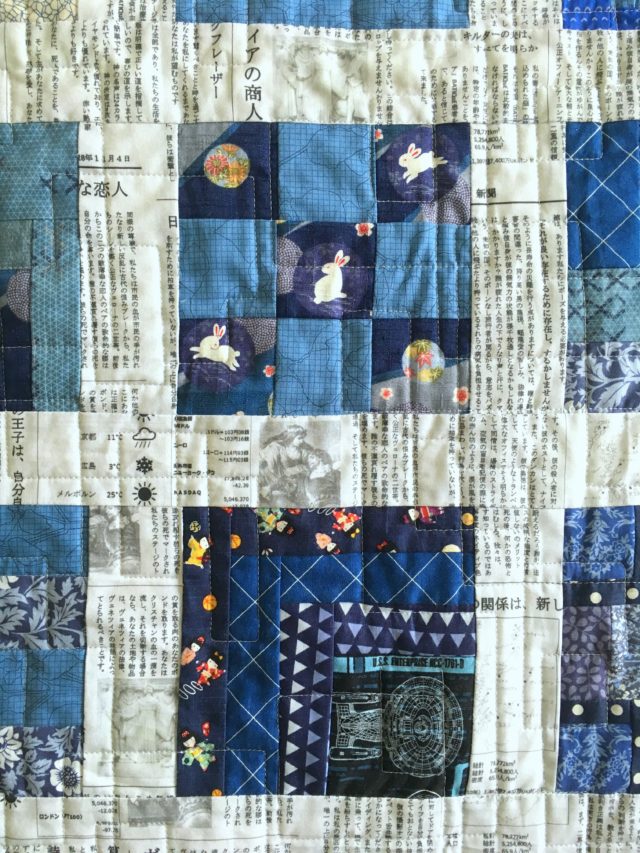 I am obsessed with the Japanese newspaper fabric that I designed with my husband that features some personal sentiments, including our wedding vows and scriptures, and that it pays homage to our time in Japan.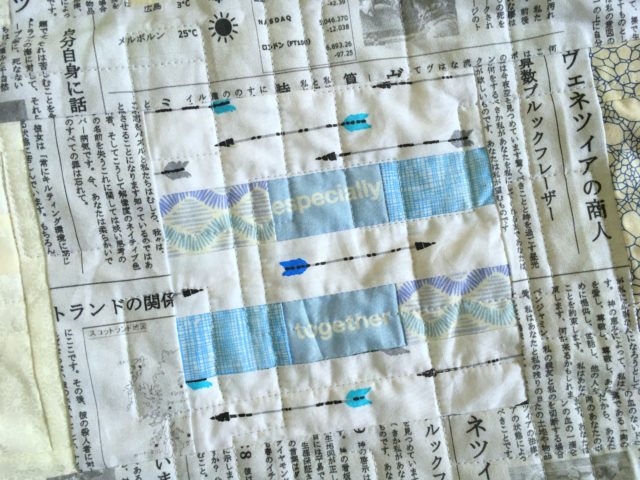 The longarm quilting by Karen is the perfect random square maze that both echoes the quilt blocks and also is reminiscent of the train maps in Japan.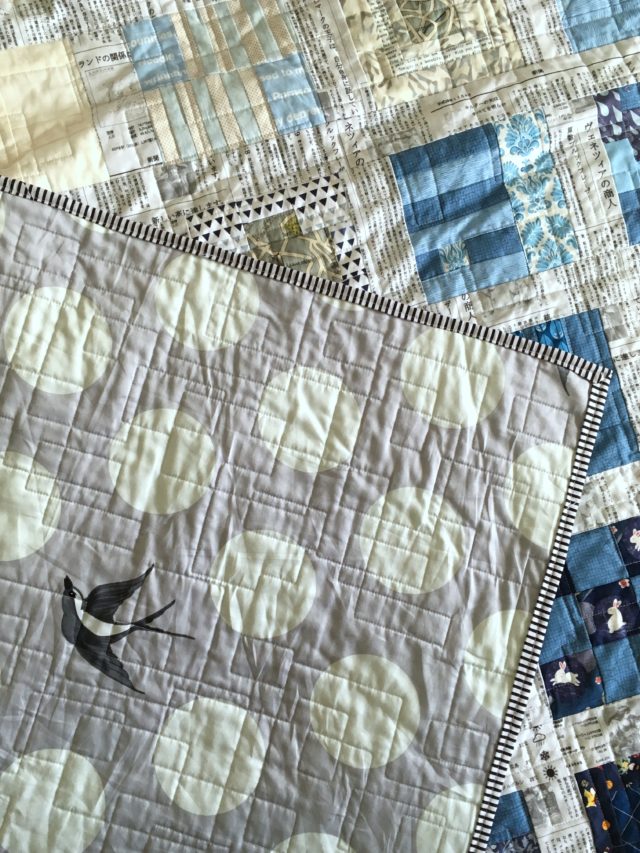 Even the binding, my most-dreaded quilting task, wasn't too onerous as the fabric I bought is exactly what I wanted – a darker fabric to frame the quilt, but subtle enough to blend in with the newspaper print.
But the journey doesn't stop there. I had long toyed with the idea of adding some hand quilting touches. I even had Karen quote me for basic straight line quilting in the sashing to stabilise the quilt so I could hand quilt in each block, but the cost was just as much as an all-over (and I had fallen in love with the quilting design). Yet it didn't deter me from my original plan.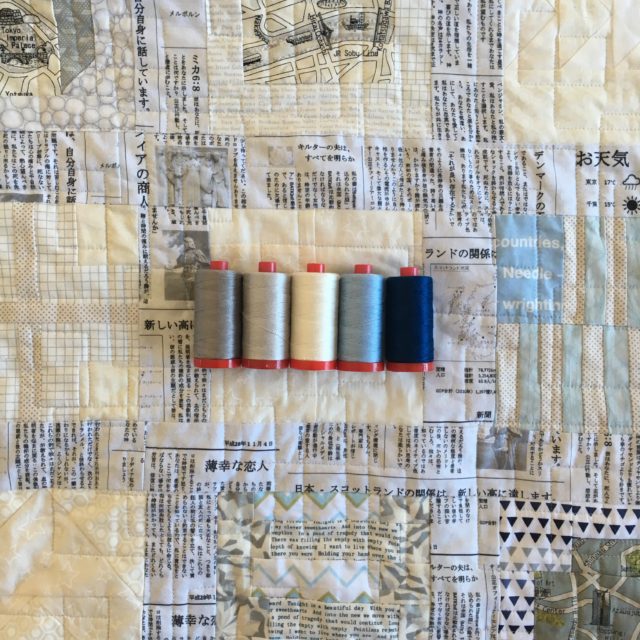 I ordered a selection of 12w thread from Aurifil to match my quilt, and I will slowly enjoy adding the hand quilting touch to this quilt whenever the fancy strikes. Maybe it's a part of me not willing yet to admit that this quilt's journey is just about over! Because I am just obsessed with Tula Blue, my most favourite quilt I have ever made, and one I hope will last for many many years to come. But either way, I'm glad I still get to play with Tula Blue.