Last week, my family went for a road trip holiday. It was such an awesome time of visiting quilty friends and having some quality family time together. And we don't even mind the driving (especially as we load up the iPad with movies, thanks to Netflix's download option!). My husband does most of the driving, as he gets car sick as a passenger if he tries to do anything other than just sitting. Seeing as I don't, it makes sense that he drives, and so I can read or play on my phone, or even do a little bit of English paper piecing!
In the last couple of weeks, I've prepped a few sets of hexagons for my new long-term EPP project – the Cherish quilt by Tales Of Cloth. This was originally going to be a quilt for my son, but his lack of enthusiasm beyond, "Oh, nice", planted a seed of doubt that he should be the recipient. I wasn't going to spend hundreds of hours hand stitching a quilt if he wasn't going to appreciate it! I came to the realisation that what he would really just be happy with was ultimately a "mummy quilt". A handmade quilt big enough for his bed. That was all.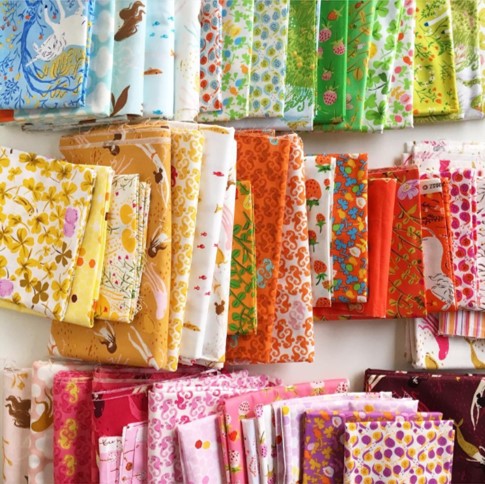 Plus the Heather Ross fabrics I'm using for this quilt are a little more younger. He's going to be 8 in November, and he's beyond fairy tale and nursery rhyme prints. But my daughter, who turned 6 a couple of months ago, she's much more likely to be happy with fussy cut ballerinas and butterflies and the like! Which also means that the range of fabric I could play with for the quilt would suddenly be a lot wider than just the "boy" fabrics I'd previously pulled… I was convinced.
The Cherish quilt kit is such a great travel project. I cut and baste each set of shapes for one big hexagon at a time, and store them together in a little plastic container, which is usually inside a bigger plastic container that also stores my little EPP kit of supplies. I then stitch up the shapes to form the small half-hexagons and store those with the large hexagon for that set. But while on the road, I just keep the little container of basted shapes and my Fat Quarter Shop tin of supplies – 50w Aurifil (nice and strong for a well-used quilt), scissors, needle, magnetic needle minder, and some Thread Heaven just in case.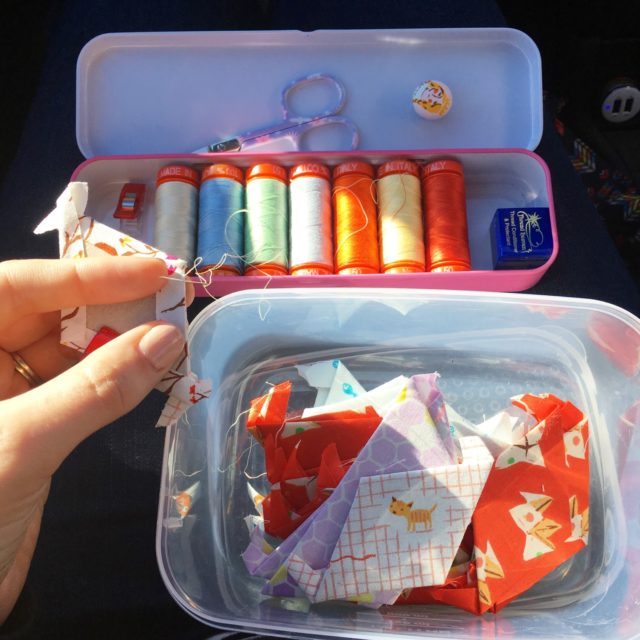 Along the way, I decided to have some fun documenting our travel in a stitchy kind of way #roadtripstitching starting with the drive to Canberra, and stopping in Gundagai… Complete with upside down flower,  oops!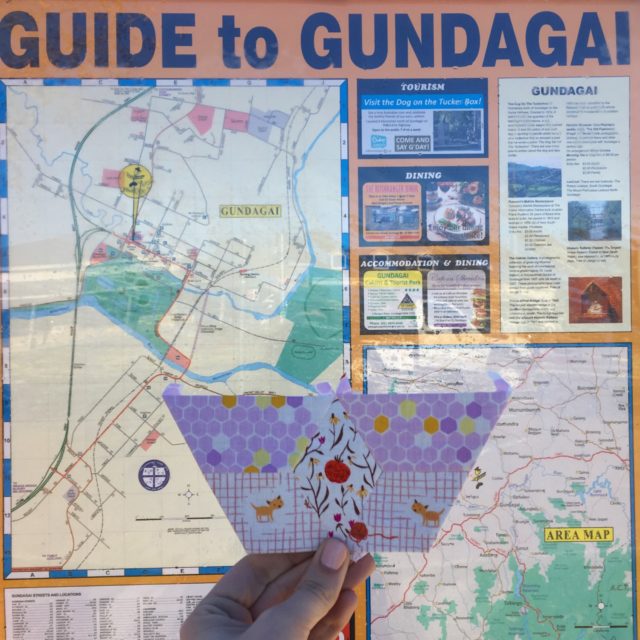 And then our first stop, the Royal Mint.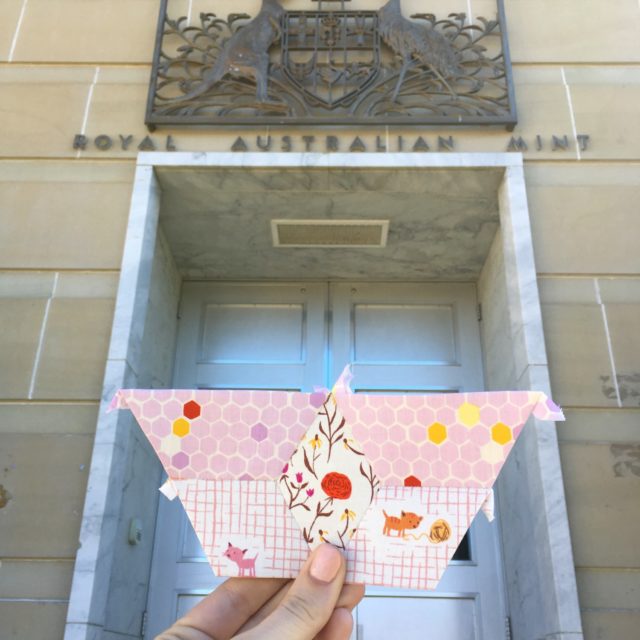 It also helped motivate me to do a little bit of stitching each day so I had something to photograph! While sitting and watching TV at night in Canberra, ready for Parliament House the next day.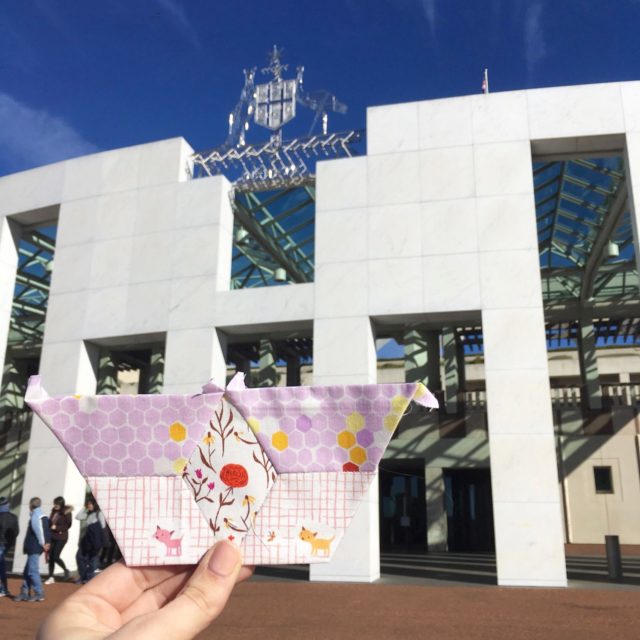 And when I visited another friend for a bit of fabric shopping at The Creative Retreat.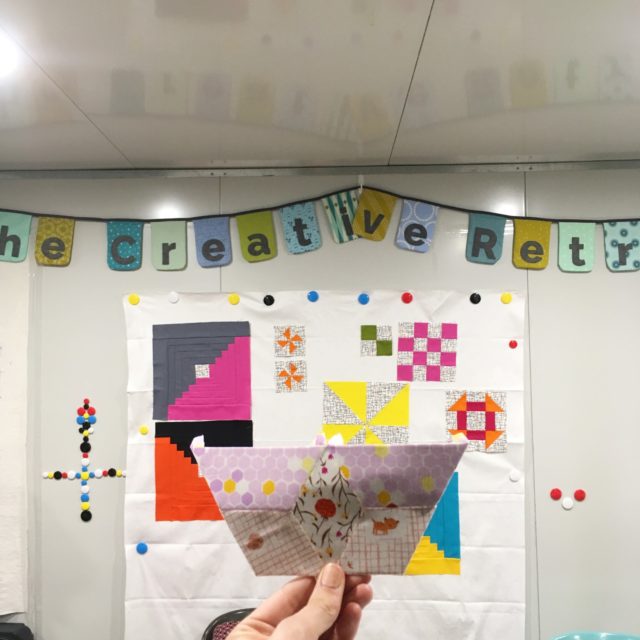 Gripping on with all my might at the Three Sisters in Katoomba on a very windy day!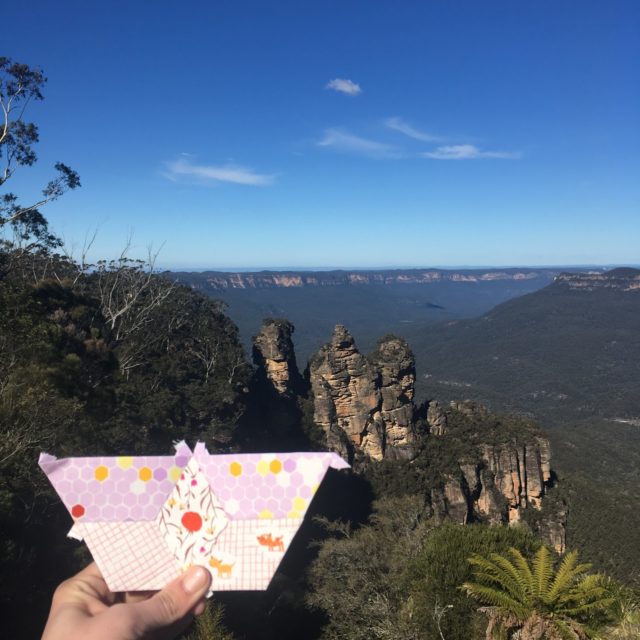 While stopping for coffee in the historically cool Rocks in Sydney.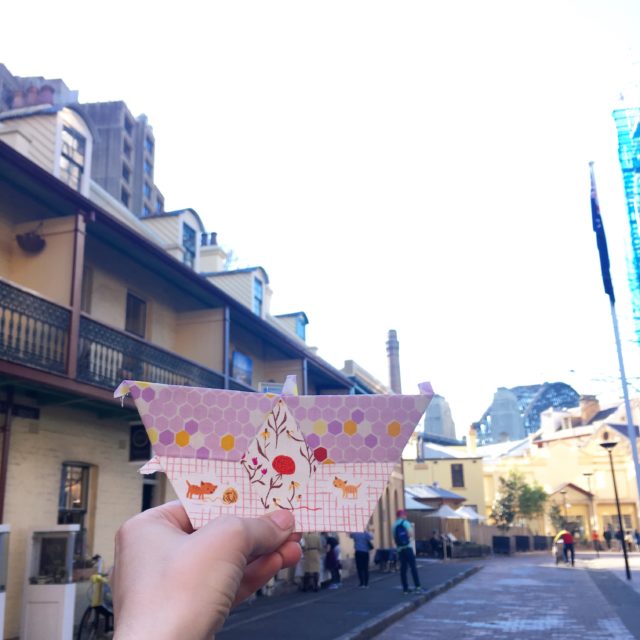 By our second day in Sydney, we were a bit tired, so we had a relaxing ferry trip to Manly Beach and just let the kids play on the playground on the beach while we enjoyed the warm sun.
This was followed by an afternoon the hotel – the boys had a nap, while us girls did some reading and stitching.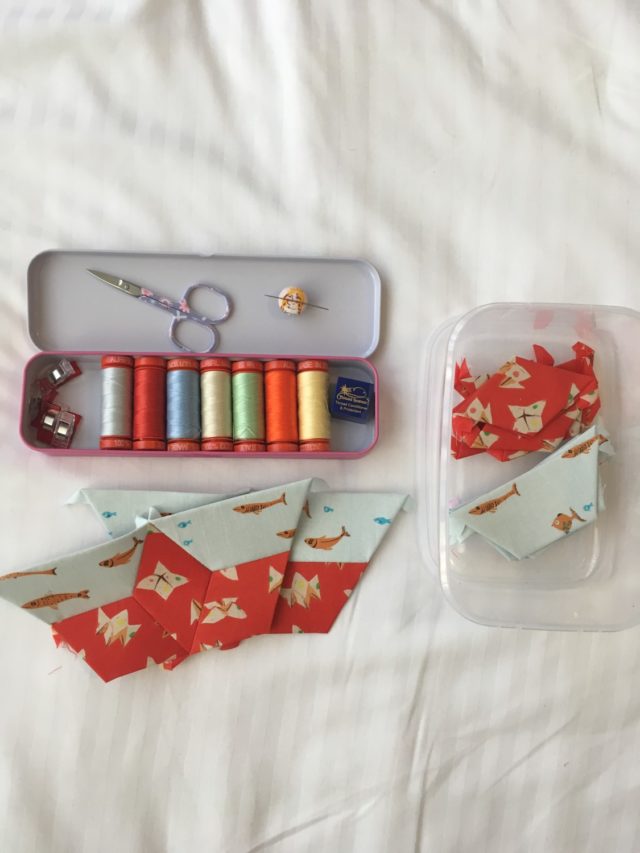 The final day we drove all the way home, stopping once more in Gundagai, this time at the famous Dog On The Tuckerbox statue. I had one last half-hexie unit leftover that didn't get photographed, but I did get two whole blocks worth of half-hexies stitched up, so, go me!
My target is to have this quilt finished by her birthday next March, and I have about 30 of the blocks to make in total… So I'd better keep it going!