Now is the moment when I pause and look at the calendar in shock. It's nearly the end of July already. As my kids say, "What the crazy?!" But indeed, it is July 25, and it's time for the next round of the Girt By Sea quilt along – the log cabin blocks.
All the designers of this quilt took inspiration from Australia to design their round of the medallion quilt pattern. I was inspired for this round by the hills and mountains that have surrounded all my Aussie homes. In Adelaide, there's the sea on one side, and the gorgeous Adelaide hills on the other. In Cairns, the rainforest-covered mountains have always had a soft spot in my heart since I first flew in over them nine years ago. And then when I lived the for 3 months on our way to Melbourne from the concrete jungle of Tokyo, they soothed my soul with their colours (and sounds!). Now here in Melbourne, the Dandenong Ranges are always there on the horizon. Not to mention the Great Dividing Range that runs along Australia's eastern coast!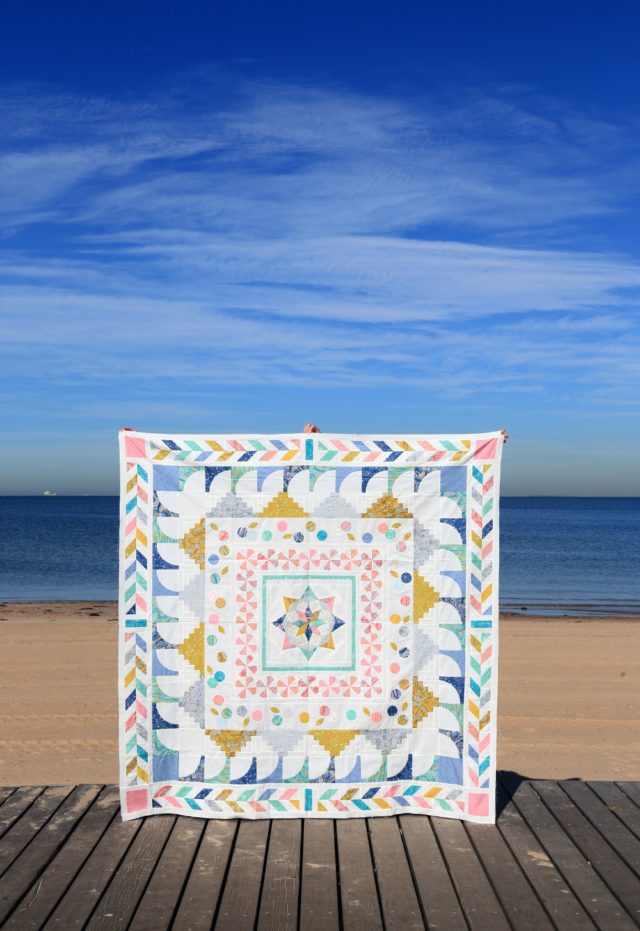 And what better way to represent this geographical feature than with log cabin blocks, with careful fabric placement and a bit of rotation. For the pattern sample, I used four prints, but as we have encouraged you all along, make this quilt your own! Like how Jackie made an Alison Glass rainbow version, that I just can't get enough of…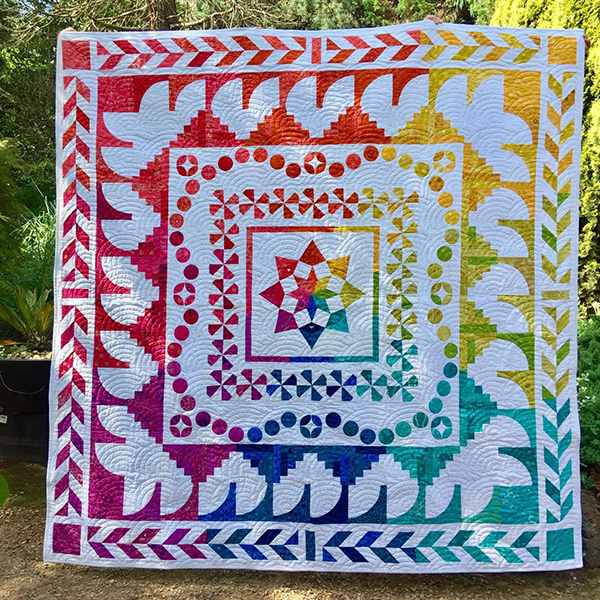 Tips for log cabin blocks
Pre-cut everything – Cut all your width of fabric strips at once, then subcut them into the correct lengths and amounts. Keep them organised in their prints/pieces, and you'll be all ready to go!
Chain piece each section – sew all A+F, then all AF+G, etc. I chose to sew each print's set of log cabins at a time, which took about 30 minutes to do.
Press every seam with a hot iron before sewing the next piece on for better accuracy. This is where the chain piecing comes in handy, as you can sew all of each section and then press them all at once. Then chain piece some more, then press. And so on and so forth!
I am drastically behind on my own version for the Girt By Sea quilt pattern, but that's what my quilting getaway in a couple of weeks with girlfriends is for – making HSTs, doing some raw edge applique, and making log cabins! At least the centre is done…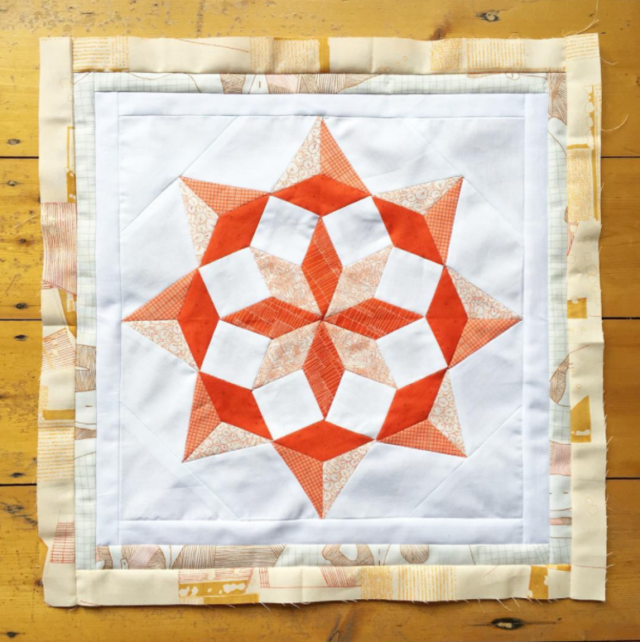 So yes, while I have a lot to catch up on, I'll be using the same efficiency tips of pre-cutting and chain piecing to catch up. And having friends with the right AccuQuilt dies for Girty has certainly helped in speeding up the process! My circles have already been fused and cut out thanks to Alison's circle dies, and I'll be pulling out the HST die to make my windmills.
Month 4 Prizes
What's a quilt along without prizes?! This month, simply upload any picture of your progress (regardless of what stage your quilt is up to!) to Instagram using #girtbyseaquilt and one lucky quilt-along-er will win their choice of 7 fat eighths of Liberty plus 1/2m of linen from Ava & Neve, plus your choice of two paper Making Merry patterns from me. That's enough fabric to make whatever pattern you might choose!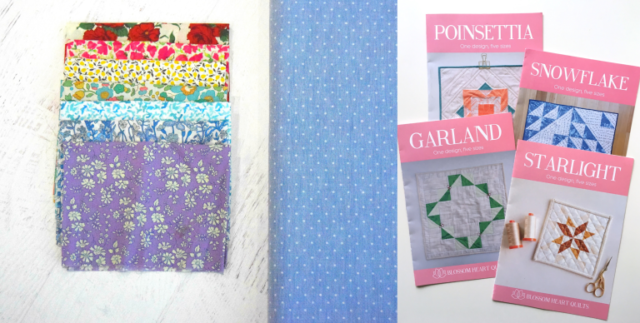 So it's certainly not too late to jump on in at anytime and start your own Girt By Sea medallion quilt – just grab the pattern here from Craftsy and get going! It includes the colouring sheet, so you can much more easily plan out your quilt. And don't forget to join the Modern Makers Facebook group too, it's a great community of quilters to chat with and share your Girty progress.