For years I had heard of the mythical, magical beasts known as fabric cutters, and had long wanted to try them out. To see if they really were as good as the hype. Last year, I had that chance at Modern Makers Retreat to use an AccuQuilt where I sliced up hundreds of 2.5″ and 4.5″ squares of fabric for a magazine project in a matter of a half hour or less. Had I needed to do that by rotary cutter, it would've taken me at least a couple of hours. I was hooked!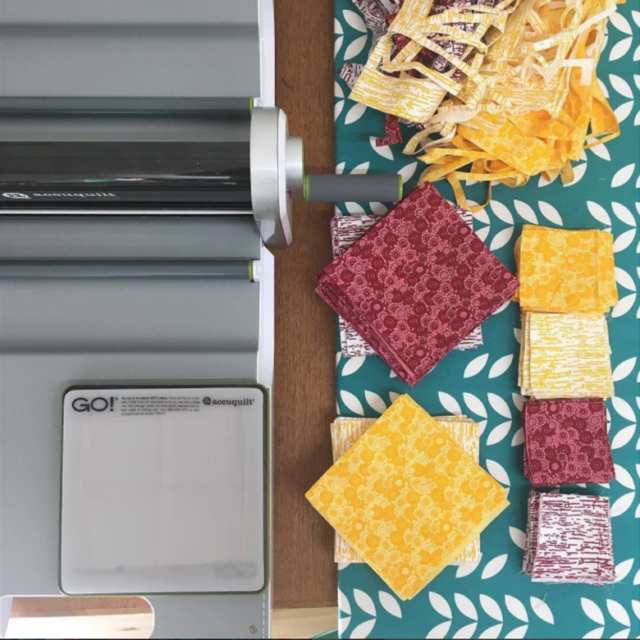 This year, I was also glad that my Modern Quilt Guild purchased an AccuQuilt to offer usage to our members at sit and sew days, and also to help with charity events. As our guild's Charity Chick, I'm very happy that we can now quickly and easily cut up fabrics for our charity sit and sew day next month – it will save so much time. We even have the 2.5″ strip die to help make binding for our charity quilts!
So I am thrilled to announce that I am now an AccuQuilt Associate – a fancy name for "officially working with a product and brand I love"! I'll be working with AccuQuilt Australia on a few projects, starting with a brand new Block of the Month program kicking off in August. I'll be designing and sharing a monthly tutorial for 12 quilt blocks made from the GO! QUBE Mix and Match 8″ Block. And you all know how much I love a BOM!
I also want to take a moment to thank you all. It's because of the awesome support from and the community that is all of you, that opportunities like this are able to come to fruition. So, thank you so much!