A year ago yesterday, we moved back to Australia. I thought it fitting to share an article I wrote for Make Modern (issue 13) about comparing Japanese quilting to Australian quilting.
Having just spent four years living and quilting in Japan, I'm often asked how Japanese quilting differs from the rest of the world. It's hard to say definitively, but there are a few points that can be made from my experiences at various quilt shows in Japan, where one presumes that the best of the best is shown. But these points also pervade the shopping there – the way sewing is marketed, the handmade items I saw in daily life.
Handwork
There is a big focus on hand work – hand piecing and hand quilting feature very heavily in the quilt shows I've visited. This is due in part to the history of sewing in Japan with the classic sashiko and other embroidery styles employed in Japanese sewing. Whether it was on a beautiful kimono, or practically used to create warm clothes by adding layers and heavy stitching, hand sewing is ingrained in Japanese culture. From a practical standpoint, many quilters may simply not have the space to set up the table space needed to machine quilt at home. Related – long arm quilting certainly hasn't taken off in Japan either, presumably for the same reasons!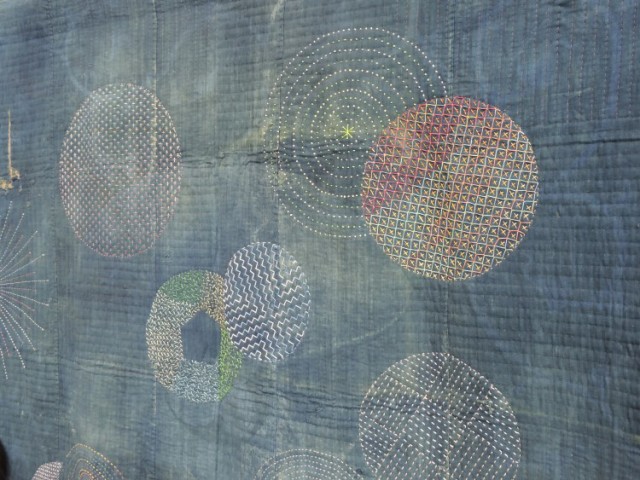 Thrifty
Japan is a very resourceful country. Having to eke out an existence for 100+ million people on a tiny land mass means that the Japanese people have become very thrifty, with tricks to make most out of any space, and also a rather complicated system of waste disposal. Just ask anyone who has visited Japan and tried to find a bin while out and about! This need for thrifty is reflected in Japanese quilting, where it relatively rare to find a quilt that hasn't been made from scraps and/or many different, small, pieces of fabric. Whether intentionally scrappy, or thrifty buying of small selections of fabric, there is a sharp contrast between more "cohesive" quilts with the same line or style of fabric (such as solids), and those that are a glorious riot of colour and prints. Even the more traditional Japanese style of quilts that use indigo fabrics will include a range of different shades and textures within the quilt.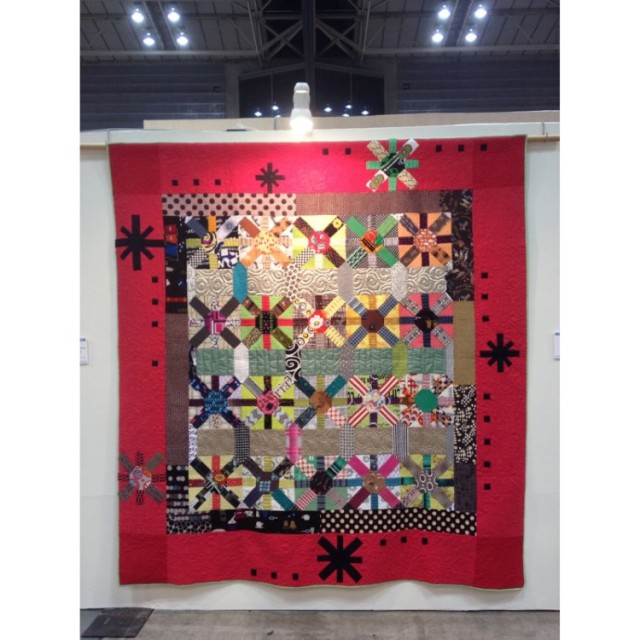 Improvisational
Related to the scrappy fabrics, is the high rate of improv-style quilts. As someone who prefers geometric, ordered quilt designs, this is something I've especially noticed. Even a simple background section may be made of multiple small pieces sewn together in an improvisational type manner. Similarly, they are not afraid of partial or Y-seams. This may play back into the high use of hand piecing, which makes it easier to make those kind of seams.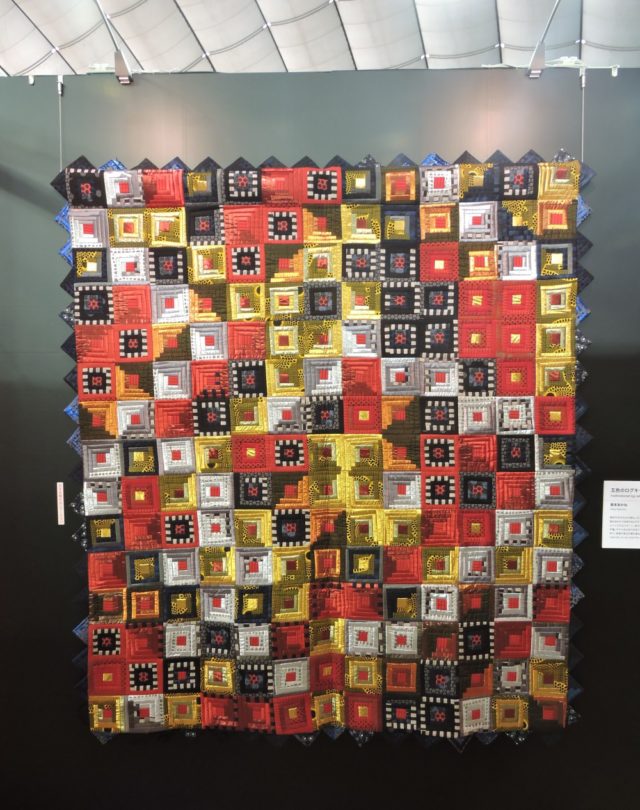 Materials and more
Japanese quilters are also not afraid of including different textiles and bling in their quilts. Yoshiko Jinzenji's style of silhouette quilts is one such example, where she often uses a shiny metallic fabric as the base for her quilt top upon which she places cut out pieces, which is then topped by a sheer, netted fabric and quilted in place. I've also seen quilts with what can only be described as a piping edge instead of binding. Applique quilts may include a range of different textiles to create the shapes, and beads or sequins or other similar types of materials are not uncommon either.
Everyday life
But how do these quilt show masterpieces compare to what I saw every other day of the year? I saw many tiny, hand-pieced quilt blocks turned into hand bags, or more simply-pieced bags covered in sashiko. I made many different bags for my kids and friends' kids for Japanese preschool, and those that didn't make their own or buy from a handmade business, bought bags that still looked like handmade from the store. Handmade is highly valued, and sewing is still a big part of everyday life, as evidenced by a craft store being included in every mall built by huge department store chain, big or small. Can you imagine being able to get your groceries, a new pair of socks, and some quality fabric or thread, in one stop? And no one ever blinked or gave a puzzled look when I told them I quilted and sewed.
Quilting In Australia
Having just attended my first Australian quilt show, as well as having attended a symposium on the history of quilting in Australia, I can see the subtle and not-so-subtle differences in quilting between the two countries. Quilting in Australia was not born, or continued, out of necessity to keep warm. Our winters are a lot milder than those in the northern hemisphere! But rather, the tradition continued as a way of providing a decorative touch to homes, or as a family heirloom to record the story and life of the maker. As quilters tended to have a lot more space in their houses too, many quilts were large and pieced as a whole-picture, rather than block by block.
Which continues to this day, but many are pieced and quilted by machine instead. Our quilts tend to feature larger pieces of fabric, and only use quilting cotton fabric at that. But that's where the main differences in our quilting stop. Because many Australian quilters do make improv quilts. And scrappy quilts. And hand-pieced and/or hand-quilted quilts. While it may be fair to point out that most quilts at shows are machine-pieced and made with incredible precision and points compared to the scrappy, improv masterpieces of Japan, there is still a wide range of quilting styles present in the much-smaller quilting population of Australia.
Everyday life
Gone are the one-stop shopping trips for supplies, and the cheap prices for top quality quilting cottons! Back are the puzzled looks when I respond to, "What do you do?" with the answer, "I'm a quilter". Gone are the everyday glimpses of handmade items everywhere. But back are the readily-found quilting and sewing groups, with many more quilters and groups using the internet to share information and details of classes and sewing days. Australia has embraced the online world of quilting, through blogs, websites, and online shopping, something in which Japan has yet to really find its footing.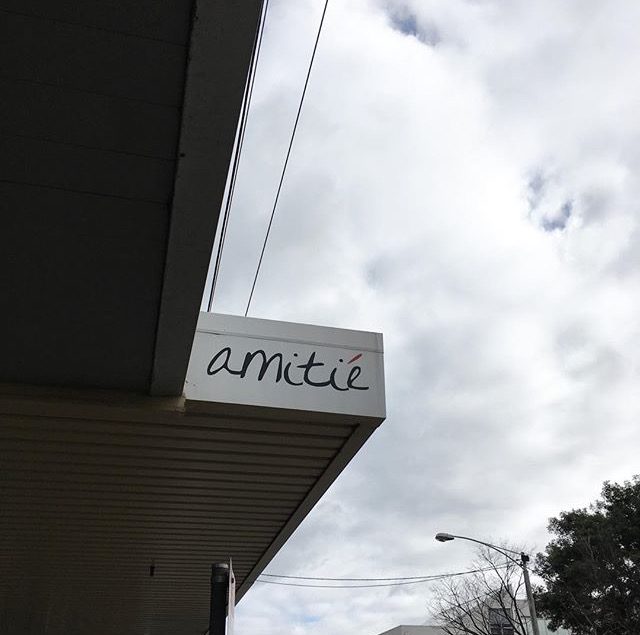 Both countries have some clear differences in style and methods, and prices of supplies! Yet one thing is clearly the same – we love quilting for the love of making and creating. That speaks through all of our work, whether it be improv or precise, bright or dark, big or small. And if we were all the same, life would be so boring!
Save