Foundation paper piecing is an invaluable skill! Yes, it takes a little bit of mental acrobatics trying to wrap your brain around how it all works, but the great thing about learning how to foundation paper piece is that once you've learnt the basic technique, it's the same for every single pattern. It's just that taking that first step can be a bit scary. Which is why I've designed the Milky Way Sampler to teach you how to do it and make a beautiful quilt at the same time.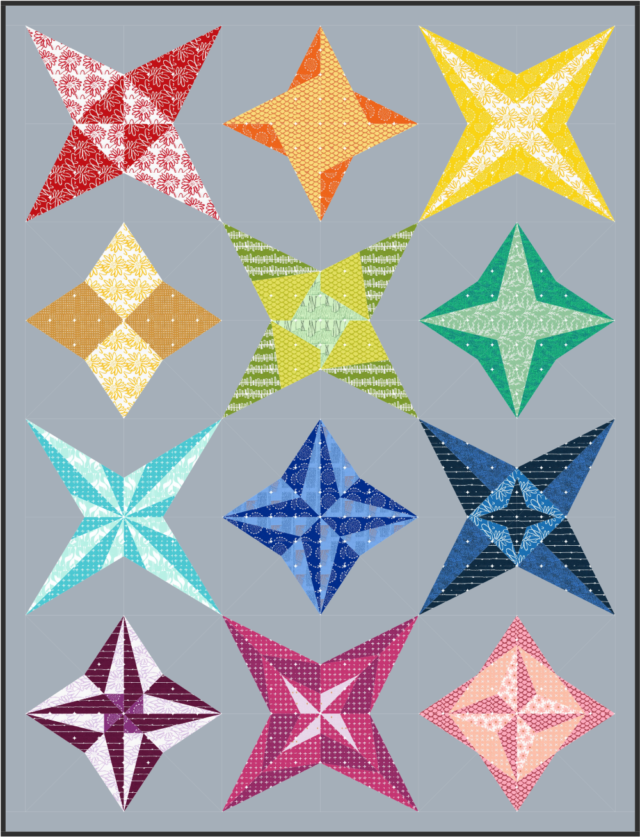 And I hope you're ready, because this is chock full of guidance… aka rather long and full of photos.
Supplies for foundation paper piecing
The first thing you'll need to get sorted are the supplies you'll want for foundation paper piecing. There are the basic sewing supplies like a rotary cutter, ruler, and mat, but there's a couple of other things you'll want, plus some tips to consider when choosing some of the basic sewing notions.
Paper
You will need to print the templates for your pattern, but as you'll be sewing through it, you want to carefully consider what type of paper you're using. I use cheap copy paper because 1) it's cheap! and 2) cheap = thinner = better for sewing through. Other people prefer to use newsprint paper, the kind used for newspapers, as it's a lot thinner but still sturdy enough to print onto it.
Holding On
Slight word play there… you will want to have either a fabric safe, washable glue stick on hand, and/or some thin, sharp pins for the start and middle steps of paper piecing. You'll see further down why I use glue, but if you're using pins, you want to make sure that they're as thin as possible so as to not bend your paper too much. At the final stages of foundation paper piecing, when you're sewing the template sections together to create the finished block, Clover Wonder Clips are really useful to hold the layers of paper and fabric firmly together.
Thread
When you're foundation paper piecing, and you have layers of fabric and paper, you're going to want to use a fine thread. Fine as in thin, but also fine as in good quality! I piece everything with a 50w Aurifil (the orange spool), and it's strong enough to sew through layers of fabric paper, and lightweight enough to not add unnecessary bulk.
Paper Scissors
Oh yes, we've all seen the memes about using fabric scissors for anything other than fabric. And now that we're dealing with fabric and paper, you'll want to have a nice, sharp pair of paper scissors on hand too! Side note – you'll be using your rotary cutter to trim blocks, which may sometimes involve the paper too, but I don't worry about that as you regularly need to change the blade anyway. Some people keep a paper-only blade on hand, but I figure that as you want it to be sharp enough to cut through fabric and paper, just stick to the one as blades eventually dull anyway. But it's up to you!
Rulers
In foundation paper piecing, you are constantly trimming fabric to a 1/4″ seam allowance. There is a fascinating tool out on the market especially for foundation paper piecing called Add-A-Quarter Ruler
that you might prefer to use! It has a groove that locks onto your seam so that you can neatly and accurately trim fabric to 1/4″. In fact, this is on my wishlist! But for years, all I've used is my Creative Grids Quilt Ruler 6.5″ square ruler that has the frosted 1/4″ around two edges. It's not notched, but it's a visual help to line it all up.
Pressing
There tends to be a lot of smaller seams within each block when you're making a foundation paper piecing pattern. Not so much in the Milky Way Sampler, however it's something to be aware of, as it's important to press each seam to make sure that each piece of fabric is laying flat. If you use an iron for each and every seam, well, for starters that's a lot of up and down to your ironing board! But the heat will also cause your paper to start to curl. Which isn't irreversible, but it's still a pain! And using just your finger is not going get that seam flat enough. I have personally used a Clover finger presser for years and love it to pieces. Other people like to use a seam roller to achieve the same outcome.
Printing foundation paper piecing templates
This part of the process is vitally important to get right – correctly printing your pattern pieces! With different printers and computers and paper sizes, the key to remember is "Actual Size". Regardless of what your computer set up is, there will be a setting in the Print menu to select "Actual Size".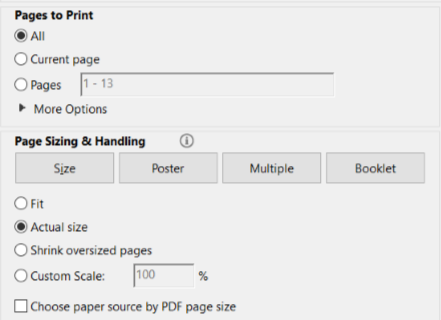 If you choose any other option there, it will change the size of your templates and they will not be the correct size. All template pages for the Milky Way Sampler have a 1″ test square that you can use to make sure that you've printed the page correctly. You also need to make sure that you have downloaded the pattern to your computer and are printing from a PDF reader such as Adobe Acrobat Reader (free). If you try to print templates directly from online through your browser, it will not print correctly.
Once you have printed your templates at the correct size, cut them out around the outer line of each template. It can be useful to keep a small amount of extra paper around the outside, about 1/8″, so that you will know that you have enough fabric around the outside edge to maintain a 1/4″ seam allowance. The distance between the inner, thicker line and the outer line as your 1/4″ seam allowance when you sew the templates to each other.
It can also be useful to then colour or make a note of what fabric is going where! The important thing to remember here is that the image created by the printed side of the templates is actually the reverse of what the fabric is going to create on the front of the block. So if the template print shows a tree on the left of the image, in the finished block it will actually be on the right. Just like how if you hold up your left hand, it appears to others to be on their right. It's the same principle at play there.
How to foundation paper piece
Step 1. The very first, most important step of sewing a foundation paper piecing pattern is to set your stitch length really low. I normally sew at about 2.5, and I paper piece at 1-1.5. The shorter stitch length means that when you pull the paper off at the end, it's a lot easier to do so, and your stitches remain safely in place.
Step 2. Place the A1 fabric wrong-side down on the non-printed side of the paper, ensuring that it fully covers the A1 section on the paper with at least 1/4″ overhang over the section edge, and pin or lightly glue in place.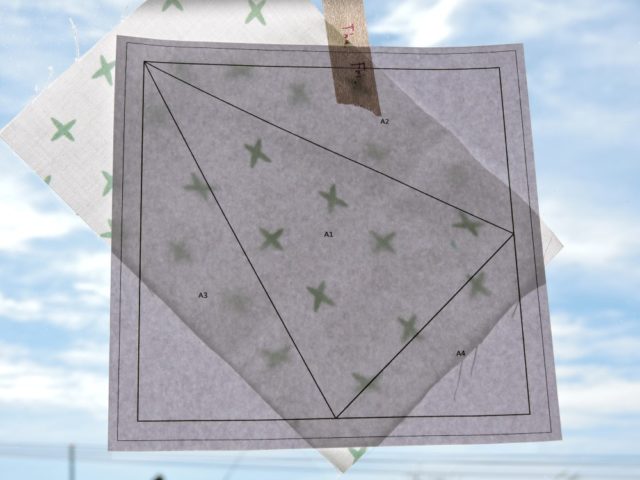 Step 3. Place the A2 fabric right-side together with the A1 fabric, ensuring that there is a 1/4″ overlap into the A2 section on the paper. Also ensure that it fully covers both ends of the line between A1 and A2. Pin to A1 fabric, or hold firmly.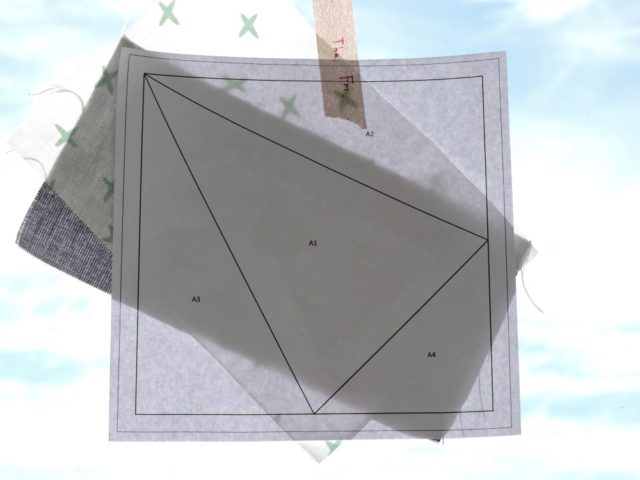 Step 4. Carefully place the template and fabric under the foot on your sewing machine with the printed side of the paper facing up, aligning the needle at the start of the seam line. Lower the needle into the start of the seam line, and lower the foot.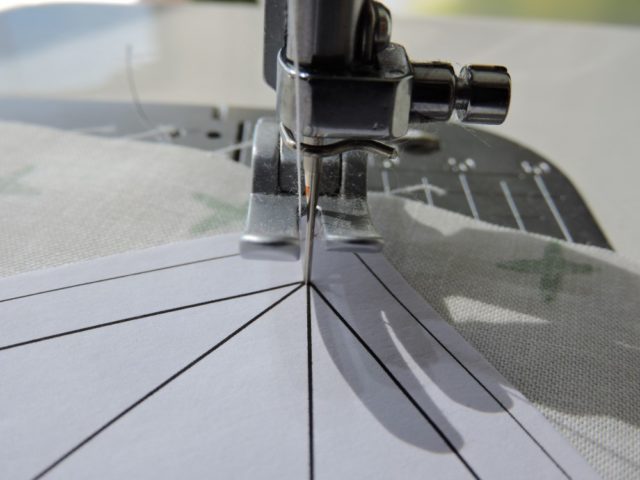 Lock your seam by stitching a couple of stitches, then backstitching to the starting place, before stitching all the way to the end of the seam. Backstitch again to lock the other end of the seam.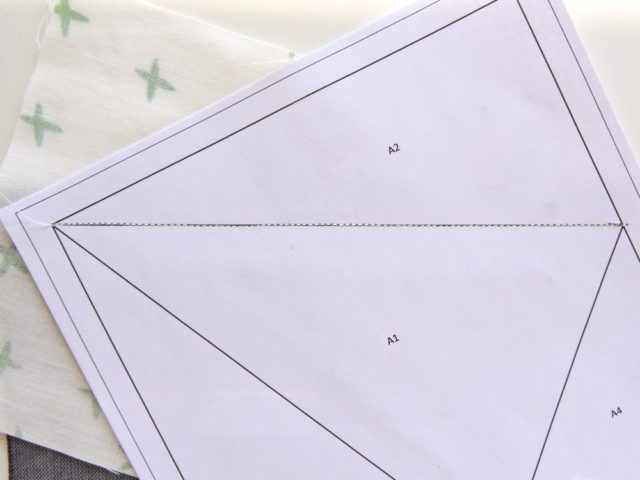 Step 5. Remove the template from the machine, and place fabric-down on your cutting mat. Gently fold the paper back along the seam you just sewed.
Using a ruler, place the 1/4″ line along the edge of the paper. Trim the overhanging fabric to 1/4″.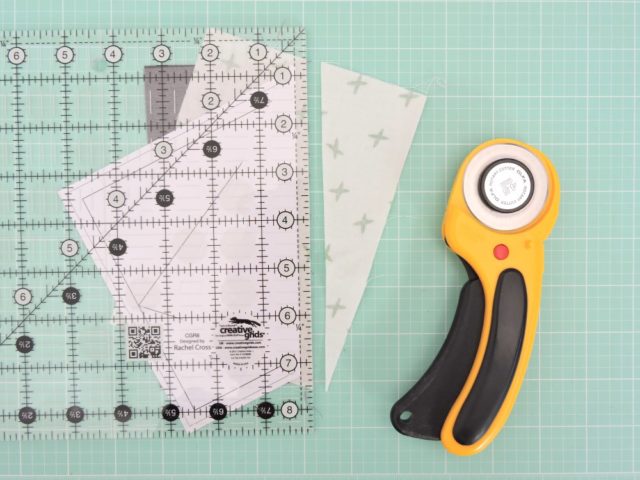 Step 6. Turn the template over to the fabric side. This is the only time you should have the fabric facing up for the official steps of foundation paper piecing! Every other step is paper up, fabric down.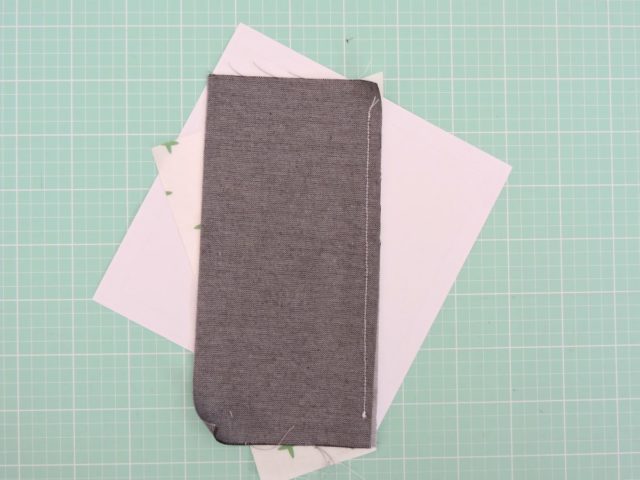 Flip A2 fabric open, and gently press the seam flat. I recommend using a Clover finger presser, or something similar, to avoid having to use a hot iron on your paper repeatedly.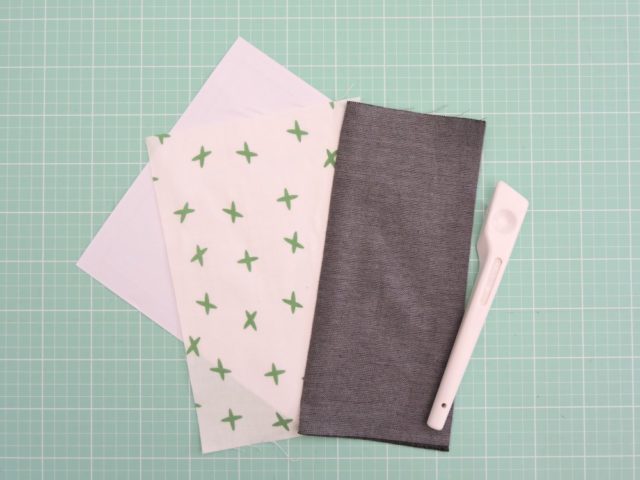 Step 7. Repeat the process for the remaining sections on the template.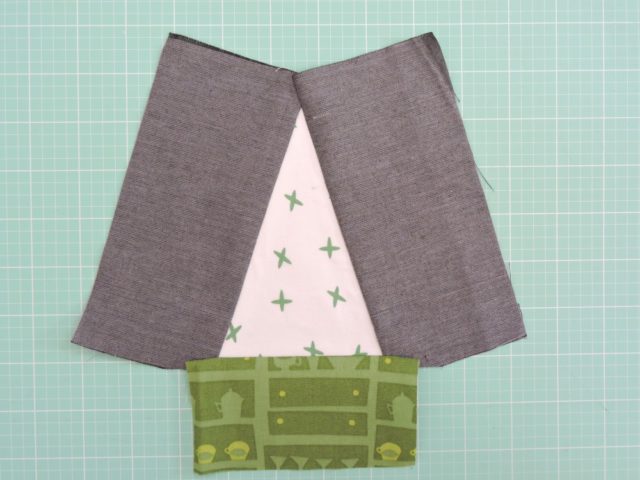 Step 8. Once the template is complete, place the template fabric-down on the cutting mat.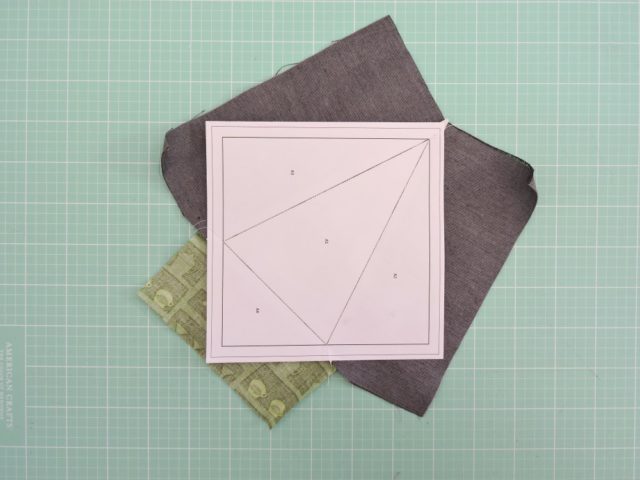 Place your ruler on top of the template, aligning it so that it's 1/4″ outside the thicker inner line. This should be along the thinner, outer outline, but always measure from the inner line to be safe.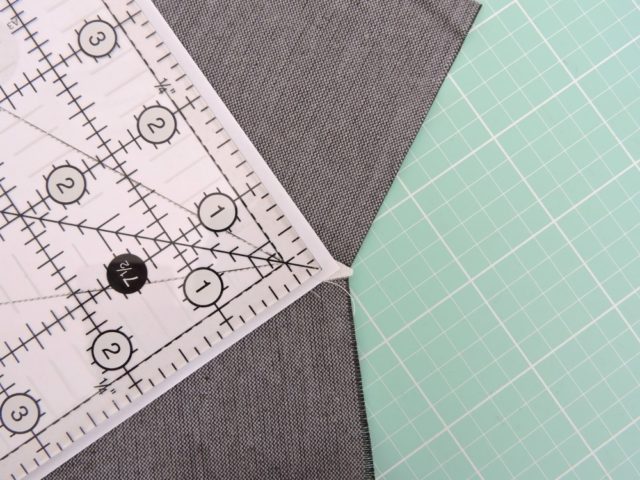 Trim around all four sides to 1/4″ from the thicker inner line.
Repeat the process for all templates involved in the pattern.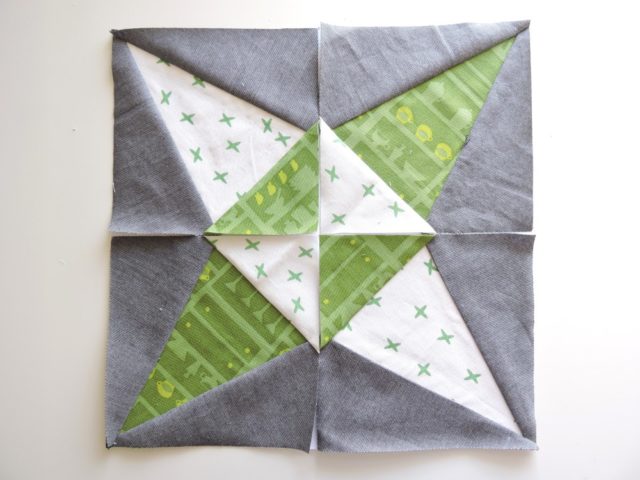 Step 9. Following the pattern's diagrams or instructions, piece the templates together. You will often need to sew templates into larger sections first (into rows if they're square templates) and then sew those together to create the block. Clover clips are perfect for securely holding the layers of paper and fabric together!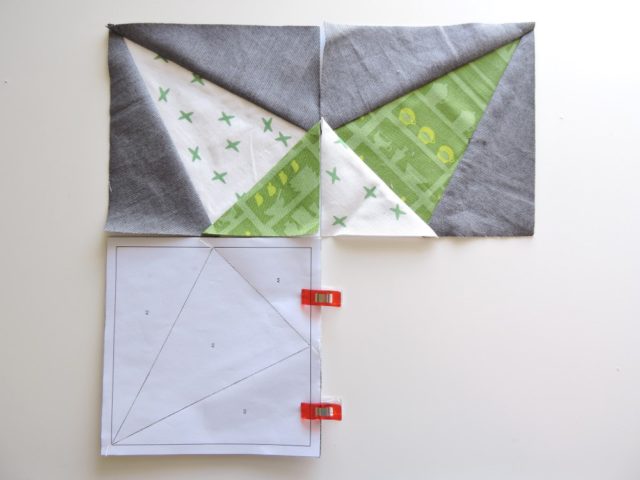 I recommend carefully removing the paper from seams once you've sewn them together so that it's easier to sew the next seams. You can also press the seams in alternating directions to really help get those points meeting beautifully.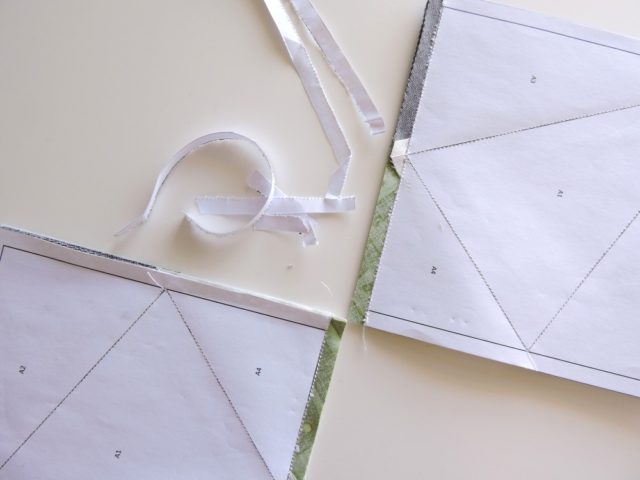 Step 10. Carefully pull each section of paper off the block. Do it segment by segment.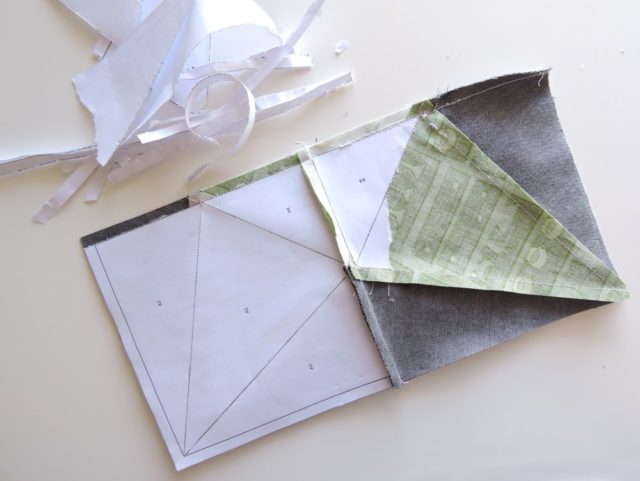 Press your seams, and the block. And you're done!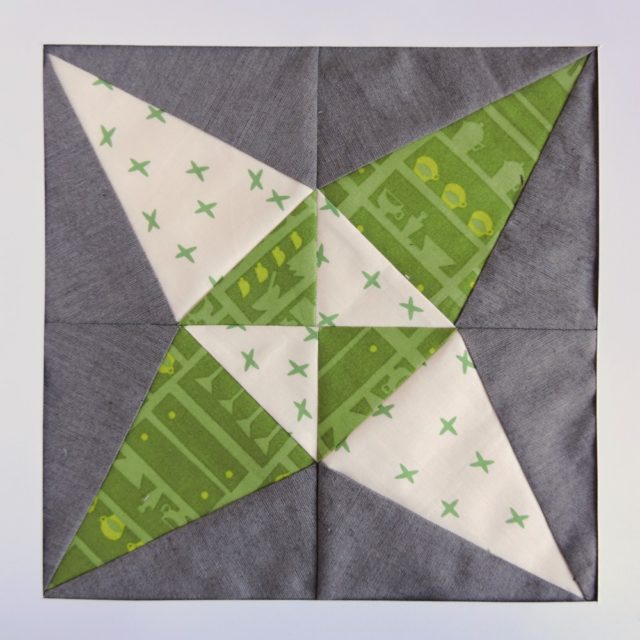 Hopefully you're not too overloaded with information and photos, but this will help you with the Milky Way Sampler quilt along next year. Only a couple of days to go now! Don't miss out on any block announcement by signing up for my newsletter.
If you need some more assistance with foundation paper piecing, especially if you're a visual learner, I can highly recommend the Start Foundation Paper Piecing class by Elizabeth Dackson. Even though I'm very confident at foundation paper piecing, this class was a great resource for me too!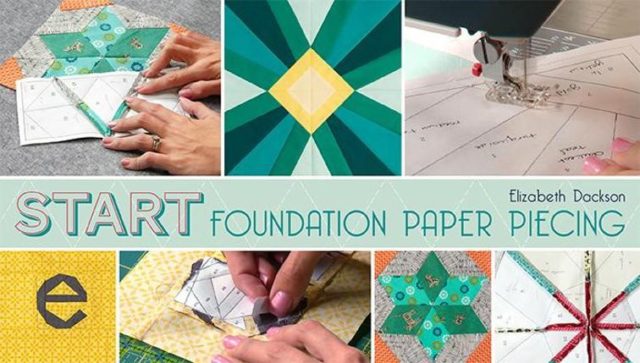 Post contains some affiliate links. You don't pay any extra, but I receive a small commission for any purchases made. I do not recommend anything I don't already know and love, all opinions are 100% my own. Thanks for your support!