STOP PRESS! My Ornamental pattern has just turned 3! It includes 12 different Christmas ornament patterns, and includes the instructions for using 5″ charm squares or 10″ layer cakes for a larger block!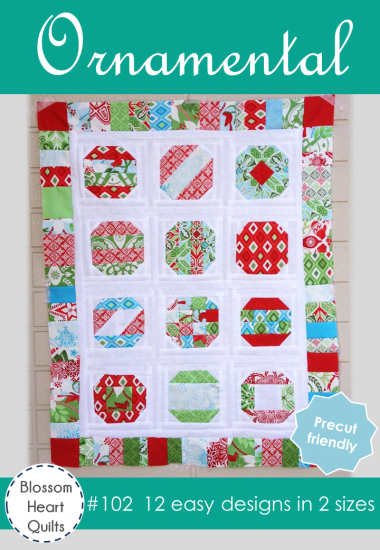 To celebrate, you can get it for 30% off right now! Get your copy in my store.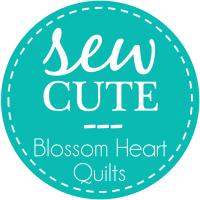 Hello, I am Bernie from Needle and Foot, here today hosting Sew Cute Tuesday for Alyce. I have been blogging for about a year and one-half and have found such enjoyment meeting so many amazing quilters in this community. The talent and inspiration out there appears to be endless. My blog tends to center around quilting but occasionally there will be stories on family or other things that feel important to me to record and share. I get such enjoyment reading blogs and love to find out about the blogger personally, in addition to reading about their craft.
I have been sewing for over 40 years. I taught myself to quilt when I was 17 years old. I made three queen size quilts (go big or go home, right?) and then got married and started my family. While I continued to sew regularly, I was usually focused on clothes for myself or the children or things for the house (curtains, tablecloths, etc) Almost four years ago I decided to retire and stay at home with my youngest child. Having more time to indulge my hobbies, I began quilting again. From there, everything escalated and my excitement about quilting grew quickly.
People often ask what one's style is when meeting a quilter. I don't know that I have a definite style preference. I do lean toward creating quilts that are not very fussy and usually, not very detailed. I love both solids and prints and use all sorts of different colors, depending on my mood. To me, there is value in all styles, be it modern or traditional. It is all about continuing to learn and expand my knowledge.
Lately I have been really focusing on trying to improve my free motion quilting skills. This piece is a practice piece using various tutorials. Detail are available in this post.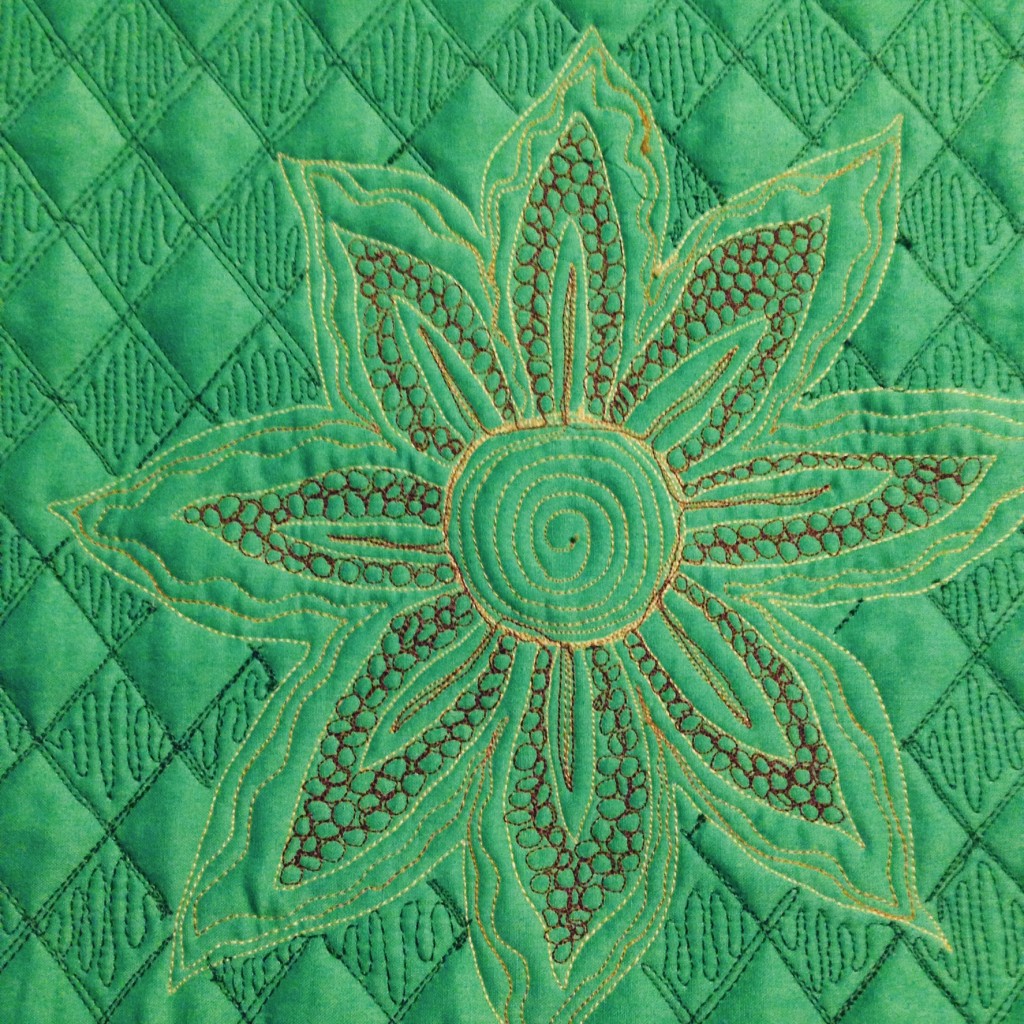 Thread sketching to create simple pictures is also something I have been working on. This quilt was made for a very special baby. She was born not two weeks ago and I can't wait to see a picture of her with the quilt. For more detail see this post.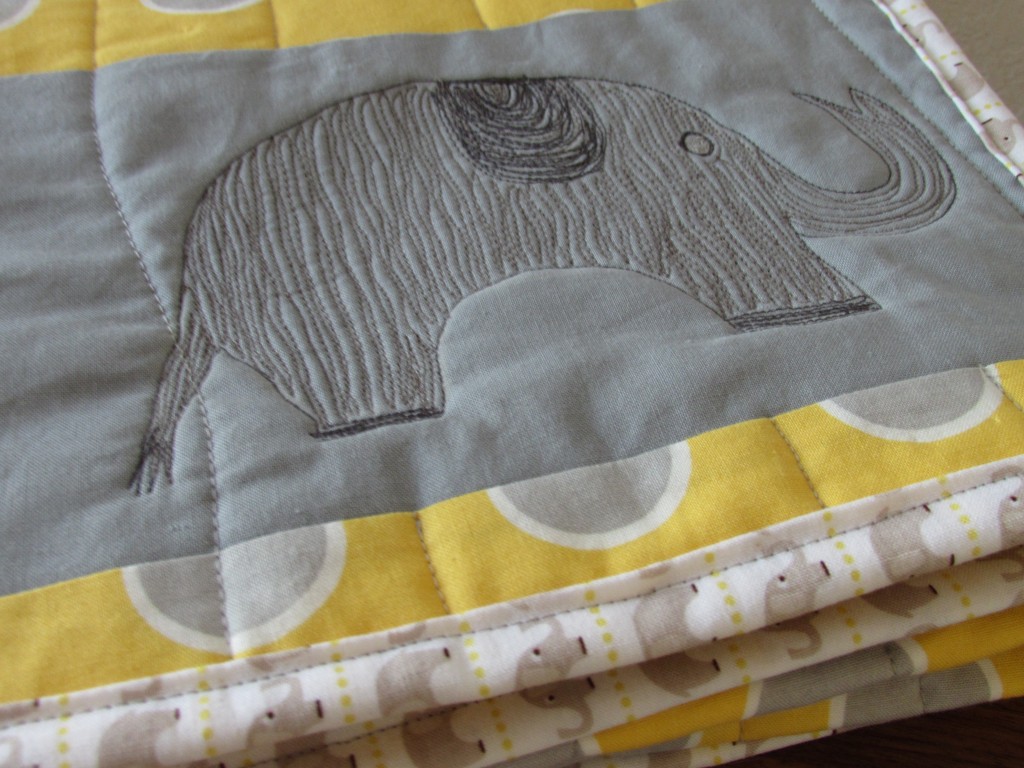 Finally, I want to share one of my favorite quilts from this year. I loved every bit about making this quilt. Made for my sister, I created a basic patchwork of 3″ squares and incorporated a large red heart in the lower corner. I love the narrow quilting that runs through the heart. More details can be found here.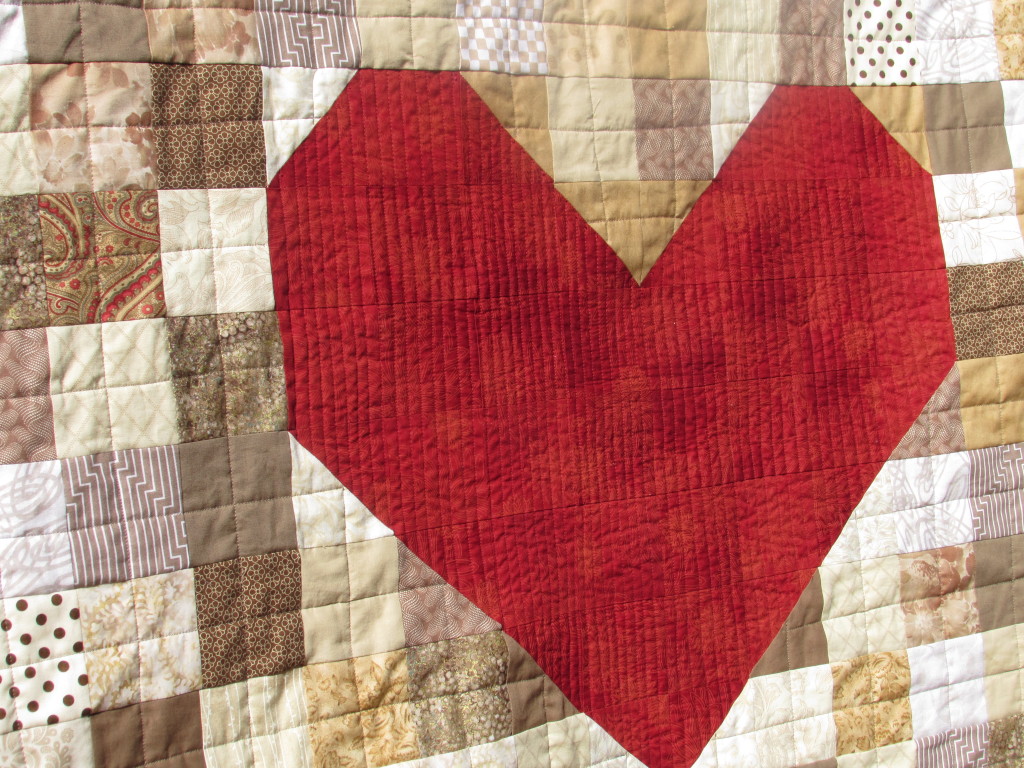 Thanks so much for taking a peek at my work and my blog. I hope you'll come to visit me over at Needle and Foot. If you are a fan of Instagram, you can find me posting as @kringelb.
Now, on to one of my favorite things! Time to link up your work and share what you have been up to. Show us your quilts, in-process or finished. How about other sewing projects? Share them with us. While you are here, take a minute to be inspired by the work that people are sharing. There is a whole lot of talent out there! Don't forget you can link directly to an Instagram pic too! So if you want to link from there, you can do that too – link up as normal, and use #sewcutetuesday and @blossomheartquilts and @kringleb on IG to help us find you from there too.
Loading InLinkz ...