Do you have the serendipitous occasion where you need to make a new baby quilt, and the perfect quilt pattern crosses your path? That's exactly what happened here – Christa asked me to join her blog hop to celebrate Machine Quilting With Style and make Pearl Gray, right when I needed to make a quilt for my sister's new baby. I would have said yes anyway, because Christa is cut from the same, passionate-teacher cloth as me, but it's always nice to have a sentimental drive to make a quilt. That and her book is absolutely incredible – the rare occasion when a book is truly suitable for both beginner quilters and more advanced quilters. But first, let me share my quilt.
Pearl Gray quilt
As my sister has the horrible tendency to not find out what gender she was expecting, I had to make it gender neutral and ignore my large stacks of pink and blues (don't worry, I'm just being cheeky, it's completely up to her!). Thankfully, she loves red and teal, so with some fabric supplies graciously gifted by Fabric Please (stay tuned later today for a giveaway of this exact bundle!), I was all set to go.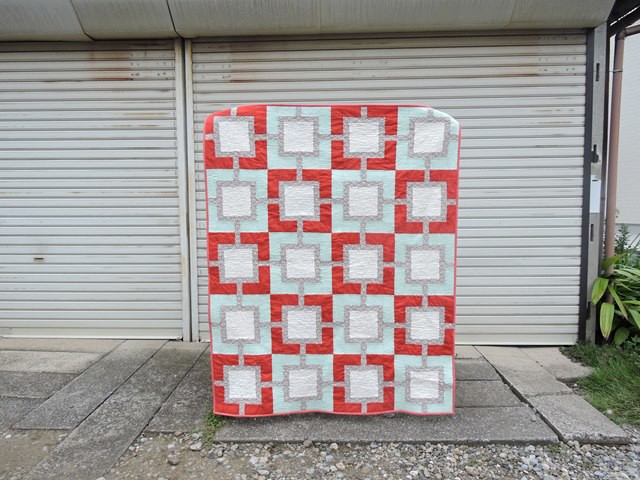 This quilt is actually made at half the size of the pattern Christa wrote for her book – I just made 20 blocks instead of the 42. Which simply required halving the fabric requirements and cutting. Very handy!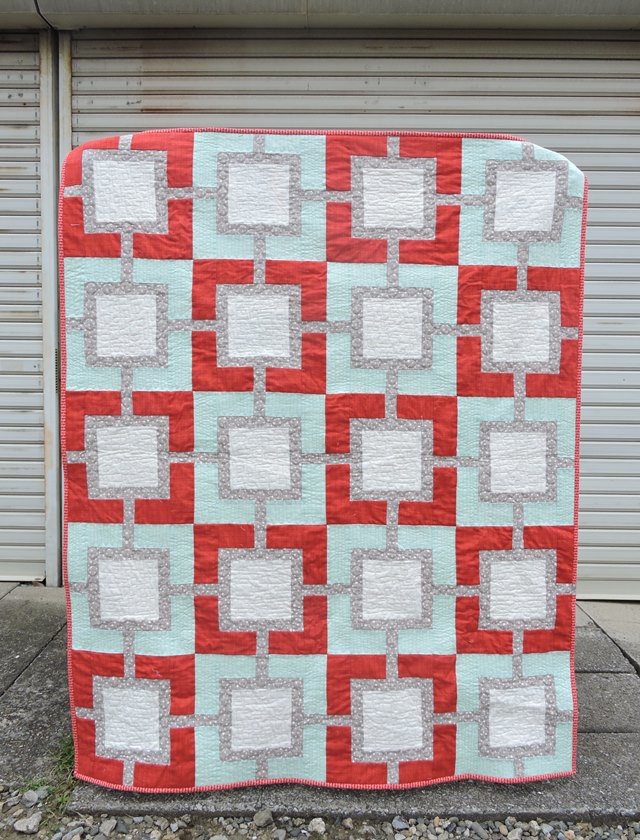 The baby quilt finishes at 44″ x 55″, which required a pieced backing as that's juuust to wide to use straight yardage like I normally do for baby quilts. So I broke out my much-hoarded Japanese print, and finally used up some paper pieced kimono blocks from a my quilting bee a couple of years ago. A little touch of Japan for my beautiful niece, who will get to pick it up in person when she comes to stay in a couple of months, eek!!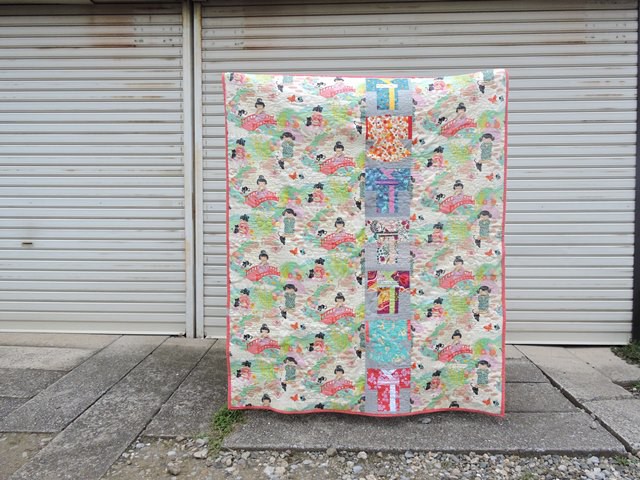 They were literally only just the long enough, which had me holding me breath when it came to trimming everything after I'd finished quilting it, ha! But they made it safely. I neatly used one of the obi (belt) to write a little label.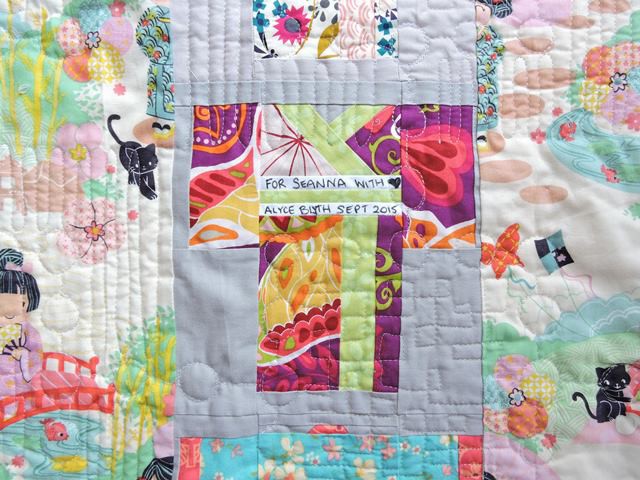 The amazing thing about Christa's book, is that not only are there beautiful, modern quilt designs to make, but she discusses in great detail the basic free motion and walking foot (or just a normal foot, like in my case!) quilting designs that everyone should have in their quilting arsenal. She shares many tips and tricks, and includes full diagrams showing you exactly how to successfully quilt each design. As I was reading through, I just kept nodding my head – this book really is perfect for those who are ready to take their quilting to the next level!
I went for three different quilting designs – a square "loop" called Boxes for the Designer Essentials Mist solid centres, Strings Of Pearls through the Winterberry Snowy Dots, and, Switchbacks running up and down the quilt throughout the Winterberry Linen Aqua. I left the red, Winterberry Linen Red, unquilted to both keep the quilt softer and not so heavy but also to make the red really pop. And pop it does!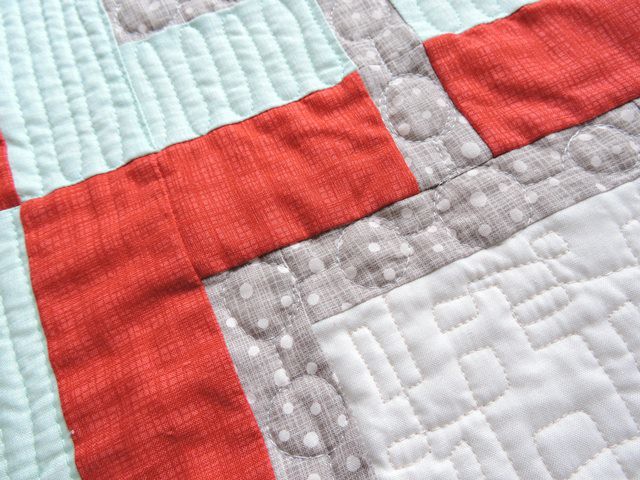 I also had a bit of fun with the binding. For just one little strip grey, I extended it into the binding, simply by using a 2.5″ wide off-cut from the strips and inserting it into the binding, and then lining that bit up carefully first before sewing it down onto the front. I think some people on Instagram got the impression I'd done it for all of them… Sorry to disappoint you!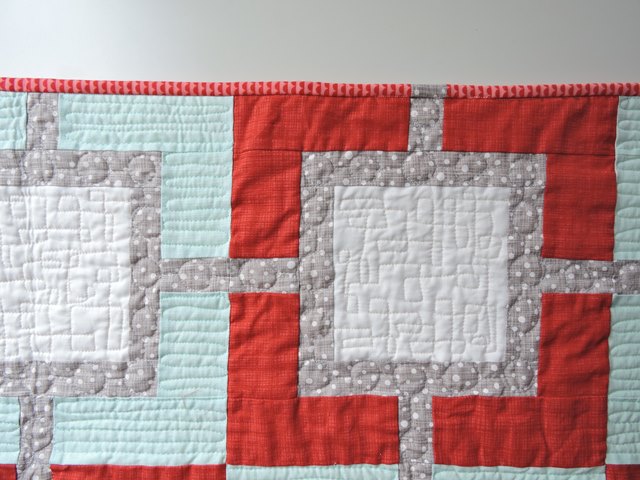 Machine Quilting With Style book
As I said earlier, this book is definitely one for all quilters; a must-have for your quilting library!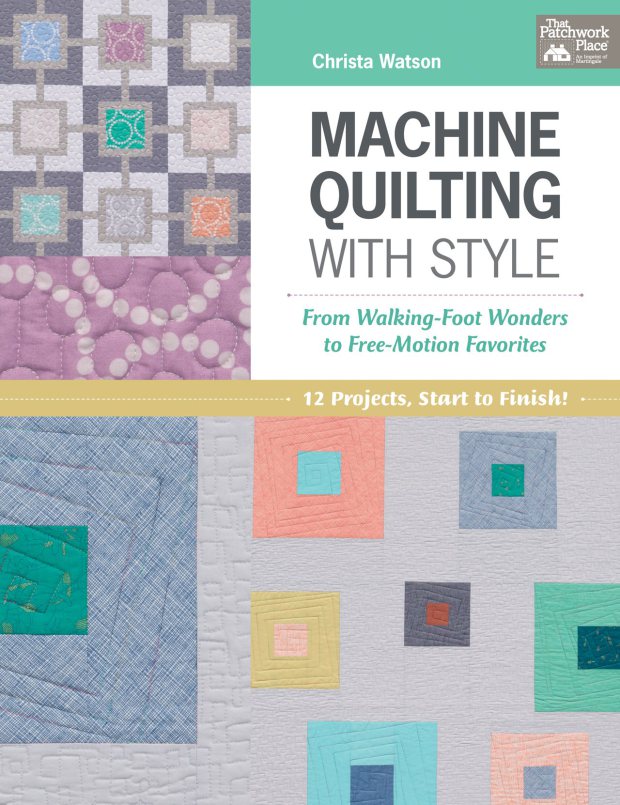 Christa's quilt patterns and quilting designs are easily achieved by beginner quilters, or those who are a beginner to free motion quilting or any quilting beyond the fundamental 'in the ditch' or straight line quilting. But if you're more confident and advanced, then chances are you're like me and have a couple of go-to filler designs, right? This book will challenge you to step outside that comfort zone, and the quilt patterns themselves provides ample opportunties for colour play to really make them your own.
Blog Hop Fun
There are a few fun things happening to help celebrate the release of Machine Quilting With Style.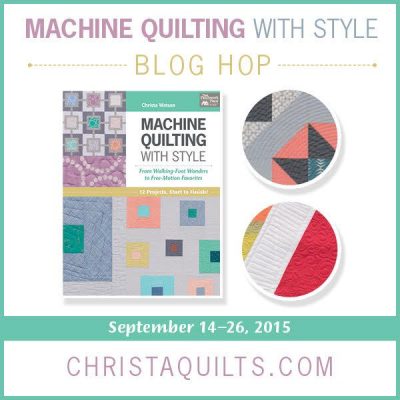 There is an impressive list of other quilters making each quilt from the book, showing off their beautiful takes on the patterns, plus a few additional bonus stops along the way too! There's giveaways at a few of the stops too, so keep an eye out for those:
9/14 Start here at Christa Quilts
9/14 Color Crystals – Vicki Reubel from Orchid Owl Quilts
9/14 Technicolor Backing – Ida Ewing from Ida Rather Be Quilting
9/15 Pearl Gray – Alyce Blyth from  Blossom Heart Quilts
9/16 Broken V – Sharon McConnell from  Color Girl Quilts
9/17 Candy Pop – Linda Hungerford from Flourishing Palms
9/18 Ripples – Melissa Corry from Happy Quilting
9/19 Little Man's Fancy – Tina Guthmann from Mod Geometry
9/21 Square in a Square – Stacy Cooper from  Farm Road Quilts
9/22 Static – Lee Heinrich from Freshly Pieced
9/23 Rain – Cheryl Brickey from Meadow Mist Designs
9/24 Lightning – Leanne Chahley from She Can Quilt
9/25 Facets – Kristy Daum from  St. Louis Folk Victorian
9/26 Focal Point – Amy Garro from 13 Spools
Plus Christa was interviewed by Pat Sloan yesterday/last night for me for her radio show, and I can't wait to listen to it today.
You can even cast your vote for which one of the quilts to be run as a quilt along in January.
Where to grab your copy:
– Amazon
– signed copy
– Martingale
And tune back in to my blog later today for the weekly Sew Cute Tuesday linky + special fabric giveaway – the same fabrics I used to make my Pearl Gray quilt!