With the Farmer's Wife 1930s Quilt Sampler Sew Along starting next month, there's been a large flurry of activity as everyone gets their gear together – the Facebook group has been buzzing all month! I will be paper piecing most of the blocks, those that aren't as easily pieced by normal machine piecing. If you're planning on doing the same, you can certainly get by with paper and fabric and basic quilting supplies, but here's what I would highly recommend having on hand if, especially if you're aiming for all 99!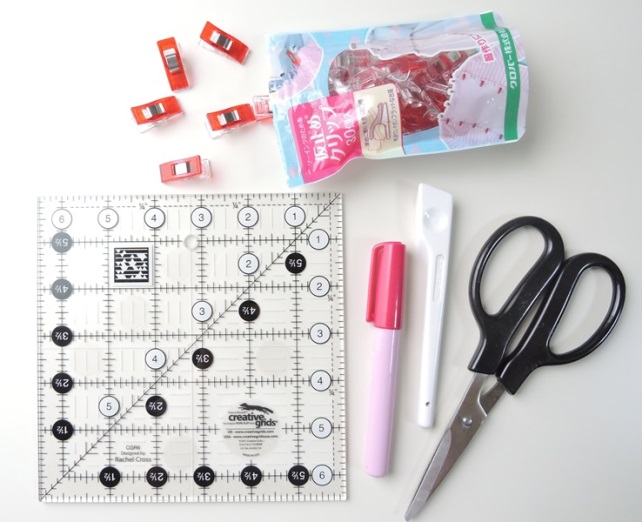 6.5″ square ruler
This is one you should definitely have no matter how you're piecing your blocks! Because the blocks are 6.5″ x 6.5″ (unfinished), this size is incredibly useful to have on hand to not only help square up blocks, but to help trim smaller units along the way too. The standard 6.5″ x 12″ ruler would also work well too if that's what you already have on hand, but if you need or want to buy a ruler with a 6.5″ side for this sew along? Buy a square one! I have and LOVE the Creative Grids 6 1/2″ ruler. The main feature is that it includes the 1/2″ measurements along two edges, and whole inch increments on the other, making it really useful to measure whichever increment you need! Plus it has a few rough/textured spots on the bottom to grip to the fabric, it has both half and whole inch measurements, two sides have a frosted edge marking 1/4″ and the other two sides have a 1/2″ frosted edge… Essentially, it's all good.
Finger presser
This is another tool that would be useful no matter how you're piecing your blocks. I use my Clover finger presser to press the little seams while piecing a patchwork unit, especially when paper piecing, instead of constantly using the iron. Once I've finished the unit or template, then I use the iron. It's effective, and efficient. The small sizes of the seams in these 6.5″ (unfinished) blocks will definitely bow to the pressure of a presser!
Glue stick
Using a glue stick helps keep your fabric and paper together when paper piecing, especially for the first two sections. You can use pins, but I find they can distort the paper and fabric, especially at the small sizes that we'll be sewing in this quilt! It's important to use a small, washable glue stick, but you can also purchase fabric glue pens that are even more suited for paper piecing because of their even-smaller, compact size – either way, you don't want a large tip! I love my Sewline glue pen, and in fact, the Sue Daley Sewline Fabric Glue Pen is currently on sale during August at the Fat Quarter Shop – same brand, just different packaging.
Paper scissors
I know, this might sound a bit basic, but I keep my own pair of paper scissors on my sewing desk, away from sticky kids' crafting and such! They're sharp and precise, ensuring that when I cut out the paper piecing templates, they have a clean cut edge to help align the units when sewing them together.
Clover Wonder Clips
At first this might seem like a surprising addition to the list, but here's the thing – when you're sewing together the finished paper pieced templates, you're sewing through 2 layers of fabric, and 2 layers of paper. It can get thick at the seams, and slippery with the paper against your machine and foot. If two templates are particularly slippery or angled (and thus needing to be very precise in how they're aligned), I'll use a couple of Wonder Clips to help hold them in place. Again, you can use pins, but I like how flat my pieces are kept by using the clips on the edge instead.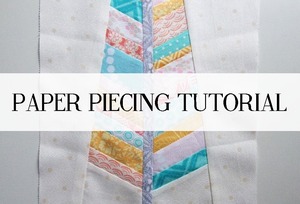 If you need or want some more paper piecing tips and tricks, check out my paper piecing tutorial for beginners! It includes a free paper pieced feather pattern to help you practice.