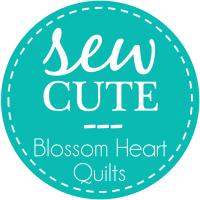 This week has been all about getting into a good routine for summer holidays, and just a little bit of sewing to get yesterday's Checker block done! There was a little bit more sewing done with the kids, which I'll share later this week, by when I hope to have gotten a decent photo of the two monkeys with their finished projects. However, I suspect you will be getting cheeky, crazy poses instead! So let's have a look at what you shared last week…
Oh. My. Goodness. Jayne! This looks incredible! I was so tempted by this BOM at the start of the year, but I know me too well – my attention span just isn't at this kind of commitment level. But oh how I shall drool over the quilts anyway!
Talking of quilts I wish I had the attention-span for, Maryse's clamshell quilt is making me swoon! The scrappilicious rows alternating low-volume with bright prints… Yuuuum!
Also making my heart pitter-patter is Ali's Indian blanket quilt. I love the different sizes of triangles and colours and orientations!
Ok guys, time to link up one of your posts from this week! It could be a finished quilt, or your latest quilting bee blocks, or a cushion, or anything else quilty related. And did you know you can link directly to an Instagram pic too?! So if you want to link from there, you can do that too – link up as normal, and use #sewcutetuesday and @blossomheartquilts on IG to help us find you from there too.
Loading InLinkz ...