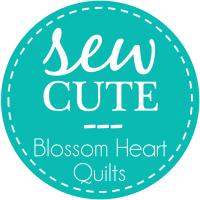 Today's guest host is an amazing paper piecer who designs the most intricately accurate patterns! I am always in awe of what she creates and every time I wish I had the patience to make each and every one!
Hi Everyone!! This is Soma, proxying for Alyce today at Sew Cute Tuesday. I do a myriad of artsy activities – playing music, painting, baking, knitting, soap-making, etc., and of course sewing. The fact is that I get bored very easily, and I let my inner artist take charge quite often. I write about my creative adventures at Whims And Fancies. The blog name is just perfect for someone like me, don't you think? I am also an optics junkie. I travel a lot and never without my trusty camera and its paraphernalia. I also travel the night skies with my telescopes to study the stars. All of these provide me with non-stop inspiration.
I came into the sewing scene because of paper piecing, I love designing patterns. I love it so much that I recently created a Facebook group called Pictures With Paper Piecing for other paper piecers to hang out with me.
Playing music is one of my favourite activities. I don't think I could pick between classical and rock music. I had made a classical music wall hanging called Piano Sonata before, so naturally I had to make a rock music wall hanging as well. This is one of my few WIPs that I am hoping to quilt very soon.
In my attempt to create finished projects using orphan blocks, I made this fabric basket to store my knitting. I was so excited about the perfect corners that I had to write a tutorial hoping that others might find my process helpful as well.
Thanks for having me here today! I love the Sew Cute Tuesday community. There are always such fabulous entries every week and it was no different this week. After repeatedly staring at them, walking away and coming back, I finally picked three from last week's entries for very different reasons!
I just adore this little Star Wars Baby Book by A Stitch In Between! Cuteness galore! Yes, I read it, laughed out loud and wished I had one!
My Undies On Public Display by Gnome Angel!! This is so bold and humorous at the same time!! It made me chuckle, I just love it! Ideas will be popping into my head when I go shopping for undies next time!
This Swoon quilt by My Creative Side is really eye-catching. Perfect piecing in those bright bold colours – striking against the light background. Gorgeous!!
Let's link up those fabulous projects I know you have been working on. If you are on Instagram, you can share by using the hashtag #sewcutetuesday.
Loading InLinkz ...