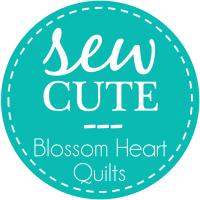 Today's guest host is a very special lady – you shall soon be able to see why I've made a connection with Rachel…
Hello! I'm Rachel (blogging at Quiltineering) and I'm so thrilled that Alyce has allowed me to guest host this week, giving me a chance to meet all you lovelies! In case you've never stepped clicked over to my blog, I'll give you the run down on all things Rachel. I'm an Air Force spouse traveling around the US as my husband is training to be a Viper pilot. In the next few months we'll be making a big move to Misawa, Japan where we will be for 2-3 years. Even though we'll be in a more remote part of the country, Alyce's posts have made me really excited about the quilting scene in Japan. Can't wait!
As you may have guessed by the Quiltineering title, I am an engineer by education but with frequent moves (5 in 3 years) working in that field has been a challenge. I like to say that for now, I'm putting aside my title of "Bioengineer" for "Quiltineer." I think I've traded up. If you browse through my blog, you'll see a lot of different styles. I like to try a new technique, color scheme, or design with every quilt I make. Am I the only one with Quilter's ADD?
This past week I've been working on two charity quilts for the Quilts for Kids Organization. If you haven't checked them out, I recommend it as they do an amazing job providing quilts to children in need across the country. Warning: Your heart might melt when you look at the pictures of the sweet kiddos and their homemade quilts!
I'm also in the process of putting out a pattern for my latest mini quilt, inspired by the hit TV series, Doctor Who. Engineers are allowed to be nerdy, right? I have three lovely testers putting their spin on the pattern and hopefully it will be available for sale this upcoming week.
Enough about me. Lets get to the amazing quilts that you all linked up last week. You all are seriously SO talented. Can we all get together for a giant in-person show and tell? Like everyone else, I had a hard time narrowing it down to three of my favorites.
First up is Crystal from Two Little Aussie Birds, who made this amazing Iceberg quilt for the Sewvivor Challenge. She combined foundation piecing and appliqué techniques to make this thoroughly modern quilt come to life. I love it!
Next up: Curlyque Sue's stunning New York Beauty for a mini swap. Just look at those perfect points! Gorgeous work, Sue!
Last, but most certainly not least, is Amanda from The Cozy Pumpkin's baby gift – a receiving blanket inspired by a Dr. Seuss Book. How can you not look at this and say "Awwwww." What a brilliant idea!
Thanks for letting me step in this week, and don't forget to link up this week's projects. Remember, if you're an Instagram junkie like me, you can link up from there using the #sewcutetuesday hashtag. Oh, and while you there make sure to follow Alyce (@blossomheartquilts) and myself (@quiltineering) if you feel so inclined. We'd love to see what you're up to!
Loading InLinkz ...