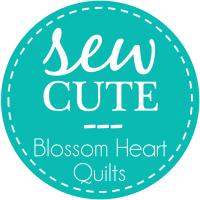 It's been a quiet week for sewing around here. The boy brought home a bug from preschool, which he shared with his sister and his mother… it's been 7 days and counting of coughing and lack of appetites and bad sleep. A note came home yesterday to say that the flu has been going through the school, so that would explain that!
A little bit of housekeeping
Thank you to those who have emailed to check before linking up certain posts, I really appreciate it! To make it clear, this is not the place to link your own linkies or competitions or non-sewing/yarn posts. This is a linky to share what you've been working on or a recent finish – whether that's a quilt block, a tutorial, a publishing, something knitted or stitched, or a milestone in a project. I don't mind if it's a blog hop post for which you have had to make something. Also, please only link up once each week unless it's a special event like the Christmas present linky two weeks ago, in which I case I will make it clear it's a special event.
These guidelines are all just to make it fair for everyone else and to help encourage everyone to visit a few other blogs each week. I love our Sew Cute Tuesday community and it makes me so happy to see my regulars each week, not to mention meeting new folks along the way! I do try to make it to everyone's blog during the week, although some weeks I just run out of time. Thanks once again for joining me each week, you're an inspiring bunch, you lot! And hey! We hit the 50-linker mark last week! Let's celebrate that one!
Alright, let's check out some pretties from last week…
Amy has been hand-stitching her way across Australia with a lovely bunch of coconuts hoops just about ready to hang up in her bedroom.
Oh my goodness, look at this amazing pillow by Gina! Felt-appliqued little carolers. Adorable!
And Sandy has finished her Tula Pink 100 block sampler quilt! What an achievement – congratulations!
Time to link-up your projects from the past week!
– Sewing and yarn projects only.
– One link per blog and be sure to link to the actual blog post, not just your blog URL, ie. http://www.blossomheartquilts.com/2013/10/sew-cute-tuesday/ and not http://www.blossomheartquilts.com. This makes it much easier to find your Sew Cute Tuesday post!
– Please link back to my blog and help spread the word about Sew Cute Tuesday – you can grab the button from the sidebar!
– Please be sure to visit a couple other blogs in the link-up and give them some love! It's always fabulous to find new quilting friends and fabulous projects to Pin and drool over.
Loading InLinkz ...