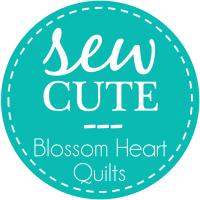 It's been a busy week here of little men turning 4, my life being changed by the International Yokohama Quilt Week, you know, just the usual stuff. And today was spent at my son's preschool for an observation day, so this introvert is a little tired from a few days of socialising and people and noise! Thursday is my one quiet day this week, and I'm going to keep it that way!
A little bit of housekeeping
You can always grab the button from the sidebar, but for those who have been grabbing the image from the top, it's now shrunk to 200 pixels wide to fit nicely in your posts. I was also finally able to update my blog address in Bloglovin to my non-blogspot URL, so I apologise for the random bursts of old posts in your feed!
Melissa from Ms Midge has started making Christmas presents for her kids' teachers, starting with this beautiful pillow cover!
There were a few little zippered pouches linked up, including this cute little keyring pouch tutorial from Monkey Makes Three.
Elizabeth from Bluebirds On My Shoulder completed her first paper piecing project! Congratulations!
Time to link-up your projects from the past week!
– Sewing projects only (that includes crochet, knitting and anything with fabric and thread!)
– Link to the actual blog post, not just your blog URL, ie. http://www.blossomheartquilts.com/2013/10/sew-cute-tuesday/ and not http://www.blossomheartquilts.com. The linky will not allow direct URLs like that.
– Please be sure to visit a couple other blogs in the link-up and give them some love.
– Link back to my blog and help spread the word about Sew Cute Tuesday – you can grab the brand new button from the sidebar!