Hi, I'm Debbie from The Quilt Journal and this week I'm hosting Sew Cute Tuesday! I had a few finishes , but I thought this table runner in Asian fabric was appropriate in light of Alyce moving home to Australia after her time in Japan. This table runner pattern is an oldie but goody. It is the Braid Runner "quilt as you go" pattern by GE Designs. If you are not familiar with GE Designs check them out. They have a lot of quilt as you go projects as well as other quilt patterns. Some patterns are easy for beginners- others more involved. This table runner makes a great gift and is a good stash buster. I still have a pile of beautiful Holiday Flourish fabric by Robert Kaufman which may find its way onto families' tables as a quick and easy project using this pattern. You can free motion quilt the runners if you desire or you can quilt as you go and call it a day- your choice (or more to the point..which family members are going to eat spaghetti off of it??!! lol)
I have always loved this fabric and it was hanging out in my stash for years. It is Flight of the Dancing Cranes designed by Ro Gregg for Northcott fabrics.

One of the great things about the quilt as you go method for this runner is when the construction of the runner is finished, I don't have to stitch in the ditch- I am good to start FMQ (SID, in my honest opinion, is the boring, but necessary part). I decided to do curved cross hatching in the center block and then do ginkgo leaves, swirls and berries that was inspired from Bethanne Nemesh's class If You Can Feather You Can Freehand.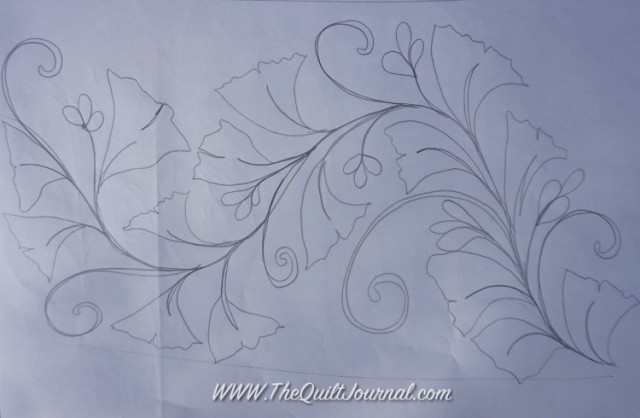 As usual I doodled my quilting pattern until I was fairly comfortable with where I was going , getting a rhythm in the flow of the pattern.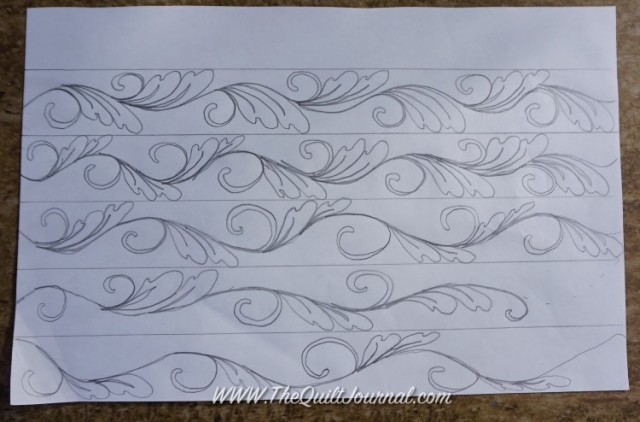 I quilted this piece with Superiors Bottom Line 60 wt thread in the top and bobbin. I have noticed a change in the way I look at and buy fabric since I have started this free motion quilting journey. I like a focus fabric, but I also like fabrics that read as a solid thrown in give the quilt texture, movement and my eyes a place to rest.
There is two ways to look at this project with this fabric. One side is that the lovely fabric provided a great opportunity to play and practice your free motion quilting skills without every little hiccup being obvious (and keep true to one of my goals of 2016- reduce my stash! 🙂 ) The second is , if you really wanted to showcase your quilting, busy fabric is not the way to go. This runner could be done in solids and my quilting would have been more obvious…..but then this pretty fabric would have still been hanging out in my stash waiting for its day to come…
Now onto Sew Cute Tuesday… What do you guys have to share?? Please share the love and take a look at what everyone has been up to and leave them some quilty encouragement! Did you know you can link directly to an Instagram pic too?! So if you want to link from there, you can do that too – link up as normal, and use #sewcutetuesday and @blossomheartquilts on IG to help us find you from there too.
Sew Happy and Best of luck to Alyce and her family in their move Home!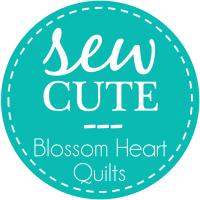 Loading InLinkz ...