Did you know I exist beyond this patch of internet? Here's where else to find my work…
Books
I like to write.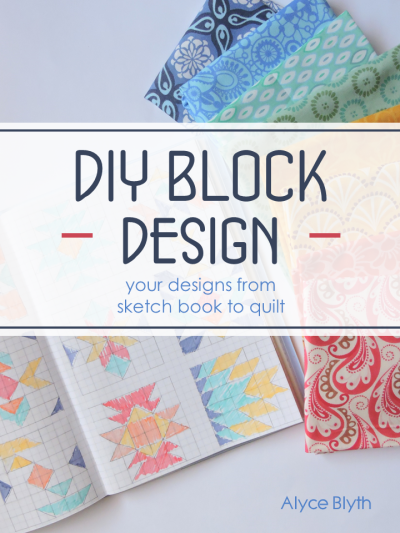 DIY Block Design, self-published book, August 2015
Podcasts
If you've ever wondered what I sound like, or how to pronounce "Alyce Blyth" properly, have a listen to these interviews!

Modern Sewciety, episode #80, January 2016
Pat Sloan, episode #277, September 2015
Me Being Crafty, episode #26, January 2015
Publications
You can find my patterns, columns, and features in the following publications.

Nature's Gifts cushion, Down Under Quilts #174, February 2016
Jelly Baby quilt, Make Modern #9, January 2016
Maths & Methods: Strip-pieced HSTs, Make Modern #9, January 2016
Craftsy blogger, Craftsy, December 2014 – January 2016
Maths & Methods: Disappearing Nine Patch, Make Modern #8, November 2015
Maths & Methods: Alternate Gridwork, Make Modern #7, September 2015
Meet The Blogger: Alyce Blyth, Down Under Quilts #171, July 2015
Maths & Methods: Quilt Backing, Make Modern #6, July 2015
Aurora Starry Sampler BOM, Make Modern #1-6, September 2014 – July 2015
Maths & Methods: Size Matters, Make Modern #5, May 2015
Maths & Methods: Supersize Me, Make Modern #4, March 2015
Dear Diary: QuiltCon, Make Modern #4, March 2015
Maths & Methods: HST123, Make Modern #3, January 2015
Shards cushion, Make Modern #3, January 2015
Maths & Methods: Cut To Size, Make Modern #2, November 2014
Maths & Methods: Resizing, Make Modern #1, September 2014
Daisy pillow, Fat Quarterly #17, April 2014
Diamonds In The Sky, Quiltmaker's 100 Blocks, January 2014
Bright Sky block, Fat Quarterly #13, April 2013
Mini Christmas Stockings, Fat Quarterly #11, October 2012