Guys! We've made it to the final block of the Milky Way Sampler quilt! By now, you should have this foundation paper piecing business down pat. If you have no idea what I'm talking about, check out this post for all the info on this foundation paper pieced block of the month. And if you do still need to brush up on your foundation paper piecing skills, I've got a tutorial for that!
Deneb is block 12 for the Milky Way Sampler, and is also one of the most distant stars we can see with our eyes alone. Which therefore means it's one of the most luminous stars in the Milky Way galaxy, and thus fitting to be the name of the final quilt block for our own Milky Way galaxy – last but most certainly not least. I also had great fun sewing up my Deneb block, choosing some blue-purple fabrics to neatly fit in the space in my colour wheel of blocks! Lizzy House (new and very old) and Alison Glass work beautifully together.
Download this block for free during December from my Craftsy store.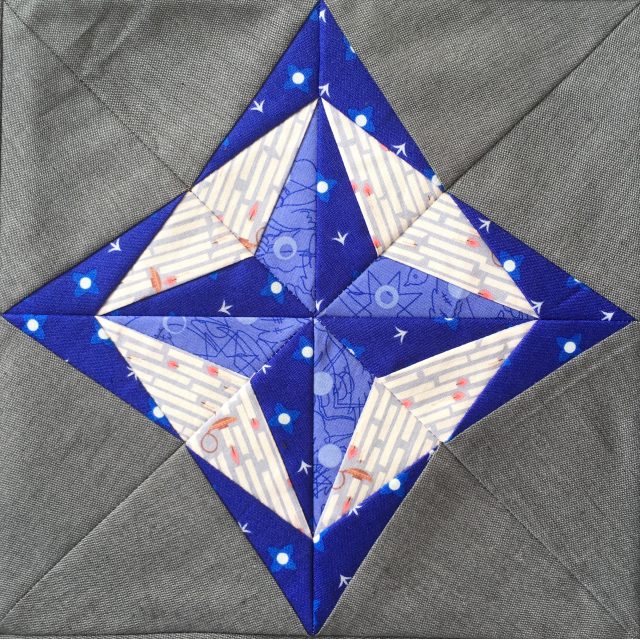 Deneb
What you'll need
Deneb pattern – print 4 copies of the template page at 'Actual Size' (for a total of 8 template sections)
Paper piecing supplies – read this post for my recommended paper piecing supplies
Pattern notes
Templates should measure 5 1/2″ along the square edges.
A4 and B4 are the background sections.
When you have pieced all eight templates, piece each A section to a B section along the diagonal edge.
Sew the AB units together into pairs, pressing seams in alternate directions so that they nest when you sew the block together.
Sew the block together and press the seam open.
Quilt block should measure 10 1/2″ x 10 1/2″.
Deneb is only available for free this month, so make sure to download it now so that you don't miss out!
Celestial
The 12 Milky Way Sampler quilt blocks are available individually for $1.95 each, or as a bundle for $9.95. If you purchase the Milky Way Sampler Bundle, you not only receive all twelve block patterns, plus a suggested quilt top layout and instructions for it, but a bonus 13th block too – Celestial!
Celestial is a beautiful block, perfect for mixing in a variety of colours and fabrics used for the rest of your blocks. All of the other Milky Way Sampler quilt blocks are divided evenly between two different star shapes (with varied designs within the outline), but Celestial is different, almost combining the two other outlines.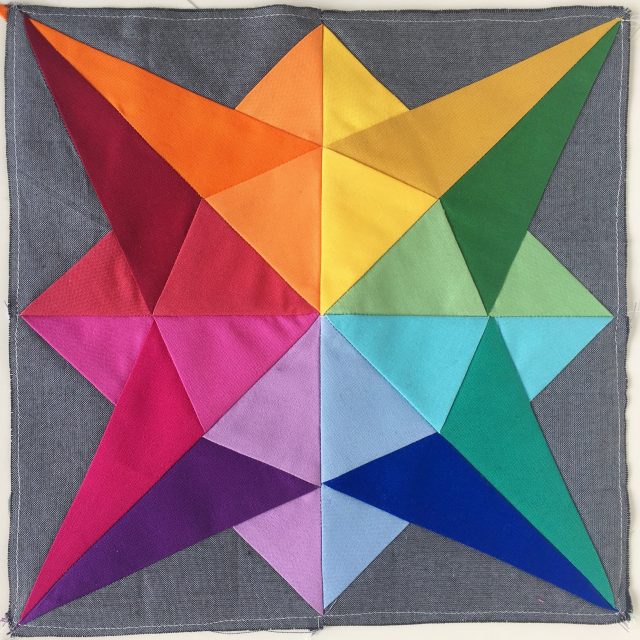 As I had run out of some of the fabrics I'd used in the rest of my Milky Way Sampler blocks, I decided to branch out and go all solids instead. All but one of these came from my Solids Club subscription from The Creative Retreat (which is the only reason I have any rainbow of solids on hand!). I laid out my Milky Way Sampler blocks in the quilt top layout, and then selected a dark and light of each colour that worked best with the rest of the blocks. I love how it turned out! And it's definitely inspired my to use more solids.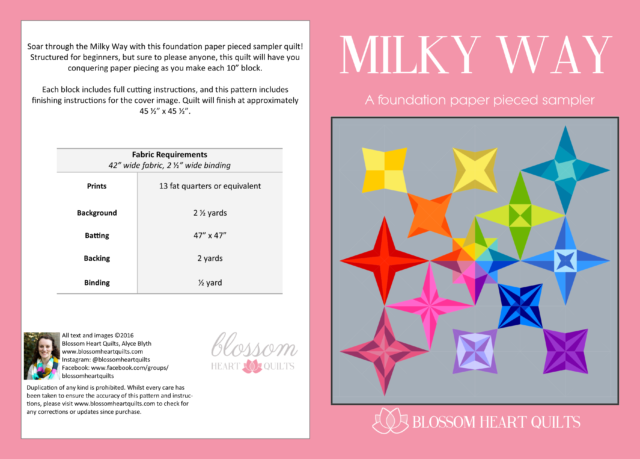 If you're wanting to get the Celestial quilt block pattern + the finishing instructions for using all 13 Milky Way Sampler blocks… good news! The Milky Way Sampler bundle is 25% off until 11:59pm Tuesday, December 12 (AEST). Click here to grab it now!
If you don't want to make your own Celestial block, but still love the rainbow goodness, then there's something else fun that I've got for you! You can still get your hands on the rainbow Celestial block design by ordering it on a variety of fun items from my Society6 store. I have it on an 18″ tote bag, which is the perfect size for my Cherish quilt blocks, but also useful for taking around as a normal tote bag – I used it at Australian Quilt Market, and will be taking it with me to QuiltCon next year!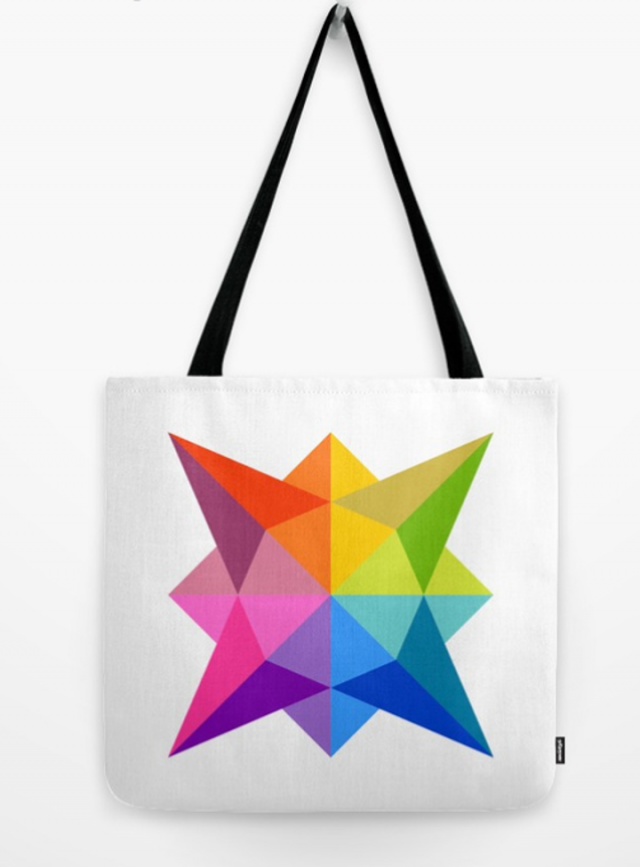 And if you've never ordered from Society6 before, use this link first to get $10 off your first order over $40.
Finishing Your Sampler Quilt
As I have run a few of the sampler block of the month QALs before, here's a few posts I've written before on finishing sampler quilts:
And be sure to check out #milkywaysampler on Instagram for how other people have finished their quilts. There's a wide variety from mini sampler quilts through to bed-sized quilts! Plus quite a few ones in the Blossom Heart Quilts Facebook group too.
Share Your Blocks
Looking for how to show off your masterpieces? If you're on Instagram, use #milkywaysampler and feel free to tag me too – @blossomheartquilts! There's also a fabulous community happening in the BHQ Facebook group where many people are sewing along to this QAL too.
This post contains affiliate links. It just means if you make a purchase, I receive a small commission. Thanks for your support!