Today is the day to buy yourself a creative gift! Remember how I shared with you last week the story of how this multi-crafter became relatively monogamous with quilting? That was because, today, the Handmade With Love super bundle is now available for purchase.
The Bundle contains a whole bunch of handcrafting projects. Over 200, in fact! Which is pretty darn amazing considering the price point of US$29.97. There's quilting, sewing, weaving (hello summer project!), yarn, and more. But there's one project that's near and dear to my heart because DIY Block Design is one of the eBooks in the Bundle! Squee! The folks at Ultimate Bundles are super picky about the books and authors they accept, so I'm thrilled to be part of such a valuable package full of beautiful patterns and tutorials together with so many other amazing crafters. Check all these out (click to enlarge)!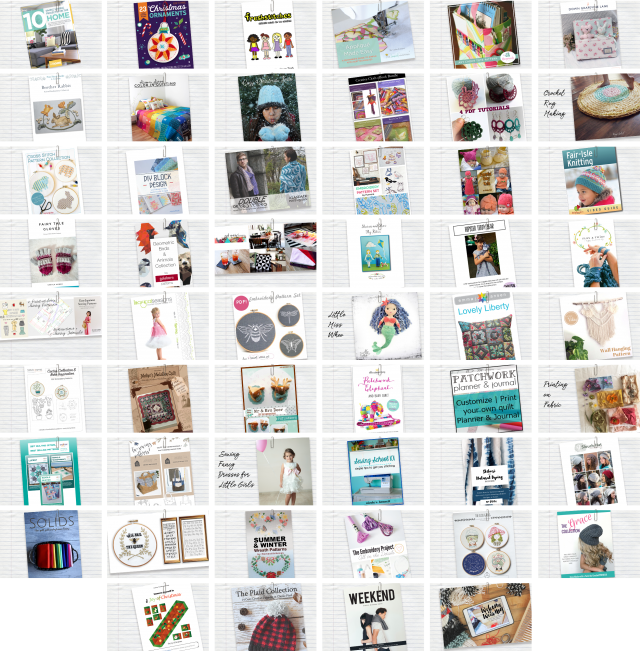 It's exciting to see some other fellow Aussie designers involved – Sedef from Down Grapevine Lane, and Emma Jean Jansen – plus some other great names in the creative world such as Alison Glass, Elise Cripe (who is also one of my favourite creative business podcasters), and Abby Glassenberg.
And it's not a Bundle without some bonuses! This one also has an earlybird offer of a free Craftsy class, plus all customers will receive a 6-month subscription to Make Modern magazine, and Rock Your Craft Fair digital planner by Pam Grice.
Check out all the fresh patterns, magical projects, online courses, and step-by-step tutorials right here. Just don't wait too long! The sale ends on Monday, December 4th and after that, it's gone for good.

Quick Facts
On sale: Monday, November 27th at 8am (ET) to Monday, December 4th at 11:59pm (ET)
Price: $29.97
Earlybird: FREE Craftsy offer during the first 5 days ($70 value)
Total value of the bundle: $1011.16 (97% off!)
Including: 21 eBooks, 25 patterns, 6 eCourses
Bonuses: FREE 6-Month Make Modern digital subscription + Pam Grice's Rock Your Craft Fair digital planner
I mean, dude, you really don't want to miss out on this! Go and grab your copy now before you forget!