One thing you very quickly realise when you own an AccuQuilt is that you want to cut anything and everything with it! So, I thought it would be a useful post to share how you can use an AccuQuilt for any quilt pattern. Well, just about any quilt pattern! I'm using one of my most popular tutorials, the Tic Tac Toe quilt block, to demonstrate how you can work out how to use an AccuQuilt for any quilt pattern, and even how to change the size of the pattern!
How To Use An AccuQuilt For Any Quilt Pattern
1. Identify the finished/unfinished sizes and shapes of the patchwork units.
Any good quilting pattern will tell you what sizes the various units should be. For example, if the quilt pattern requires flying geese, it should tell you what size they should measure once you have pieced them. This will be the unfinished size, that is, the finished size + a 1/2″ seam allowance.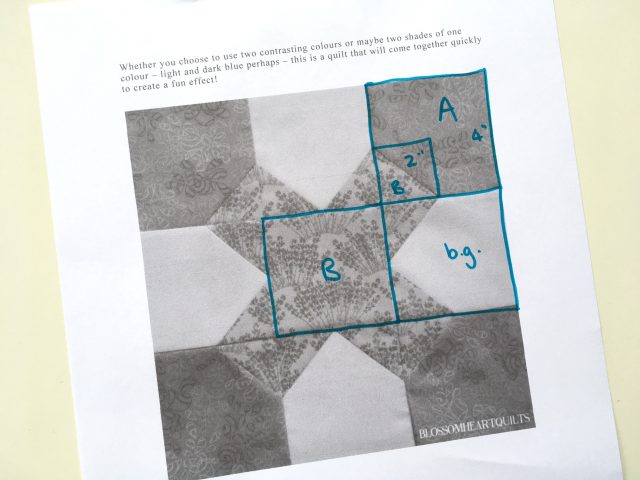 In Tic Tac Toe, there are nine 4″ finished squares – four background, four O prints (print A) and one X print (print B). There are also the 12 corner triangles, which are 2″ finished.
2. Match those sizes and shapes with the dies.
This is pretty straightforward, but if in doubt, you can use the AccuQuilt Cutting Equivalents chart to help with that. For the Tic Tac Toe block, there is no way to cut a square with one corner missing using an AccuQuilt die, so it's simply the 4″ finished square and the 2″ finished square. These are both on the Value Die that comes with an AccuQuilt GO! cutter, or included in the 8″ GO! Qube.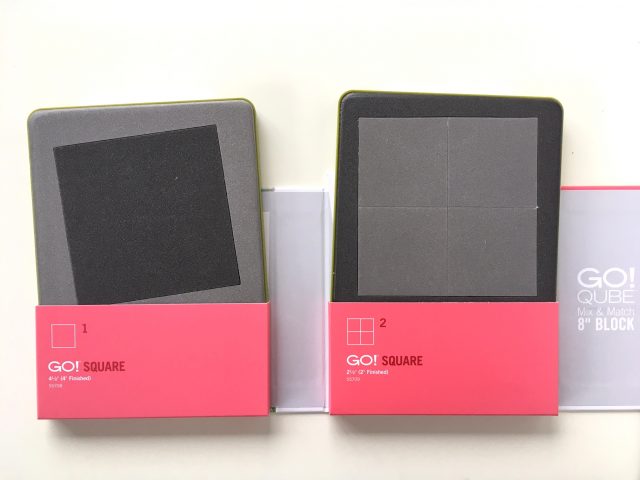 3. Calculate how many from each die you need to cut.
This may be the same as the pattern, like for Tic Tac Toe where you are cutting out squares, but it's dependent on the method of construction the pattern uses. If the pattern uses no-waste flying geese like Geode, the number of pieces of fabric you need will differ. I suggest drawing and scribbling on your pattern to make sure that you correctly count how many bits and pieces you need!
Let's say I'm wanting to make nine Tic Tac Toe blocks for a baby quilt. This would mean that from the 4″ finished square die I would need to cut 36 print A, 9 print B, and, 36 background. Plus 108 of print B from the 2″ finished square die.
4. Calculate your fabric strip size.
While you could easily grab some scraps and make do, if you're wanting to make a quilt out of yardage, then it's best to cut strips from yardage and feed that through. Thankfully, AccuQuilt has a list for this – use the AccuQuilt Fabric Reference chart to calculate what size strips you need to cut, and how many shapes you will get per strip, and therefore how many shapes per yard of fabric.
As I have the 8″ GO! Qube, I can cut one 4.5″ square at a time and four 2.5″ squares at a time. So for my strips, I will need to cut: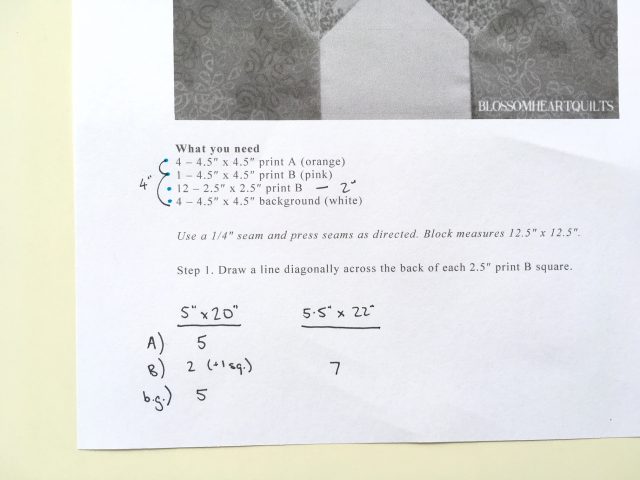 Note – I'll need 1 extra 4.5″ square of print B, I'd just cut that manually while doing my strips. And with the strips for the 2.5″ squares, careful fan folding should yield enough squares per strip as the overlap can be reduced to squeeze in enough across the length of the fabric.
5. Get cutting!
Be sure to take note of where you can layer the background and print fabrics together for cutting so that they are already paired for sewing, like with half-square triangles.
Resize A Quilt Pattern
With quilt designs like Tic Tac Toe, that contain basic quilt block shapes like squares or half-square triangles or flying geese, you can change out what size die you use to create a different size of quilt! The original 12″ finished Tic Tac Toe block would require the 2″ finished and 4″ finished square dies. However, by simply swapping these out to dies that maintain the same proportion where the smaller square is half the size of the larger square, i.e. 1.5″ finished and 3″ finished, then you can easily change the size of the finished block. Using the 1.5″ and 3″ dies would make a 9″ finished block like this one!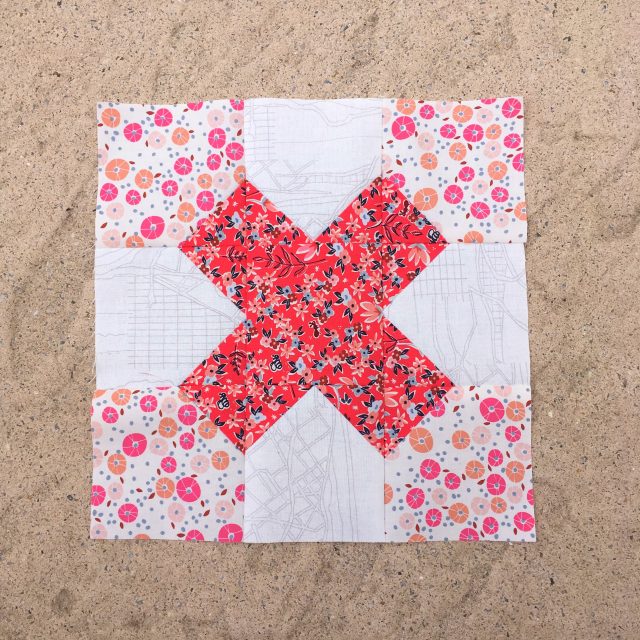 The same method works with quarter-square triangles, half-square triangles, and, flying geese. As long as the finished sizes of the units maintain the same proportion of the original sizes, you'll be good to go! And that's what I love about the GO! Qubes – they have already worked out the math for you. Each shape number across all the sets will yield the same shape in the right proportion. Which is why you can use any size of GO! Qube with the Patisserie BOM and still end up with the same quilt block, just in a different size.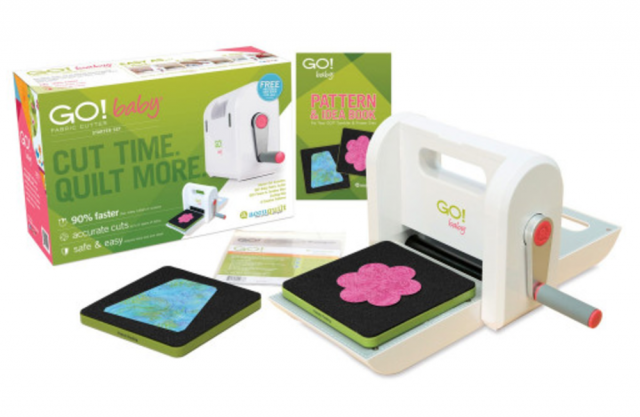 So what does this have to do with the Geode quilt along? Other than the fact that AccuQuilt are sponsoring a grand prize, that is? Well, Geode is AccuQuilt friendly! Simply by using the steps outlined above, you can successfully adapt the Geode quilt pattern to suit AccuQuilt dies! It does mean making your flying geese a different way, but hey, if it saves you time on cutting and trimming, then who's complaining?!