Yeah, so I think it's safe to say that I'm well and truly head over heels in working with Liberty fabrics. The designs and colours just really inspire me! Not to mention the luscious feels. Which means I keep finding myself saying yes to Liberty swaps and bees!
One I joined in earlier this year was a rainbow postage stamp quilt block swap. Well, postage stamps of the 3″ finished variety, that is! There were 9 of us involved, and each person chose a colour. I pounced on pink because I am all about that pink! We then had to make nine 16-patch quilt blocks that featured Liberty in our chosen colour and send them in to Martina at Ava & Neve. She sorted them out and sent them all back so that now we each had a rainbow of Liberty quilt blocks! Then the fun really began.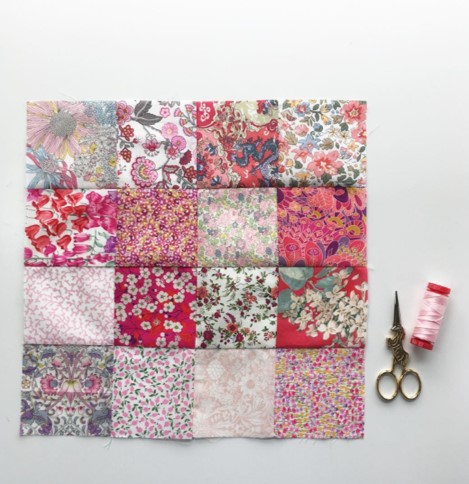 I went through a variety of layouts as I decided how to use my blocks. I had originally thought of incorporating my economy square I-spy blocks from my guild's Liberty bee, but that didn't really work. I also wanted to play with incorporating the rainbow of linens from The Strawberry Thief, because they had a great range of colours that would've worked in. So I played around with some sashing options #designbed There was one where I used larger pieces of linen, but I wasn't so keen on having such a big proportion of linen to Liberty.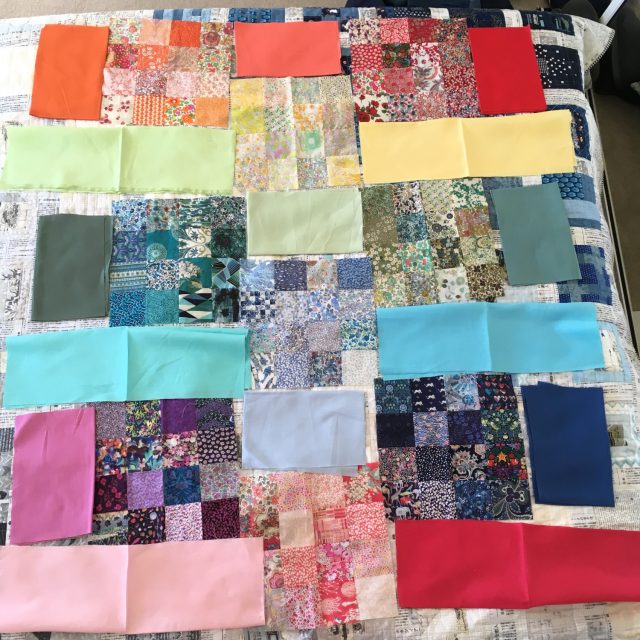 Then I really loved this smaller option, of simply bordering each block, but ehhh… I don't really need such a small quilt like that.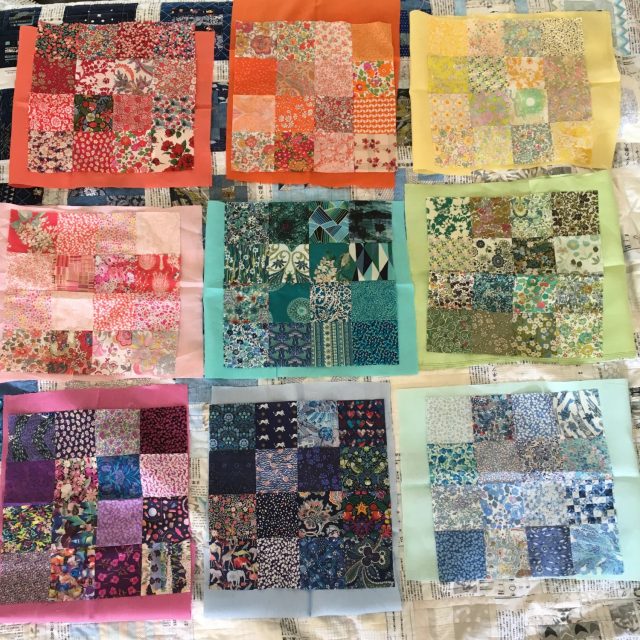 For the final round of ideas, I exploded the 3×3 grid out to 5×5 (which means the finished quilt would be 60″ x 60″). But then what to do in the gaps?! I placed the linen in every other space, which left me with 4 gaps. I tossed around the idea of doing more 16-patch blocks, but in the multi-colour prints, before deciding that I would make them a quarter of each Liberty block that it connected to.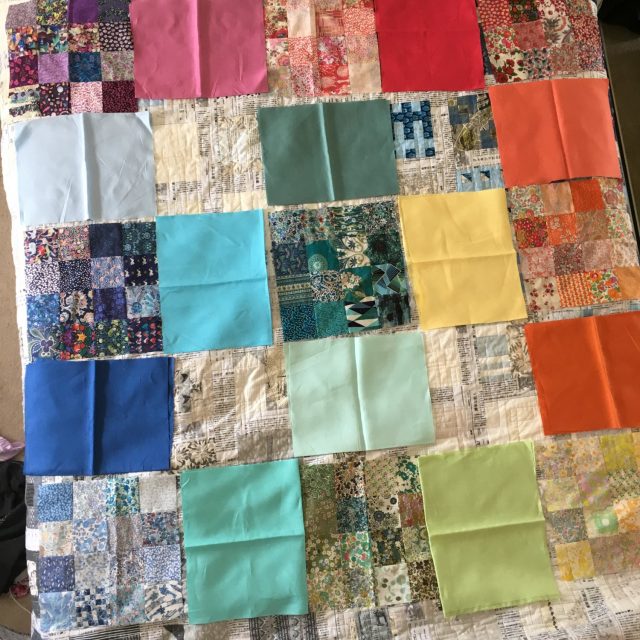 This then meant I needed to sort through all the little bits and pieces that I have to put them roughly into colour order so I could easily find ones that worked. Thankfully, my daughter was happy to help! Even if it was a tricky negotiation at times as to what colour a piece fell into… she has some pretty strong opinions on the matter! But we got there in the end, and I then made my selections for the blocks.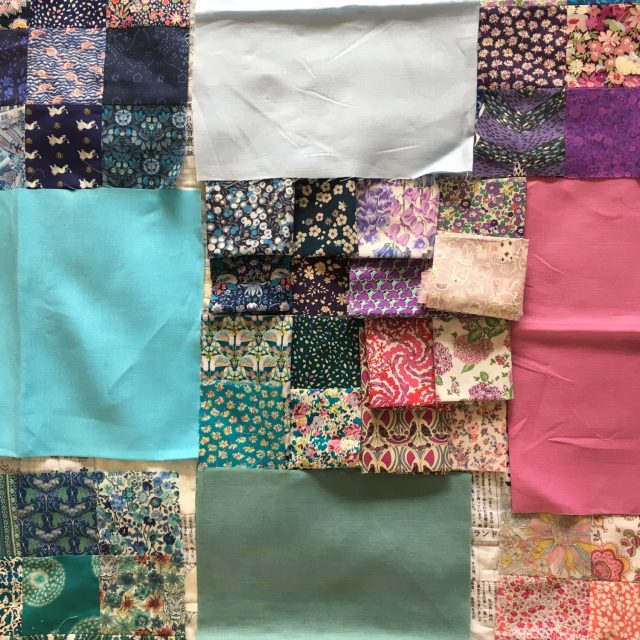 But then I sat back and had a think. This is an extremely bright and bold quilt. Part of me loves it, but a bigger part of me loved the sneaking through of the low volume fabric behind it all from the Tula Blue quilt on the bed. So I went hunting for yardage of a low volume Liberty print I knew I had. But of course I couldn't find it! So I pulled out a grey on white Moda Essential Dot from the stash and fell in love. That was the perfect touch. I dove right in!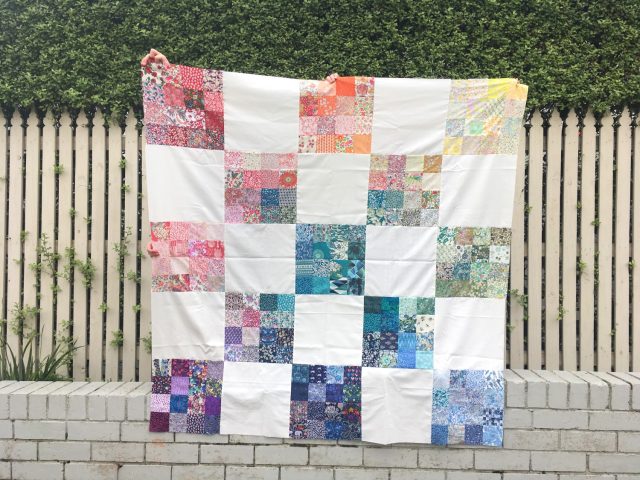 I love how this quilt has turned out! There's only one print/colourway that is repeated – a red one as I had limited good reds to use for the transition blocks. THat means 207 different Liberty prints are in this baby! Well, 60″ by 60″ baby. I love how the colour sort of washes across the quilt top, and that from a distance the low volume reads as off-white but up close in person it has a bit of visual texture.
I think I may back it with Liberty yardage bought from Liberty London when they have their great sales… but I do also have a beautiful 150cm wide AMH print that would be very sweet too.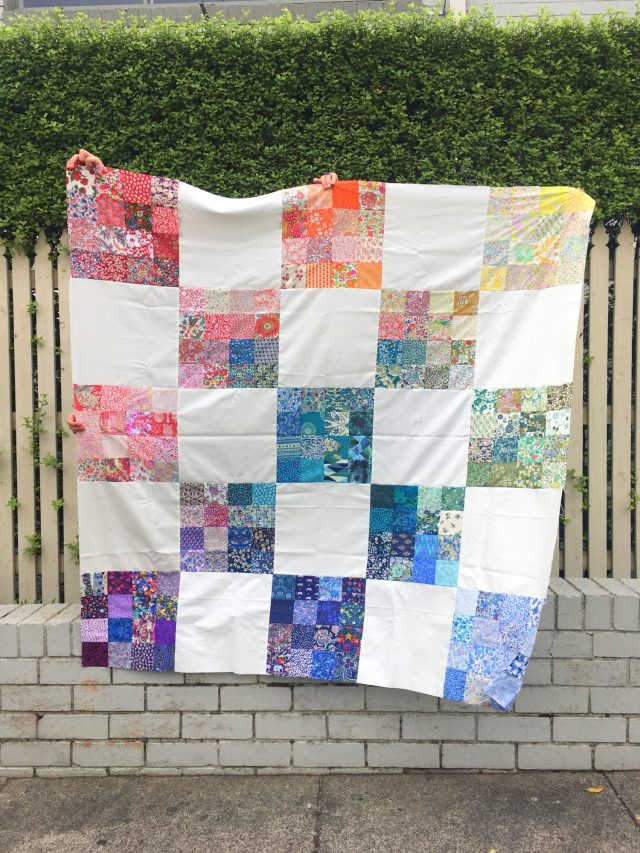 The biggest question is how to quilt it. I think it might need some hand quilting, to keep it soft and luscious. Especially if I use Liberty backing! As the blocks are 12″ finished, there will definitely need to be something in the dottie squares. Possibly a flower? Or a circle? I'm certainly open to ideas if you have any! Please feel free to leave a comment with your suggestions.
Post contains affiliate links.