Yes indeed, you read that correct! I'm thrilled to announce that next month, we will be having a Geode quilt along. Will you join us?!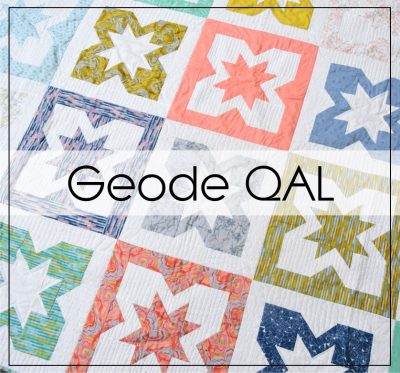 Geode is my latest quilt pattern, and it's a fun and effective design that's also fat quarter friendly. For my original quilt, I used a fat quarter bundle of Eureka by Emma Jean Jansen.
And then last month, I made a fussy cut cushion version as a gift for a friend of mine using a print from Ex Libris by Alison Glass. This involved creating the flying geese individually as opposed to the no-waste method provided in the pattern, but it was worth it!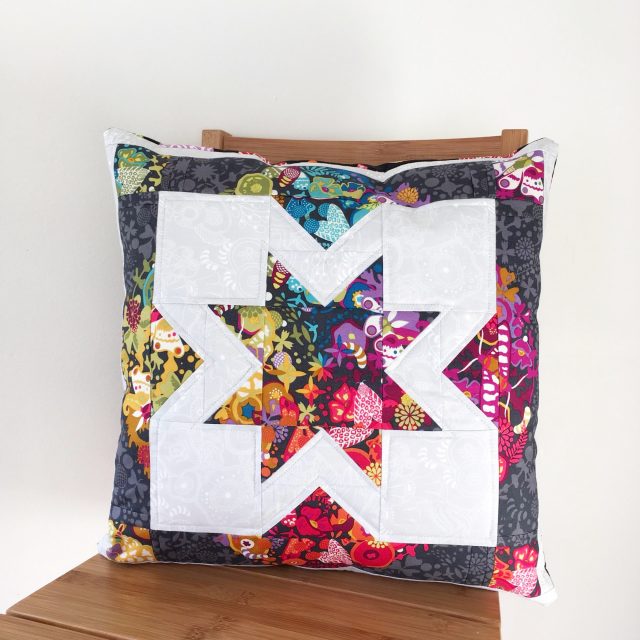 And this time? Well, it's a busy time of year for me as an aunty, with one nephew just born a couple of weeks ago, and another baby coming along in November. So I thought it was the perfect opportunity to make a baby Geode quilt, and why not invite you all to play along too! I'll be making a Tula Pink rainbow quilt, and I'm excited to share the journey with you all.
For more Geode quilt inspiration, check out what the pattern testers made!
The Details
Alright, so all the nitty gritty details that you're wanting to know… We're officially kicking off the party on Monday, October 2nd (AEST). You are more than welcome to sew at your own pace, and I will also be posting each Monday throughout the QAL with some tips and pointers in regards to the pattern.
October 2 – Choosing Fabric
October 9 – Cutting and Test Blocks
October 16 – Piecing Blocks
October 23 – Piecing Quilt Tops
October 30 – Final Quilts
November 28 – Winner Winner!
I asked in my Facebook group how long people liked to have to finish off their quilts, and although the most popular 2 month option isn't viable (without running into Christmas!), you'll have until Monday November 27 (AEST) to share your finished quilts. Keep reading to find out how to share these.
The Pattern
If you don't already have a copy of the Geode quilt pattern, then that will be your first port of call! The PDF pattern is now on sale for just $7 in my store and also on Craftsy. If you prefer a paper copy, I have some of those in stock too for $9.95, but please note that I will be unable to post these between Sep 22 – Oct 1 due to travel so you will need to order soon.

The Prizes
Oh yes, what's any QAL without some fun prizes to jazz up the party?!
Weekly prizes – Simply share your progress on Instagram using #geodequilt and you could win! I will post an Instagram post each Monday morning at 7:30 (AEST) which will announce the previous week's winner, and that post marks the start of each new week's prize.
Grand prizes – There are three categories: cushion, baby quilts, and other quilts. Cushions must be fully finished and stuffed, the rest may just be the quilt top.
Weekly Prizes
For the first three weeks, we have a prize (or two!) each week to celebrate your progress! Please note – your profile must be public for it to show up on the hashtag.
Week 1 (Oct. 2-8) – Aurifil has joined in the party and is offering a small spool set of fellow Aussie Keera Job's beautiful Daisy Day Aurifil collection!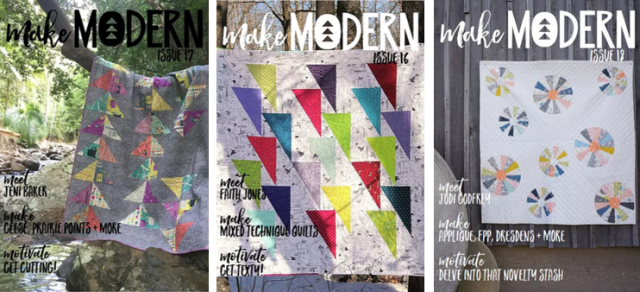 Week 2 (Oct. 9-15) – Make Modern has kindly offered TWO prizes! Two QALers will win a 6-month subscription each to Make Modern's magazine.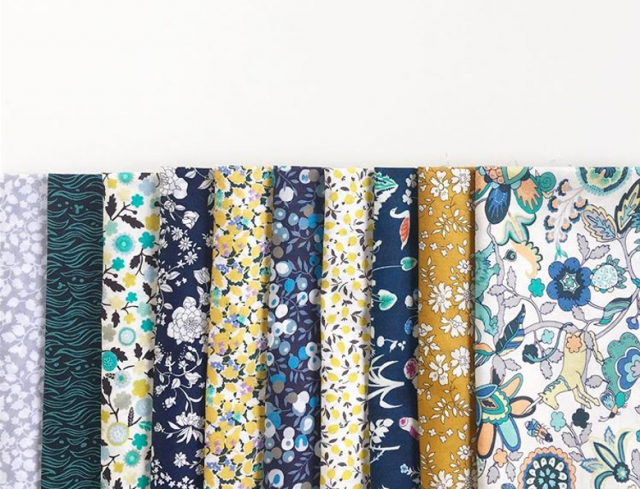 Week 3 (Oct. 16-22) – Ava & Neve is sharing the Liberty love and offering a bundle of October's Liberty Society goodness! This was August's delicious bundle.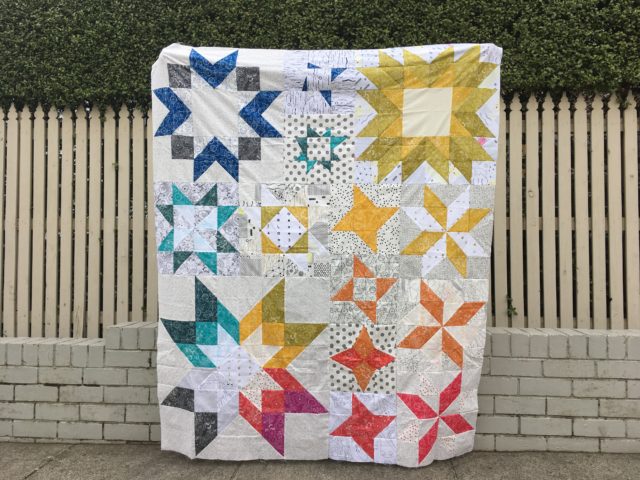 Week 4 (Oct. 23-30) – Keep the star quilt blocks coming with the Aurora quilt! Usually only available in classes, one Geode QALer will win a paper copy of my Aurora sampler quilt pattern.
Grand Prizes
Ooh boy am I excited about we've lined up for these… As Geode comes in four different sizes, I've separated them out a little, as there is a big difference between the little 9-block baby quilt and the 36-block king quilt! Plus an added cushion category.
To enter your Geode projects at the end for a grand prize, remember that cushions must be fully finished and stuffed, the rest may just be the quilt top. While the weekly prizes are only through Instagram, the grand prizes are open to both Instagram, and my Facebook group from 7:30am October 30 to 7:30am November 27 (AEST).
Instagram – To enter via Instagram, simply share your finished project from 7:30am (AEST) Monday October 30 using #geodequilt. Only projects shared after my post that day will be eligible, so if you can't wait that long to share your finished project, I completely understand! Simply share it again during the grand prize time frame. Your profile must be public for it to show up on the hashtag.
Facebook group – If you don't have Instagram, then join the Blossom Heart Quilts group on Facebook, and on Monday October 30, I will make a post where you can leave a photo in the comments to enter there instead.
Cushions
Oh yes, if you're just wanting to have a little nibble of the Geode pattern by making a cushion, then go right ahead! Make one block and add a border if you want it bigger. One Geode cushion maker will win a bundle of all four Making Merry paper patterns. Right in time for Christmas creating! Open internationally.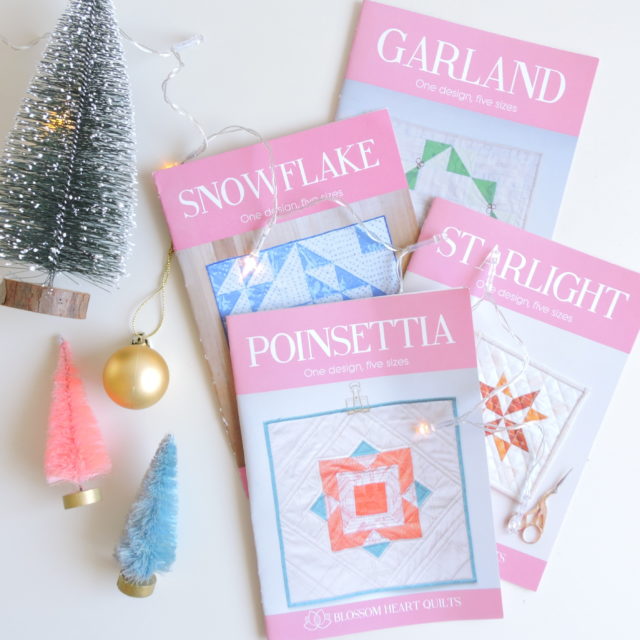 Baby Quilts
One lucky baby Geode quilt maker will win a 3 month subscription to Ava & Neve's Liberty Society. Open internationally.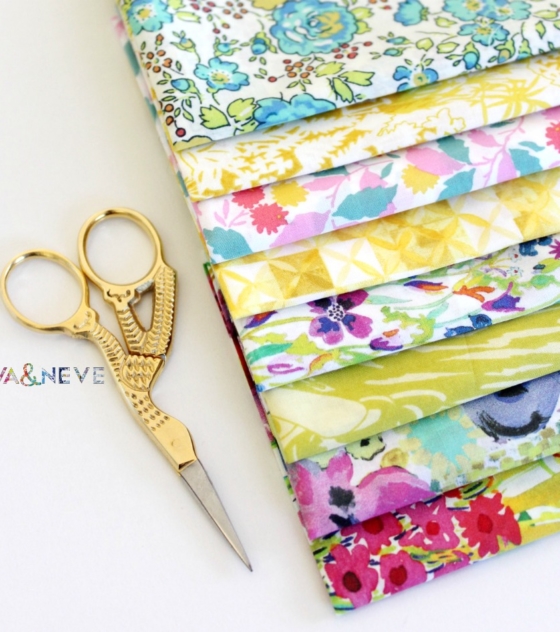 Other Quilts
If you make a throw, queen, or king-sized Geode quilt, then there's one prize for the Australian quilters, and one for the international quilters.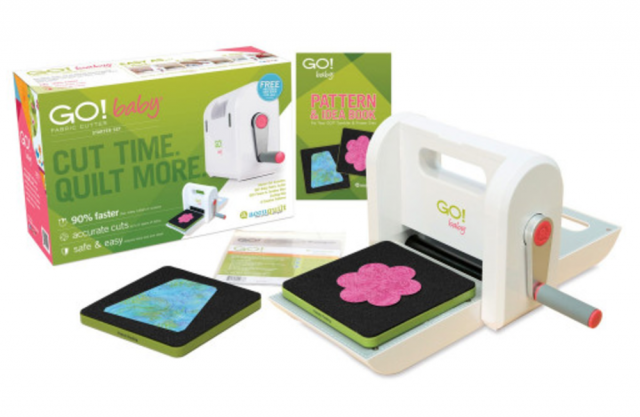 Aussie prize – A BabyGO! fabric cutter from AccuQuilt Australia, or dies to the equivalent value if you already have an AccuQuilt cutter.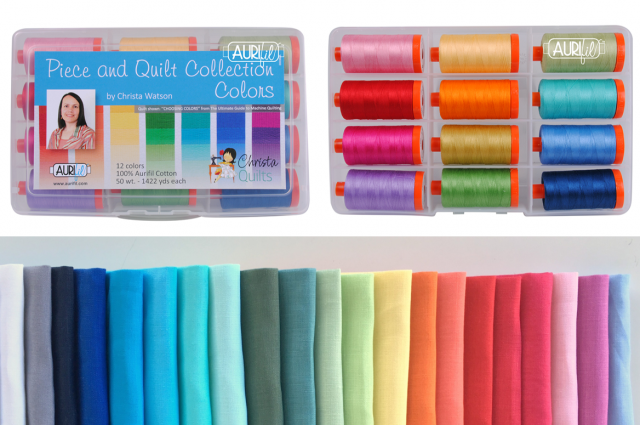 International prize – A large Aurifil box of Christa Watson's Piece and Quilt Collection Colors
+ winner's choice of 2.5m of linen from The Strawberry Thief (whole or 10 fat quarters!)
Phew! Got all that?! I can't wait to get quilting with you all! Don't forget to grab your PDF pattern while it's on sale – in store and on Craftsy – and I'll see you back here in October to get this party staaaaarted!