**SALE HAS ENDED – SEE YOU AGAIN NEXT YEAR!**
It's that time of the year again! The annual Christmas In July pattern bundle is such a fun event to be a part of, and I'm thrilled to be a part of it again. If you haven't heard of it before, the Christmas In July bundle sale is when a group of quilters and sewers get together to off a huge bundle of patterns for just one low price.

This year's bundle includes 21 patterns + an eBook + discount codes + some great prizes to be won!* What you get: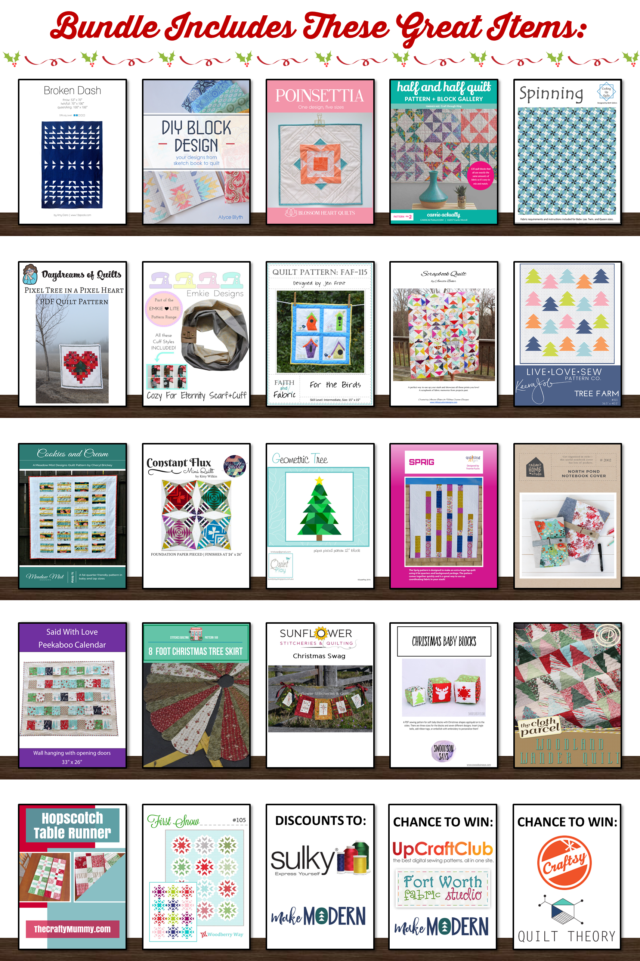 All from this amazing group of designers:
13 Spools – Broken Dash by Amy Garro
Blossom Heart Quilts – Making Merry Poinsettia & DIY Block Design by Alyce Blyth
Carrie Actually – Half and Half Quilt by Carrie Merrell
Cooking Up Quilts – Spinning by Beth Sellers
Daydreams of Quilts – Pixel Tree in a Pixel Heart by Anita LaHay
Emkie Designs – Cozy for Eternity by Emma Wengier
Faith and Fabric – Bird Houses by Jen Frost
Hilltop Custom Designs – Scrapbook Quilt by Amista Baker
Live Love Sew – Tree Farm by Keera Job
Meadow Mist Designs – Cookies & Cream by Cheryl Brickey
Night Quilter – Constant Flux by Kitty Wilkin
Quiet Play – Geometric Christmas Tree by Kristy Lea
Quilting Jetgirl – Sprig by Yvonne Fuchs
Radiant Home Studio – North Pond Notebook Cover by Sara Curtis
Said With Love – Peek-a-Book Calendar by Anne Boundy
Stitches Quilting – 8′ Giant Christmas Tree Skirt by Deanna Wall
Sunflower Stitcheries and Quilting – Christmas Swag by Raylee Bielenberg
Swoodson Says – Christmas Baby Blocks by Stephanie Woodson
The Crafty Mummy – Hopscotch Table Runner by Tonya Grant
The Cloth Parcel – Woodland Wander by Audrey Mann
Woodberry Way – First Snow by Alli Jensen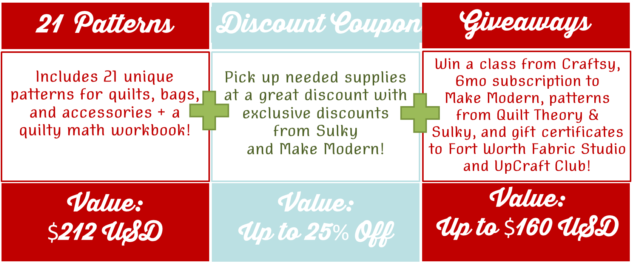 My offerings in this year's bundle is my Poinsettia quilt pattern (which includes 5 different sizes) and my quilt math workbook, DIY Block Design – your one-stop book for everything you need to design your own quilts! These alone are worth $29.90 together, so with the bundle priced at US$25, you've got yourself a bargain right there 😉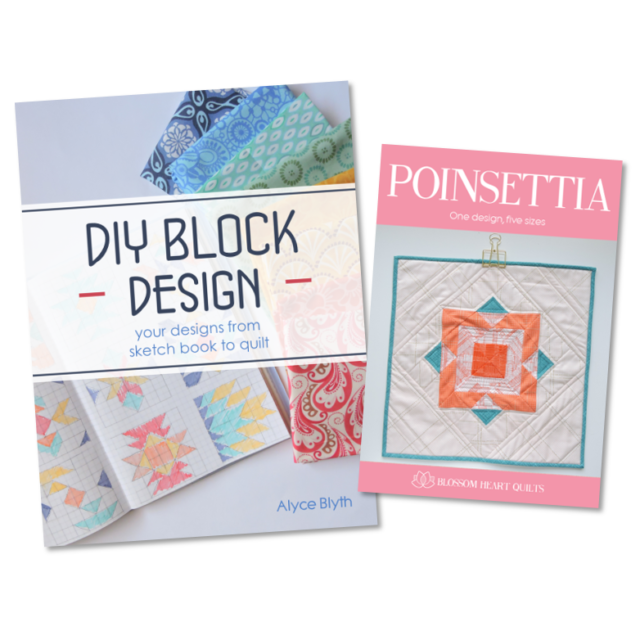 This bundle is only available for three days: 5am July 11 –  July 14 (AEST), or if you're in the US, that's 12pm July 10 – 12pm July 13 (PST). So go and grab it now before you forget, and tell your friends about it too!
**SALE HAS ENDED – SEE YOU AGAIN NEXT YEAR!**
*No purchase necessary to enter. To enter to win one of the giveaway items without purchasing, send your contact information to: patternbundlesale@gmail.com