I've had the pleasure of knowing Elisabeth for a few years now, and have loooong admired her mad skillz at fussy cutting and incredible piecing, and I've even had the fun experience of being in a quilting bee with her. So it was kinda no surprise that when I found out she was writing a book with her friend Nichole that it was all about fussy cutting. Well, of course it would be!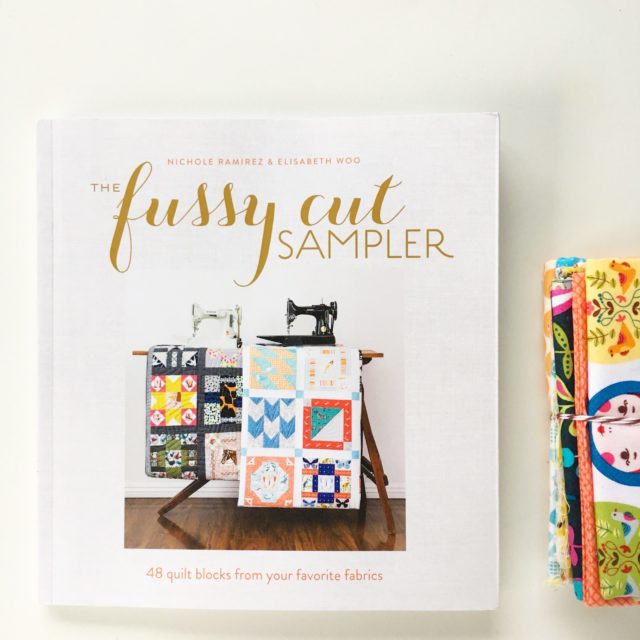 The Fussy Cut Sampler is a gorgeous book of 48 different 9″ finished quilt blocks, broken down into themed chapters, and with each block covering a different type of fussy cutting, or a tip to consider while fussy cutting, such as how to achieve a transparency look. I think my favourite would have to be block #44 – "You In A Block" (bottom left below)!
Image from thefussycutsampler.com
And what kind of sampler book would it be if there wasn't also a Fussy Cut Sampler quilt along! There's some fabulous guest bloggers lined up, and some great prizes to be won too.
I'm here to share with you my block #8, which is in Chapter 2: Stripes. I must admit, I hadn't ever really thought about fussy cutting stripes, other than thinking about directionality when cutting out for a block. But this chapter includes more than just that! There's all sorts of tips and tricks to consider when working with stripes.
So, it turns out I don't particularly stash a lot of stripes… Like, ANY. These orange stripes are the best I had, hence why this non-orange girl has made an orange quilt block. I even had to use text as a stripe because there was nothing else! But I must say, I do like the outcome of using a text print as a stripe. It's a bit fun!
Details
Title: The Fussy Cut Sampler
Authors: Nichole Ramirez and Elisabeth Woo
Publisher: Lucky Spool
Patterns: 48 blocks + instructions for two sampler quilt settings
Pages: 144
This post contains affiliate links. Thanks for your support!