I still remember hearing the buzz about Aurifil when it first really started hitting the online world. At first, I thought it was just a lot of PR hype. But then I started using it, and I got it. In fact, it's been just over five years since I started using Aurifil thread, as it was just before I won a fun competition at Lily's Quilts to design my own 12 spool Designer Collection.
I have continued to almost exclusively use Aurifil thread, even when in Japan and I had to buy it in from overseas! Both of the machines I've owned have loved using it, and the range of 270 colours to choose from means there's always a perfect colour for my projects. So when Aurifil opened up applications to become an Aurifil Artisan, I was so there. To have the opportunity to represent and promote a brand I love and already do promote? Hell yeah!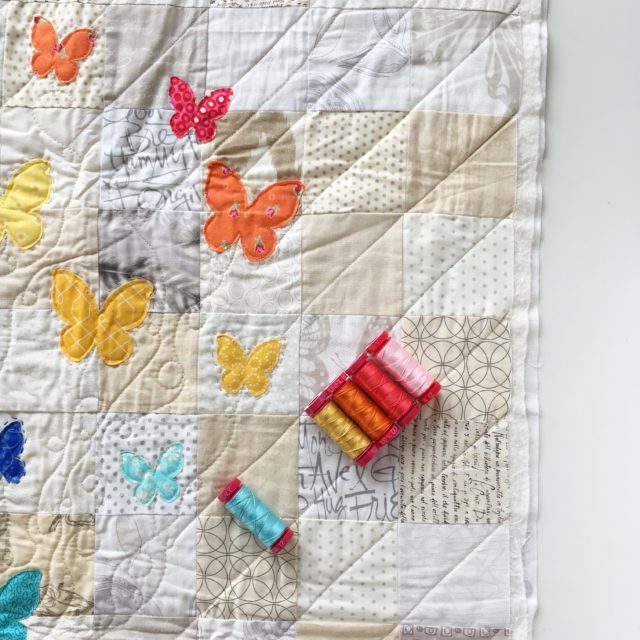 So it was with much squealing and excitement, compounded by the fact that I was with one of my quilty besties and fellow Aurifil Artisan when we each found out, that I was accepted to be an Aurifil Artisan! I'm honoured to be included in this impressive line up of fellow Aurifil Artisans, and I'm excited to see what the next year brings.
Let's start things off with a quick personal Aurifil introduction, if you will…
My Aurifil Favourites
Machine piecing: 2021 in 50wt – I just recently bought my first cone, so I won't be running out for quite a while! I use a sandwich-sized snaplock bag for taking it out and about for sewing events.
Machine quilting: 2000 in 40wt and 50wt – it's a beautiful slightly-golden cream colour that blends so beautifully with a variety of fabrics. It's my go to for any and all background fabrics, especially with my penchant for low volumes.
Needle turn applique: 80wt – a super-fine thread that melts perfectly into the fabric. I bought the Carolyn Friedlander applique collection because I love all those colours! I do need to add a couple of more colours though to make it truly versatile, although it'll do perfectly for my Wildabon quilt.
Hand quilting: 12wt – I have a small rainbow collection of this smooth, thick thread that creates a lovely stitch when hand quilting.
Designer Collection: The Basics Collection – I was lucky enough to win one of these a few years ago, and it's been my one-stop box for all the fabulous neutrals you could ever need, including the 2000 and 2021, and the popular 2600 Dove grey (all 3 of which have long since been used up!)
In fact, if I was to be asked "If you were an Aurifil colour, what colour would you be?", I'd definitely say 2000. What about you? What coloud of Aurifil would you be?! Let me know in the comments!
This post contains affiliate links. I only recommend products I truly love and use to death! Thanks for your support.