When Lauren from Molly And Mama messaged me and asked if I'd like to make her Hettie Hexie Mini pattern, I won't lie, I kinda stared wide-eyed at the cover showing a whole lotta English paper pieced hexies… and then said yes. And now, I'm glad I did, because I'm in love!
I ordered my papers from Tales Of Cloth, but let it sit there for a while. I KNEW I couldn't have two EPP projects going at a time, so I waited until I had finished my Girt By Sea centre medallion block first. And it was perfect, because "having" to EPP to get the block done, meant that I became accustomed to the process, I took it out and about with me to do in the car while I waited. Or even while sitting in the car at the local park watching the wild clouds and rain come and go as I drank my morning coffee after school drop off! And especially having something to do on the sofa at night, now that it's getting cold. Yes yes, I always "knew" that these were the perks of EPP, but when I have machine sewing to do, I find it hard to give myself permission.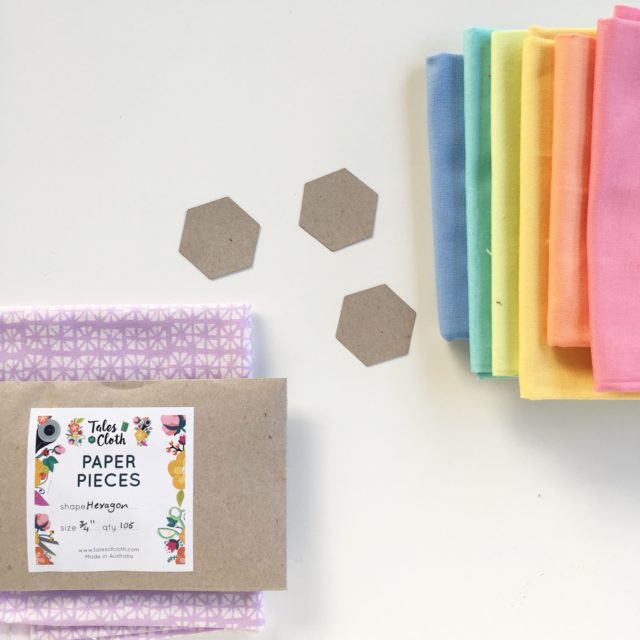 Phew, ok, so word vomit aside, I had fallen in love with EPP and was itching to do more after Girty, and so I happily picked up the Hettie Hexie Mini pattern and got stuck into it. While watching Doctor Who with my son one afternoon, I chose a range of Kate Spain fabrics that matched the solids I have had pulled together for months. Hello, gelato rainbow!
I had them all basted by the end of the night as my husband and I began our binge of 13 Reasons Why. The following night during episodes 4-6, I had all the rows pieced. Night three and episodes 7-10 had half of the rows put together. Night four and the final three episodes, I couldn't focus on the sewing #thatfinalepisode #somanytears so I finished it the next day while having coffee with friends.
It's now been fused to some Essex Linen, and I'm thinking I'll turn it into a tote bag to use for carrying around my English paper piecing! The Hettie Hexie Mini pattern is, obviously, for a mini, but I'd rather