This past Easter weekend here in Australia was a 4-day long weekend. Practically everything is shut on Good Friday, and Easter Monday is also a public holiday (although a lot of retail is open). While many people go away, we had the most wonderful, relaxed weekend at home. Also, after a week with us, my mother-in-law left on Saturday. So in reality, the past week has been pretty chilled, relaxing and on my part – getting a bit of sewing done too. While some of that was with my kids (more on that another day), I also took the opportunity to finish up my Alison Glass Aurora quilt. I started this one last year while teaching this class at Amitie – if I'm demonstrating techniques, I may as well make the most of it and sew another quilt myself!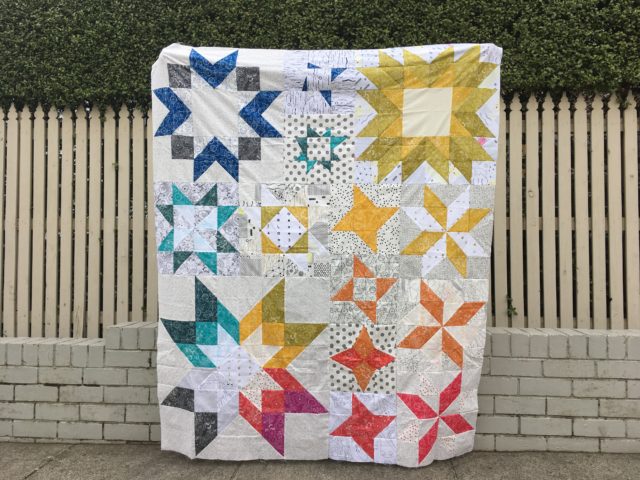 Most of the background fabrics I used are from Alison's Abacus collection – the black and white prints – and then a couple of her other low volume prints too. The coloured prints are mostly from Sun Print 2015 and 2016. It was a tricky juggle of prints to make sure I had enough, as I had bought a couple of curated fat quarter bundles from Alison directly at QuiltCon, and so I had limited amounts to choose from. I even had a Tim Gunn moment of making it work when I had to franken-piece some orange to make sure I had enough fabric for one of the stars!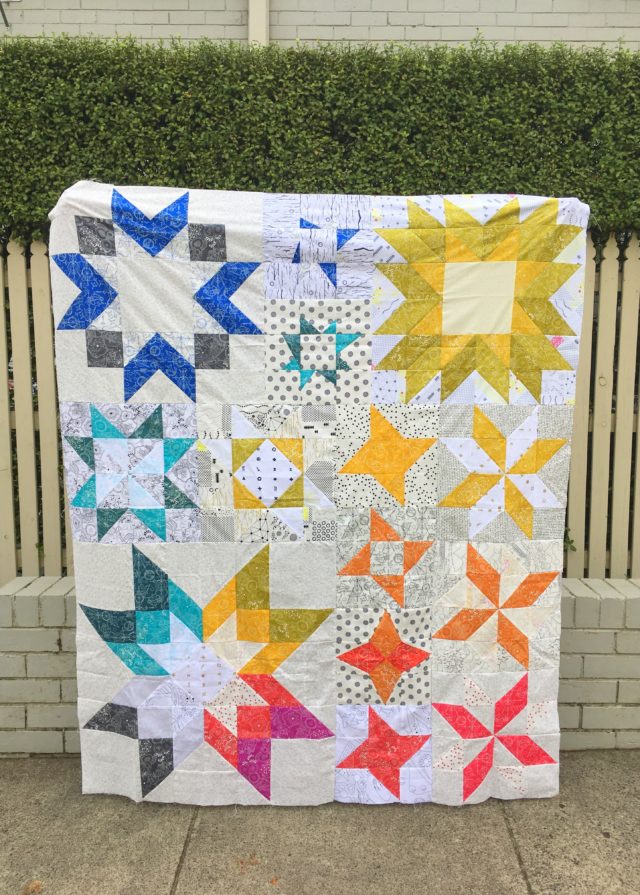 The points of one of the yellow/green stars doesn't show up well in the photo, but as I needed to have more yellow/green than teal due to the limited fabric supply, I don't actually mind. Means there's a little less yellow/green in your face! But I'm so happy with it. I've been wanting to make an Alison Glass rainbow quilt for a few years now, and at last, I have.

If you want to make your own Aurora quilt, rainbow or not, you can sign up now for the block of the month program starting on May 1st! You can see some more quilts and blocks that people have made in this post here, or by checking out #aurorabom on Instagram.