When I first started quilting in 2011, I went to Spotlight to stock up on some tools. I bought a some fabric scissors, a 12″x18″ OLFA cutting mat, a 1″x12″ ruler (don't laugh, I had no idea!), and an ergonomic OLFA rotary cutter. Six years later, the rest have long since passed, but that cutter is still not only going strong, but my favourite type to use. And I've tried a few too! Even now, when I borrow a friend's cutter to use and it's not an OLFA, I am reassured just how much I do love my rotary cutter – the grip, the stability, the smoothness. So when OLFA® contacted me to help share the news about their newest product, I was so there!
This post is sponsored by OLFA, but all opinions and wonky cuts are my own.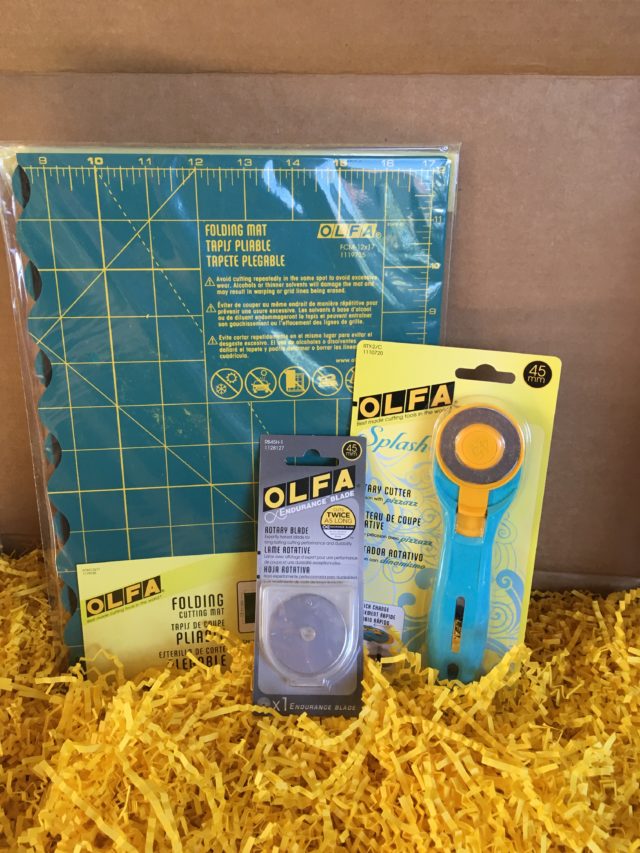 There are 3 main products that OLFA sell that us quilters know and love – cutting mats, rotary cutters, and, of course, rotary blades. One thing I didn't know though was that the name is all capitalised. Like IKEA… Anyway, today I get to share a review about three of the products in particular!
12″ x 17″ Folding Mat
I've previously used the OLFA self-healing mat, and loved it! So I was super excited to try out the 12″ x 17″ folding mat, because it seems like a very convenient mat to have on hand. As my quilting life now involves a lot of sewing days, it gets tricky trying to lug around a cutting mat. I have a 12″x18″ one that I take, but it only just fits in lengthwise in my bag, and as I hook that bag over my shoulder so that I have spare hands to hold my sewing machine, it also digs in to my underarm! #glamourous Yes, first world problems, but those of you who go to sewing days know that the easier it is to pack everything you need to take, the less stressful it is. Also, I'm constantly worried about it warping or getting bent out of shape being carried like that.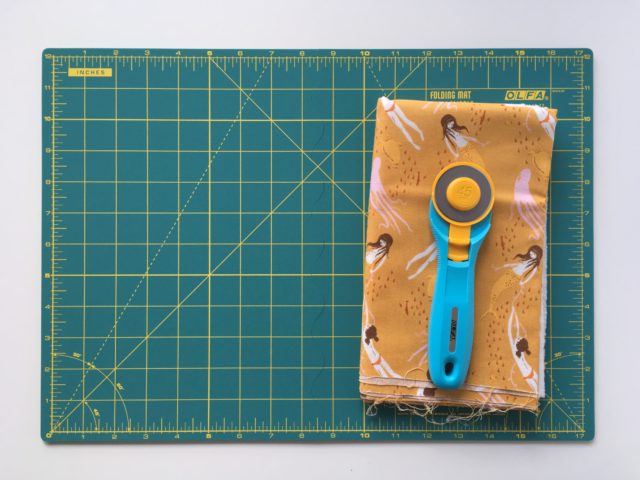 So how does it hold up to being useful? Well, this mat neatly and conveniently folds in half, keeping it safe from being bent out of shape, but it is still really durable and easy to cut on. Having a good quality cutting mat is important – a bad one will blunt your blade quicker, and it will miss cutting all the threads in your fabric. Plus the cheaper ones die a lot quicker, so you end up spending more money to replace cutting mats more often! But this one feels smooth and my blade just glides along. I must admit, I was worried how the gap would effect the cutting, but my blade didn't even notice it!
You can buy these for RRP US$49.99 at craft stores (including Jo-Anns), local quilting stores, and online including Punch With Judy (for the Aussies) and Fat Quarter Shop.
Splash 45mm  Rotary Cutter
Now, I mentioned earlier that I have a love affair happening with my ergonomic rotary cutter, but a girl still needs some bling in her life! I consider my aqua OLFA Splash Rotary Cutter as the cute ballet flats to the comfy walking ergonomic rotary cutter shoe. That and it has a slimmer profile, so it fits much better in my Sew Together bag to take around to those sewing days!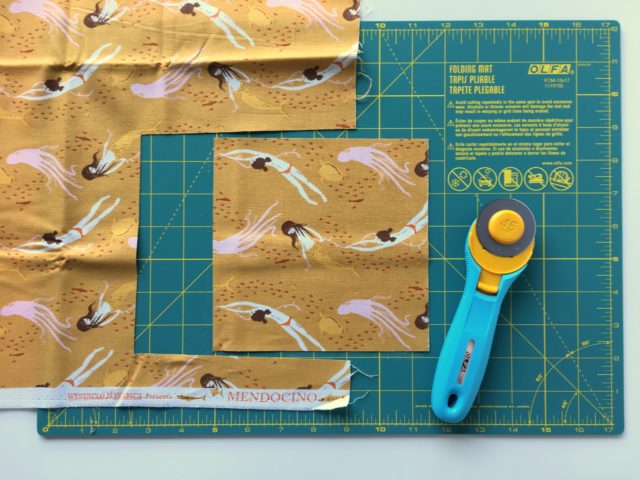 I use my rotary cutters not just for cutting fabric, but also trimming foundation paper pieced patterns (which can include some thick seams plus paper *gasp*), and also using an older blade for cutting up bulk amounts of paper templates. Stack and whack, folks, stack and whack! A cutter with a fresh blade can cut through up to 6 layers of fabric, not to mention any other kind of textile you might throw at it – paper, tarp, vinyl, upholstery and more.
These pretty babies are available in aqua or purple for RRP US$17.99 at craft stores (including Jo-Anns), local quilting stores, and online including Oz Quilts (for the Aussies) and Fat Quarter Shop.
45mm Endurance™ Rotary Blade
This is the one I am most excited about. A rotary cutter blade that lasts twice as long?! The OLFA 45mm Endurance™ Rotary Blade is a brand new product out this year that's a tungsten steel blade made with "proprietary metal chemistry and an advanced hardening process". But all we need to really know is that it has the ability to cut up to 1,500 yards of fabric before dulling. Say what?!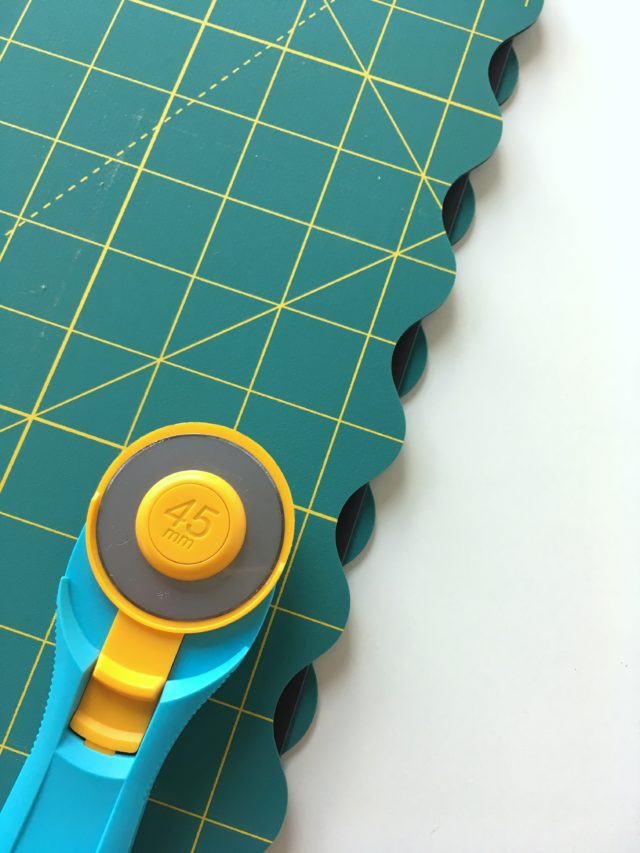 It fits into any OLFA 45mm rotary cutters we already have, and so far, its cutting is still feeling as smooth as slicing my knife through that spreadable butter we have in the fridge. I obviously haven't had time to test the full endurance of this blade, however, I'll keep you posted. I normally need to change every 3-4 weeks, so we shall see how this bad boy goes!
These bad boys are available for RRP US$12.99 at craft stores (including Jo-Anns), and local quilting stores.
Who else is a huge OLFA fan?! And how many rotary cutters do you have… c'mon, 'fess up 😉