Last year, I had a flash of inspiration when a few ideas collided to form one big idea. I heard about the Australasian Quilt Convention's challenge theme for 2017 – Made In Australia: Flora and Fauna – around the same time that I was just so in love with the Rajah quilt at the exhibition at the NGV. The big idea? Make a modern medallion quilt using Australian designers' fabrics! I started collecting a wide range of fabric by Emma Jean Jansen for Ella Blue Fabrics, and a few bits screenprinted fabric by Maze And Vale, and some of Jen Kingwell's Behind The Scenes range with Moda to use for the background.
Fast forward a few months to January, and it was now time to make this quilt. Except I hadn't been able to commit to any design ideas, there were just so many! So I sat down with the fabrics, some graph paper and pencil, and began to brainstorm, sketch and colour.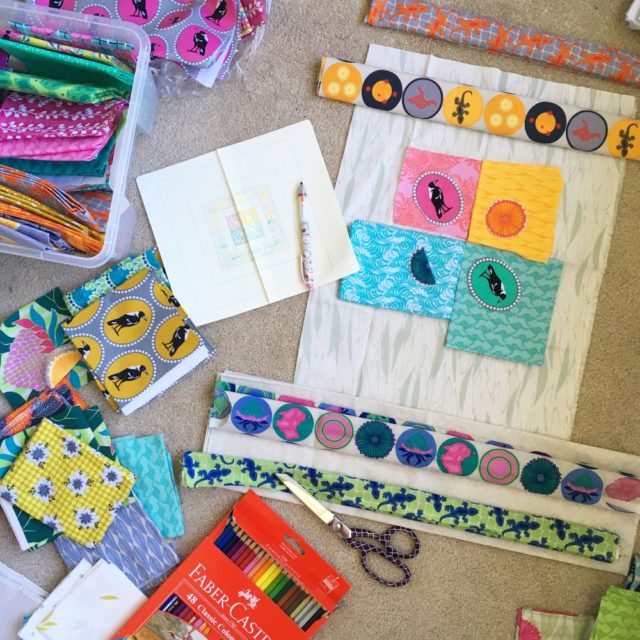 I designed the first half, and decided to make that first, and then decide what to do next once I could see how it was going. I'm glad I did, because it allowed me to see how things were balancing in terms of colours and prints and negative space! In terms of what I did, I decided to foundation paper piece the HSTs in the centre so that I could get the best accuracy that I could.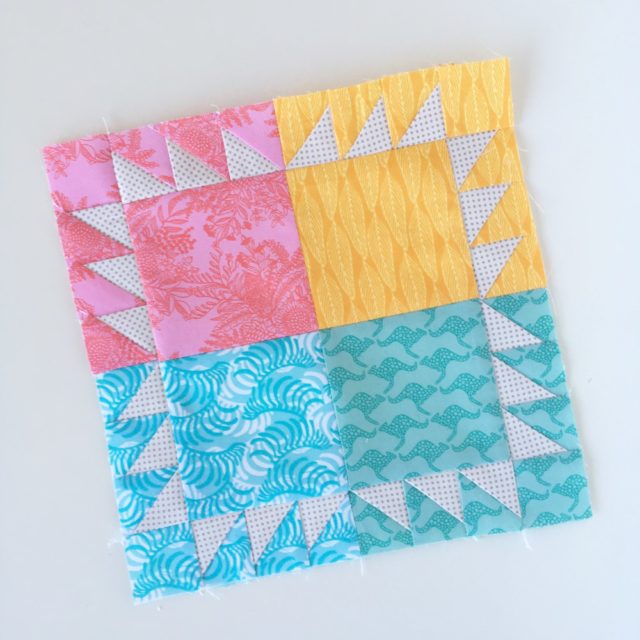 I then added some Maze And Vale gum leaves, before doing some economy squares using the circle prints (which were the perfect size!).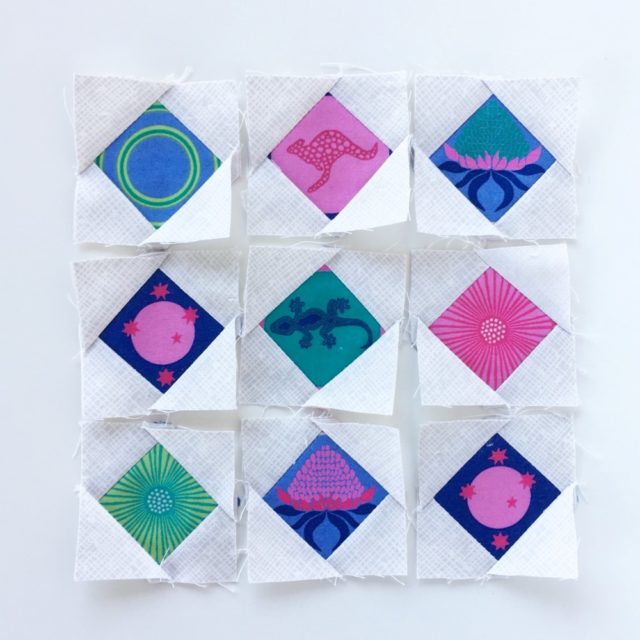 Ooh I loved it! You'll see that throughout the quilt that I have kept to a warm/cool (ish) split across the quilt, which was made obvious with the economy square border.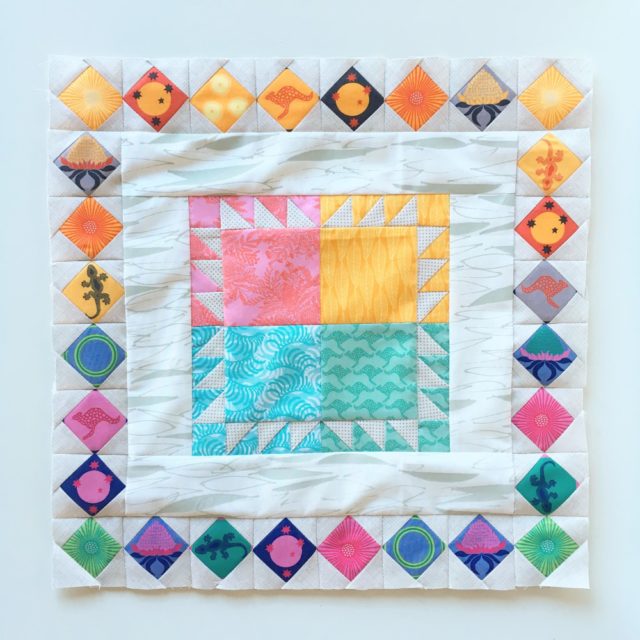 But then what to do with the adorable geckos… A full border of gecko would just be too much, too solid.
Not to mention I didn't have much of the orange one! But I settled on a way to let them shine, but still keep it modern and spacious.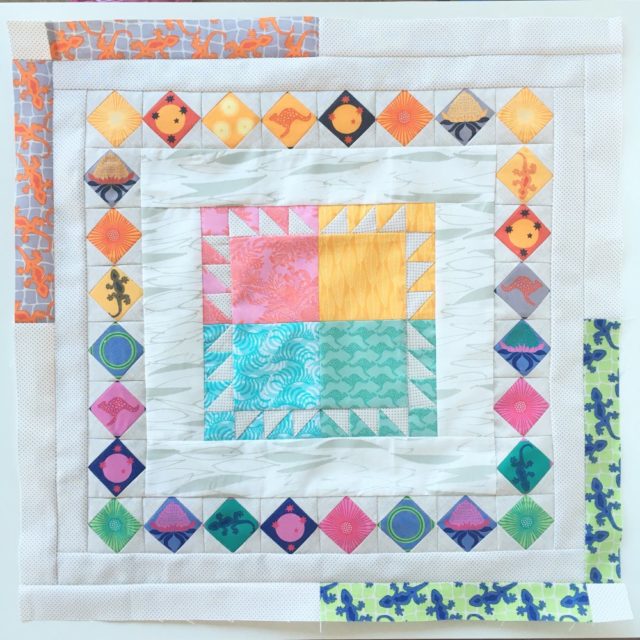 It then sat there for about a week, as I struggled to know what to do next. The quilt needed to be 36″ x 36″, and it was currently at 26″ x 26″. I decided on making some bigger HSTs, and then a border of squares that alternated EJJ prints and the other two Maze And Vale prints. But then I didn't have enough of the light grey dots or crosshatch from Behind The Scenes left to to finish off the borders. So I took myself into Amitie again (such a hard job!) and um-ed and ah-ed with a couple of friends to work out what other fabric of Jen's to get to finish it off. They encouraged me to get the darker grey dot, and I'm so glad I did. I even used it for the binding!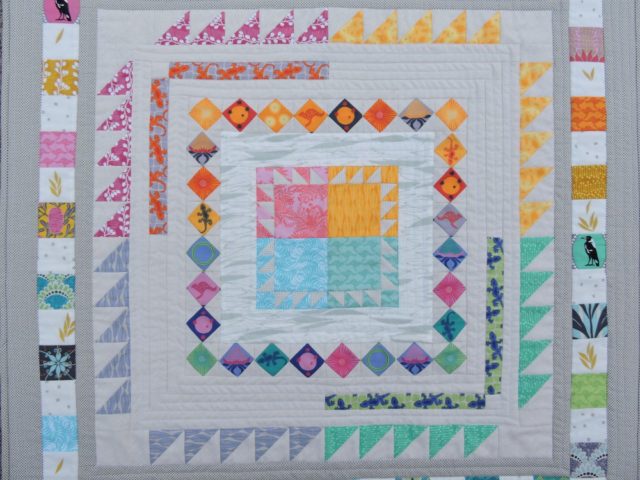 I am just so happy with this quilt! The darker borders just lifts it all to a whole new dimension. It needed to be finished to submit the appliction on Friday the 10th, and I managed to get it done before school pick up on the Thursday! Huzzah for spray basting and machine binding! I used my walking foot to ditch-stitch in each border seam, before adding some straight lines in the background borders. Simple, oh so modern 😉 and lets the border prints shine!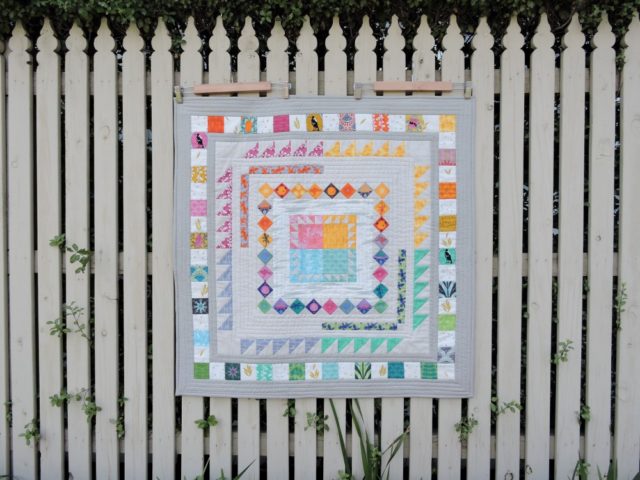 So now I wait until the 20th to see if it's been juried in to be sent in for judging (where they then select the finalists which will be hung at the show)! I won't lie, I'll be a little disappointed if it isn't juried in, but I love it so much and to be honest, am so proud of it and the creative journey it's taken me on, that it won't knock me hard.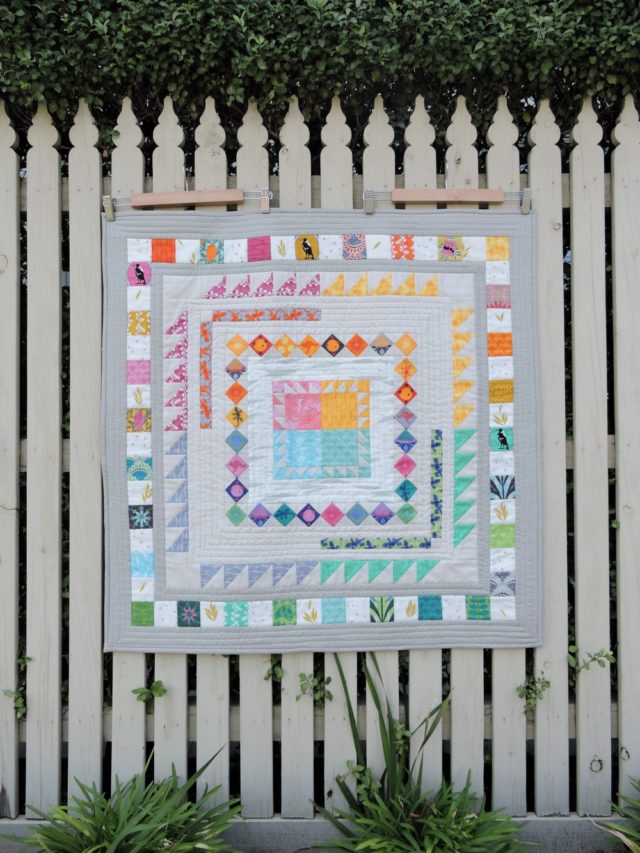 This is one huge moment in which I wish we weren't renting and were able to hang things on the wall *whimper*