Oh my goodness, what a way to end this year with all your excitement about the Milky Way Sampler. I'm so excited too! I've begun piecing my blocks already, way ahead of "schedule" because I'm that excited. Which may mean I even end up making a couple of quilts! We shall see! I wanted to make sure that I answer some repeated questions where everyone will see them. I will continue to update this post throughout the year as needed, so if you have a question, check back here and see if it's been answered.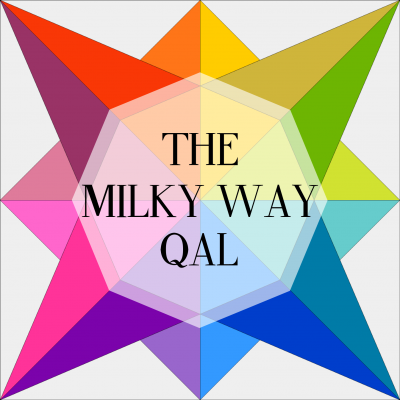 I'm in! Where do I sign up?
There's no official sign up, as I'll be blogging about each block each month. But I suggest signing up for my newsletter so that you don't miss out on those monthly block announcements. It goes out every Wednesday, and alongside a letter and other fun things, always includes the latest blog posts.
How much does it cost?
The good news is that it doesn't have to cost you anything to quilt along. If you download each month's block while it's free, then you're good to go! The only cost involved is if you decide to buy the pattern bundle, or if you miss the block during the free month and still want to make it.
What if I miss a block while it's free?
It will still be available on Craftsy, it will just be $1.95. And no, your dog eating your internet won't garner any sympathy 😉 If you're really concerned, let me just remind you that this is your quilt and you can choose which blocks and how many to use. You can make it as big or as small as you like, you could just choose a few favourites to keep an extra alert eye out for to download in time, or you may choose to make a quilt out of just one block!
I love the centre block! Will it be part of the finishing instructions?
I love that one too! It is only ever going to be a part of the pattern bundle, it won't be individually released.
How much fabric should I set aside?
Well, how much do you have, haha! It really does depend on how you want to make your's in terms of colours, etc. But for example, for the rainbow version like I'm making, you would want approximately a fat eighth for each different colour you can see. Sometimes more, sometimes less.

A colouring page would be awesome!
Oh my goodness, it really would be! I've updated the pattern bundle to include a colouring page for that version. And you can download the free monthly version with the twelve blocks right here.
If you have any further questions, please don't hesitate to ask! Either leave a comment on this post (or any other Milky Way Sampler post), or email me.
This post contains affiliate links. All that means is if you make a purchase via the link, I may get a small commission, at no extra cost to you. Thanks for your support!