It's been so much fun quilting along with you all this year, and it's been so inspiring seeing you conquer half-square triangles! So I had a good hard think about what we should conquer next, and decided upon foundation paper piecing. When you have foundation paper piecing up your sleeve, it opens a whole new world of quilting. So I'm very excited to announce that next year we'll be quilting our way through the Milky Way Sampler!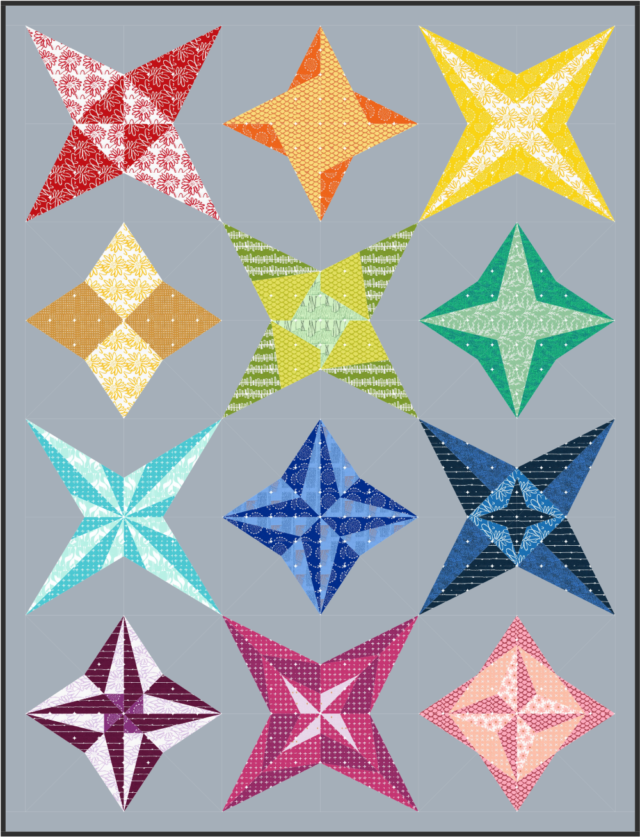 Milky Way is a paper pieced sampler, and just like with the half-square triangle blocks, we're starting with easy blocks, and working our way towards slightly more complicated blocks (but still not that complicated, I promise). They're 10″ finished blocks, although the magic of foundation paper piecing means that if you desired, you could make them smaller or larger… But that's a topic for another day.
Now, before you freak out at the idea of foundation paper piecing, let me tell you that you've got this. You truly do. If you can sew, you can do this. Why? Because you literally sew along a line on a piece of paper. It really is that simple. While I will be walking you through it step-by-step, if you're wanting to get a head start on the technique, I can very highly recommend Start Foundation Paper Piecing by Elizabeth Dackson. It's an online video class through Craftsy that I've watched myself, and even picked up a trick or two myself that's actually helped me to improve my paper pieced patterns too.
How it works
This quilt along is a little bit different from the past two years. For starters, there's 12 blocks this year (one block per month). That's a more manageable pace for us all! And clearly, the block patterns aren't a surprise. As for how to get the patterns…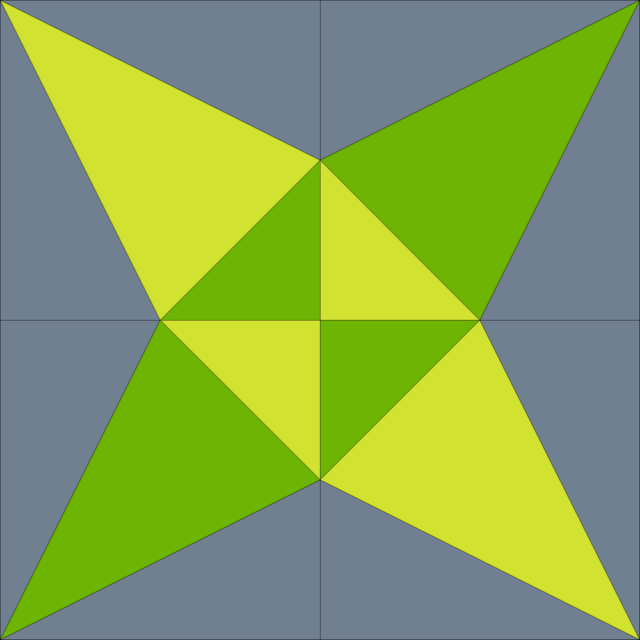 On the first of each month, I'll be sharing that month's block right here on the blog, and sharing any particular tips or tricks to remember. The month's pattern will be available to download for free from Craftsy for that month. On the first of the next month it will still be available but for a small price, and the next month's block will then be available as a free download. So you will have a whole month to download the block before it becomes a paid pattern.
Note – this will all be in my Australian timezone, which means that those who aren't as close to the international dateline as us here Down Under will need to make sure they download it well before the end of their month. On the morning of the 1st of every month according to the time here in Melbourne, I'll be changing the patterns over.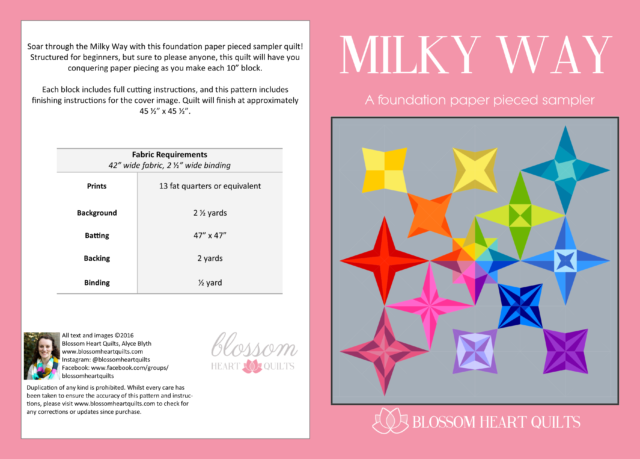 Alternatively, if you would rather have all the patterns at once, you can purchase them as a bundle right now in my Craftsy store! The bundle includes a bonus 13th block – the rainbow star in the middle. This bundle will always be available and at $9.95 that's over 60% off what buying each one individually will cost. Plus it includes the finishing instructions for this quilt top! Chock full of value!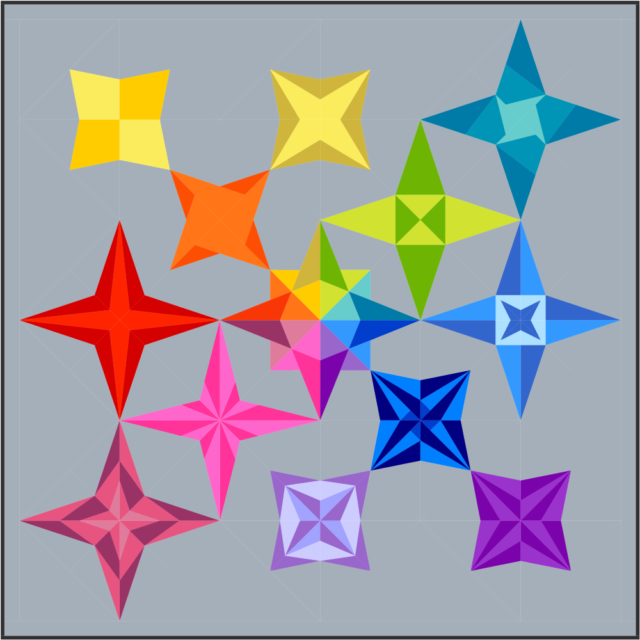 Structuring it like this simply allows me to keep running these quilt alongs. Doing a whole pattern every month (or fortnight, like this year!) is a lot of work, and this goes towards covering it. Thank you so much for your support!
Let's talk fabric
If it's not clear already, I'm planning on making mine in a rainbow, and pulling from my colour-ordered stash. Rainbow quilts aren't something I tend to make, so I'm excited to try something different! As for how much fabric you need for this quilt, well, it's tricky to say with paper piecing, as it depends on how you want to do this quilt. So I'll just say that you should have a think about how you want to approach the quilt in terms of colour (monochromatic? solids? scrappy? a line of fabric?), and make a pull of fabric that inspires you. The smallest amount fabric you'll need is a charm square, and you'll want at least 2-3 prints per block to show off your piecing. You'll also want at least 1 1/2 yards of background fabric, 2 1/2 yards if you're doing the bundle version.
Each block's pattern will include full cutting instructions. This means that I will provide the size of fabric you need to cut for each section of the pattern, and rest assured, they're a generous size so that you have some wriggle space when putting the block together.
Get involved with the community
Sharing your progress with other QALers is half the fun of doing a quilt along! If you're on Facebook, be sure to join the Blossom Heart Quilts group. On Instagram, we'll be using #MilkyWaySampler to collate all our posts, and feel free to tag me too – I'm @blossomheartquilts. And if you have a blog, then here's a button for you to use: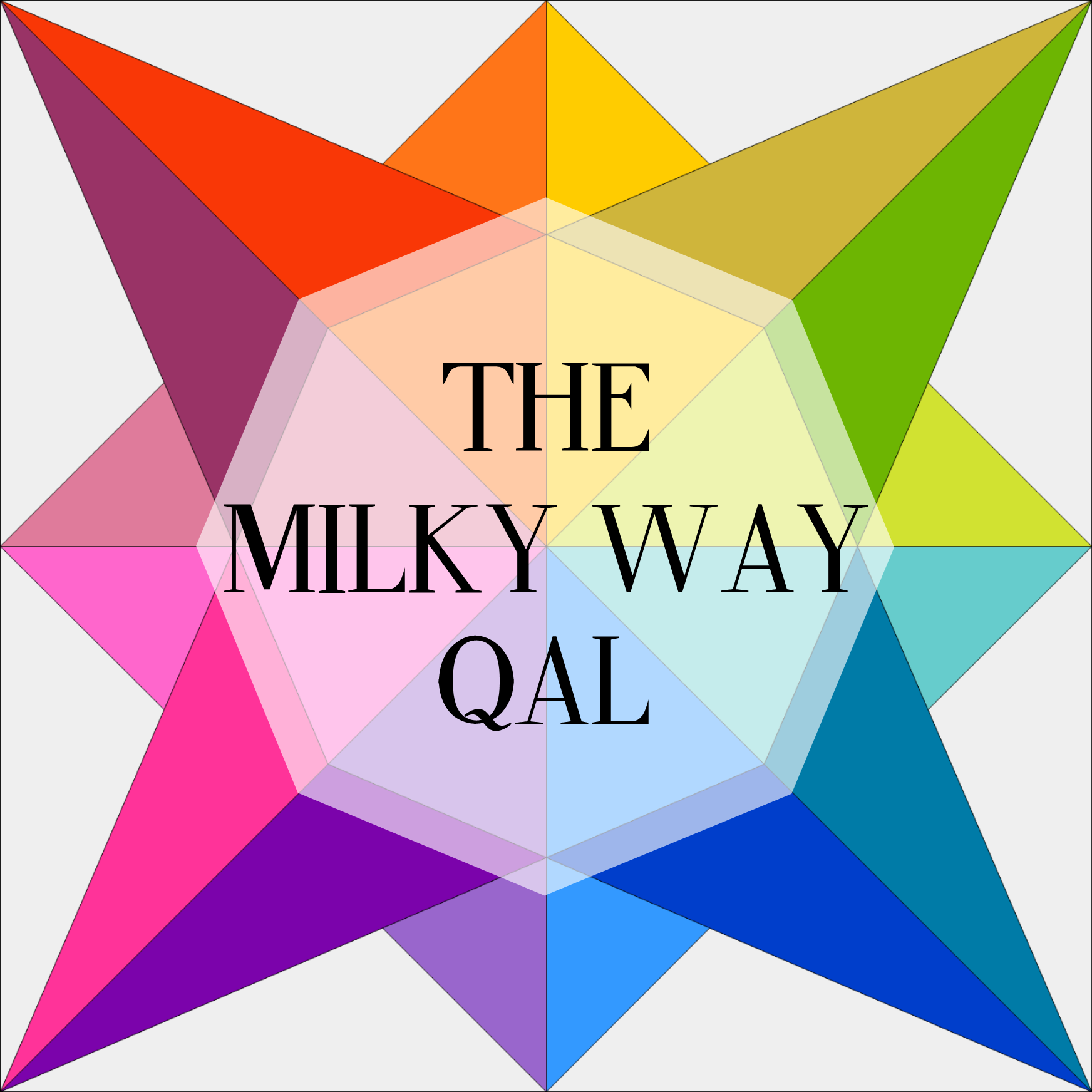 Who's excited? I know I am! First post will be going up January 1st, who's going to play along?! There is no official "sign up", you just need to be following along somewhere so that you don't miss the announcements. You can:
I'll be announcing each month in each of those places!
This post contains affiliate links. All that means is if you make a purchase via the link, I get a small commission, at no extra cost to you. Thanks for your support!