Do you ever have moments where all the quilty stars align and everything falls into place so neatly? This quilt was one such moment. You see, last year for Christmas, I gave my parents a quilt. Well, technically, the promise of a quilt by this Christmas. And technically, two quilts. I could either make one biiiig quilt for their bed, or a couple of smaller ones if they preferred. Which they did, so then it became two quilts – one larger/longer one for my mum to use in bed to cover all of her, and one smaller lap quilt for my dad.
Now, I had originally assumed that if they had chosen two smaller quilts, it would be mainly for using in the living room, and therefore in a dark blue, burgundy and golden yellow colour scheme. Easy! Fun! Go with a nice, traditional block! But oh no, this is what my mum sent me as colour inspiration: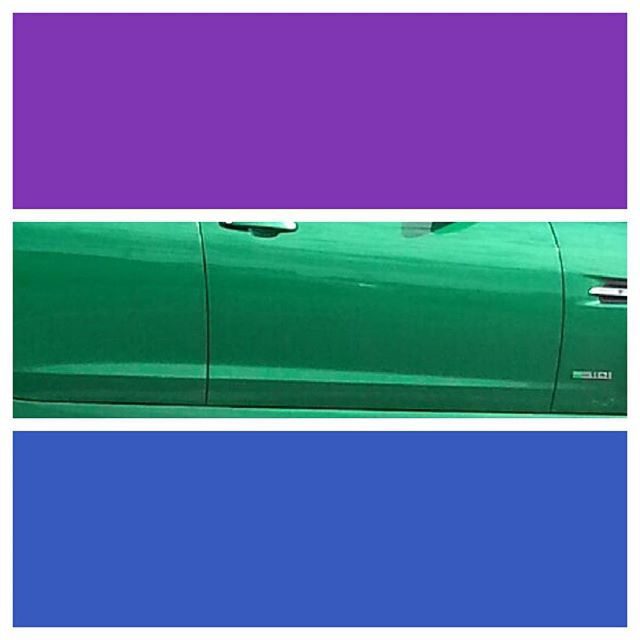 <insert my brain screeching to a halt>
If you've been quilting for a while, and consider yourself fairly knowledgeable about the range of designer fabrics available, and the colour options around, you would know that these colours are not common. At all. Bright, pure hues of purple, blue and green. Not a pinky purple, or a reddish purple, but PURPLE. Not a light blue, or a navy, and not a hint of green. And a bright emerald green, not a deep, moody teal. I was drawing blanks and put out a call on Instagram to crowdsource options, one of which was to check out Kaffe Fassett <insert facepalm moment> Of course!
But then I had a pattern-selecting freak out. Not only did my parents want matching quilts (but I didn't want to make twin designs, boring!), but I also do not know how to use such bright, multi-coloured, saturated fabrics. I know how to use lights and darks and an in-between pretty well, but such bold patterns? Together?! Thankfully, an email from Fat Quarter Shop arrived in the nick of time, asking me to be involved in their Summer Breeze quilt pattern launch. I took one look at the quilt, and knew it was perfect. A scrappy Kaffe quilt that would give the overall impression of the colours my parents wanted! So I chose a fat quarter bundle plus 5 very green and purple half-yards to make up the number of prints needed.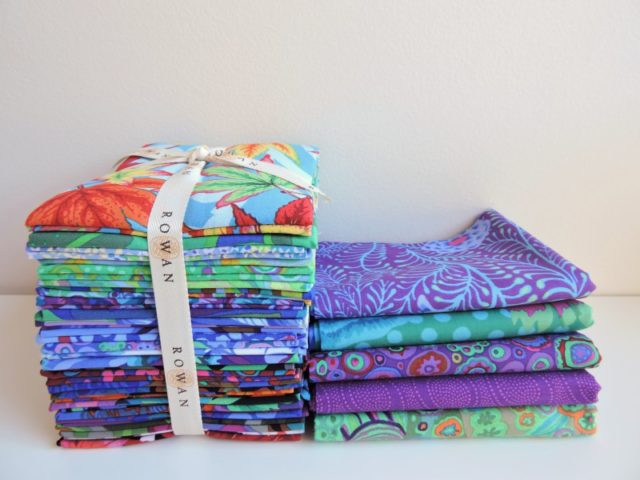 Plus, the leftover triangles would be enough to make that smaller quilt I needed. And of course using a low volume background, because I have to include some of "me" into this project! Soon enough, a box of goodies arrived with all the fabric and the Creative Grids 45 degree kaleidoscope ruler and their 8 1/2″ square ruler. And I got to cutting! Note – as I am making a second quilt from the discarded triangles, I made sure to neatly cut out every triangle to include the blunt tip at the top.
After my Little Ruby quilt, I was a little wary of how much cutting and piecing and cutting and piecing and piecing would be involved, but thankfully, it was quicker being square blocks – not as many angles to piece together! Fat Quarter Shop's video was a good help in knowing how to get the triangles to work nicely together.
When it came time to piece the units together to make the blocks, I didn't pin *gasp* (rarely do), and I found it easier to press the seams toward the background triangles, as they would then nest together neatly when I sewed two triangle sets together to make the half blocks. Likewise, I then pressed toward the background triangle in that seam, so that when I sewed the halves together, the seams nested again.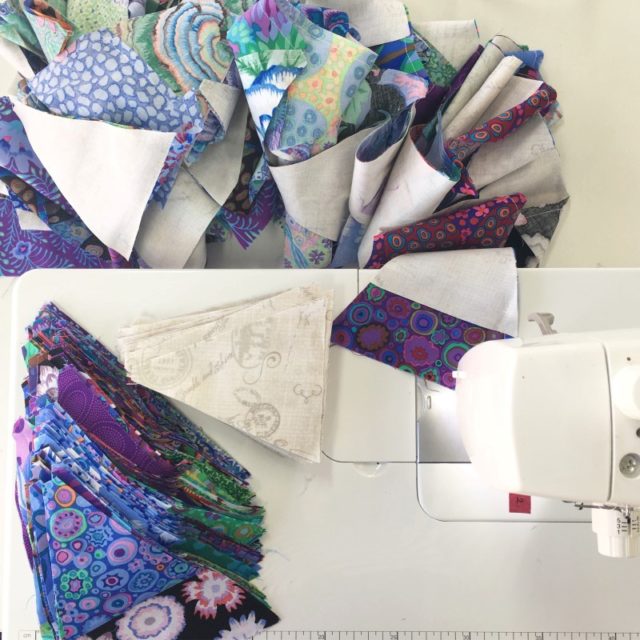 The fantastic thing about having a variety of sizes of square rulers is that when you're trimming quilt blocks, you can line up the middle of the ruler (the white circle) with the centre of the quilt block and trim around all 4 sizes in one go.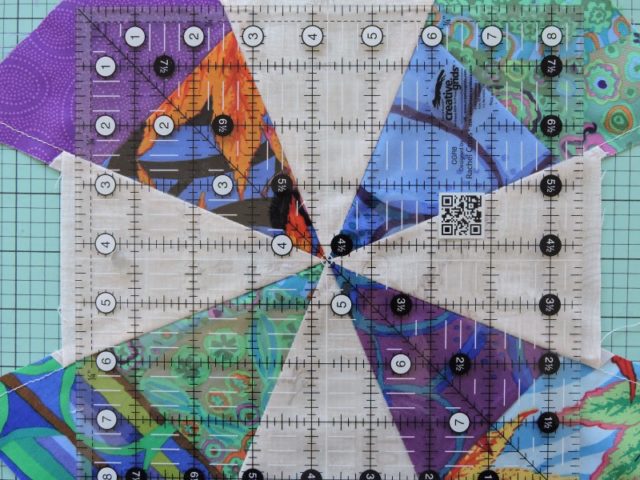 After a few episodes of Gilmore Girls (gotta rewatch them all, for the bajillionth time!), and a simple loopy all-over stippley kinda free motion thing in the magical Aurifil 2000, and we have a finished quilt! Psst – you'll have enough leftover fabric from your fat quarters to make up a scrappy binding.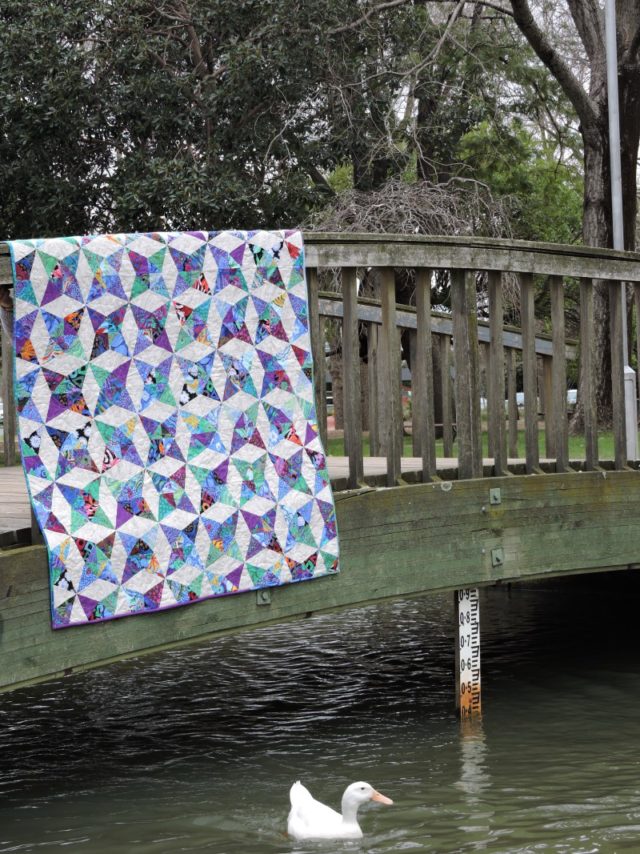 Wow, I never thought 1) I'd make a quilt from Kaffe Fasset's fabric, and 2) that I'd be so pleased with the outcome! It seems that when I take fabric of which the print design itself doesn't really tickle my fancy and then cut it all up and mix it up, it suddenly hits the spot. Don't hate me, but Anna Maria Horner is in that kind of category… most of her prints don't do it for me on their own, but cut up and patchworked together? Oh yes!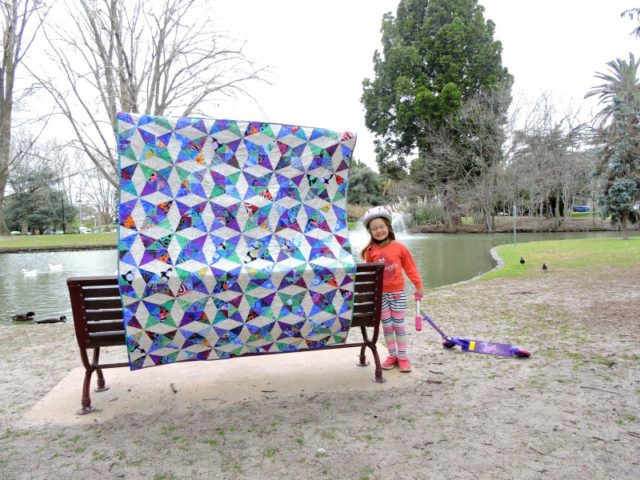 Also, did you know you can get Kaffe Fassett wideback fabric?! I didn't! Thankfully, Fat Quarter Shop sold the PERFECT print in the exact colours needed.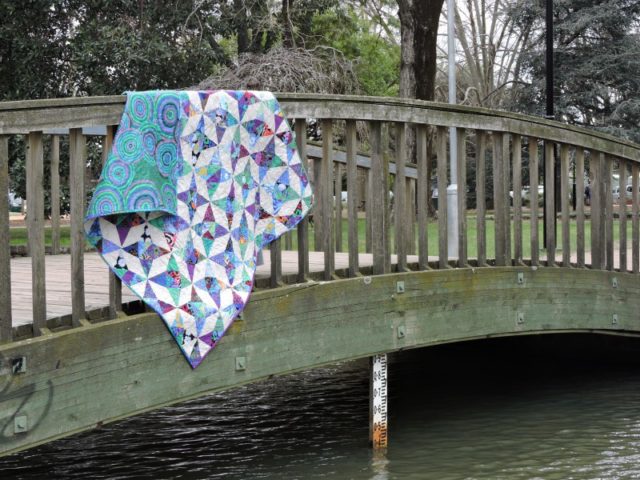 So that's the first quilt, and give me another week to finish off the second, and I shall show you the fraternal twin Summer Breeze 2.0 quilt! In the meantime, check out what everyone else came up with from the Summer Breeze quilt pattern:
Melissa from Happy Quilting
Nicole from Modern Handcraft
Sherri N. from Rebecca Mae Designs
Sherri M. from A Quilting Life
Alyce from Blossom Heart Quilts
Jessica from Quilty Habit
Leanne from She Can Quilt
Afton from Quilting Mod
Kathryn from Kathryn Jones Quilts
Stephanie from The Modern Sewciety
Fat Quarter Shop supplied me with all the fabric and rulers needed, all opinions and cut-off points are 100% mine.