Melissa is back again for the 18th block for the Modern HST Sampler QAL! If this is the first time you're reading this, fear not, you can join in at anytime. Start with this one or go back to the beginning, it's up to you. This year, we're making 24 modern half-square triangle quilt blocks, and by the end of the year, you will not only have a beautiful sampler quilt, but you will have some well-honed HST making skills. If you need more information, you can find out more about:
This quilt along has been structured so that you slowly ease your way into half-square triangles. We started off with 4″ finished HSTs (4.5″ unfinished), and then conquered 3″ finished HSTs (3.5″ unfinished). This time, we're back to making 4″ finished HSTs, but also adding in half-sized ones too that finish at 2″ (2.5″ unfinished)! We're still using the same methods of making the half-square triangles – 2 at a time, 4 at a time, and 8 at a time – but now we're making two different sizes within the same blocks.
The second block I have designed for the Modern HST Sampler is one I simply call Ribbon. Again, I simply moved HST units around my design pad until I found something I liked, and when I realised this looked like a remembrance ribbon, I loved it!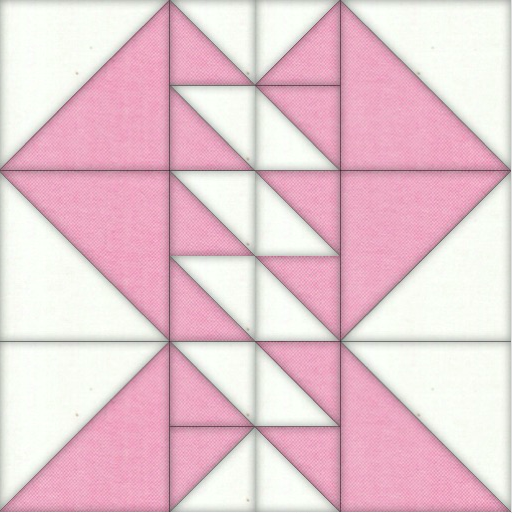 My initial thought was to make it a pink ribbon for breast cancer awareness, but when it came to actually making my block, I didn't have enough pink Carolyn Friedlander in my stash! I did, however, have plenty of yellow, and this urged me on to make it for cancer awareness (I am aware yellow ribbons can be for a variety of issues, but this one hit home). My darling friend just recently lost her Dad to liver cancer, so it certainly had some meaning. Of course, your block can be made in any colour, pattern or fabric that floats your boat! Enjoy!
Instagram | Facebook | Pinterest

Ribbon by Ms Midge
Fabric Requirements
Fabric A (yellow)
2 – 7" x 7″ squares
3 – 4.5" x 4.5" squares
Background
2 – 7" x 7″ squares
3 – 4.5" x 4.5" squares
Block should measure 12.5" x 12.5". Use a 1/4″ seam and press seams toward the darker print, or as directed.
Instructions
Step 1. Use the 7" squares to make 8 HST's (4 from each pair of squares) using the ALTERNATIVE method. Open the HSTs and press the seam towards the dark side. Trim to 4.5" square. You will only need 6 of these for the block.
Step 2. Use the 4.5" squares to make 12 HST's (4 from each pair of squares) using the ALTERNATIVE method. Open the HST's and press the seam towards the dark side. Trim to 2.5" square. You will use all 12 of these.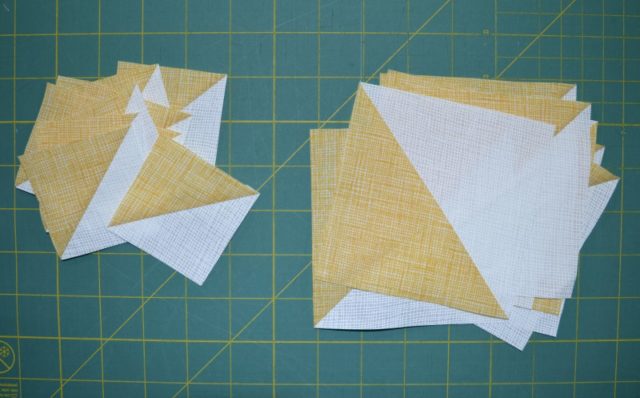 Step 3. Arrange the smaller HST units from step 2 in to three blocks of 4 HST's, which will become the centre sections of the block. These will measure 4.5" when sewn together. I nested my seams as they fell, that is, towards the square blocks. This can give your block flatter seams.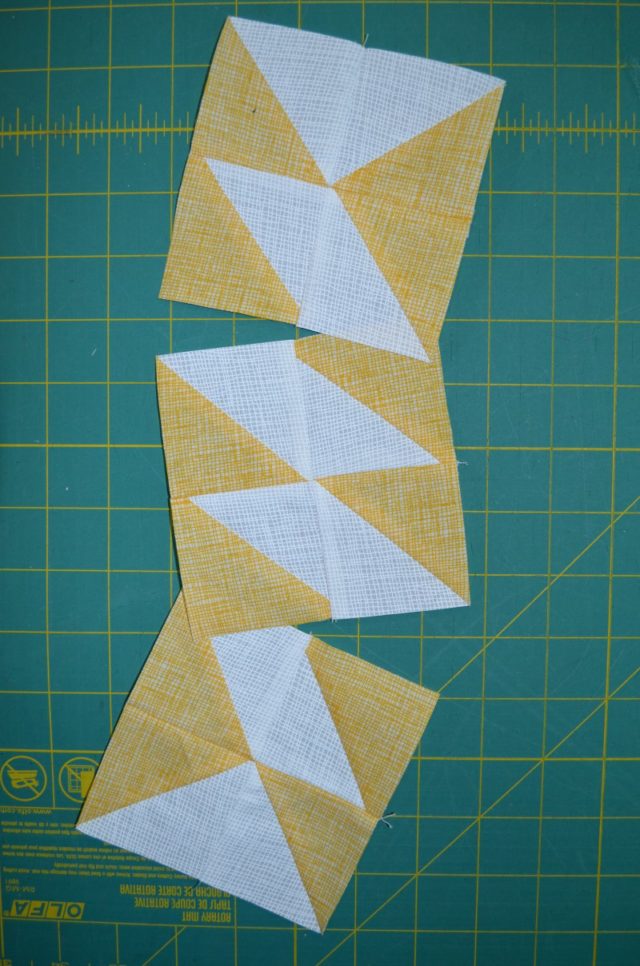 Step 4. Arrange all nine 4.5" units together to form the finished block.
Step 5. Press the block, and trim to 12.5" square if necessary, keeping 1/4″ between the outer HST points and the edge of the block.
A big thanks to Alyce for having me on board for this sampler! I have managed to keep up – somewhat – and after finishing this block, realised I had enough for a quilt top! So in the spirit of a progress report, here are all twelve of my blocks together…..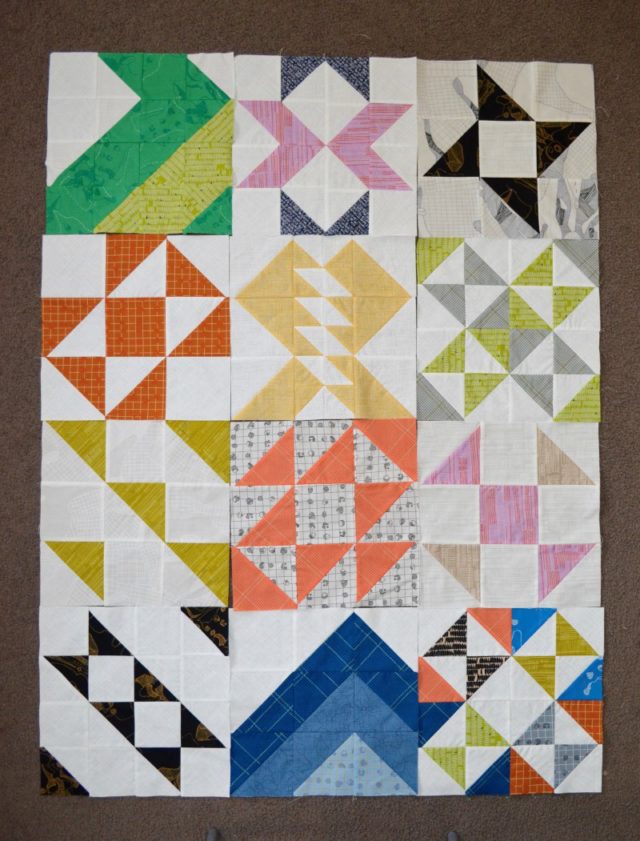 Alyce's Take
I made my ribbon pink. A very soft and light block!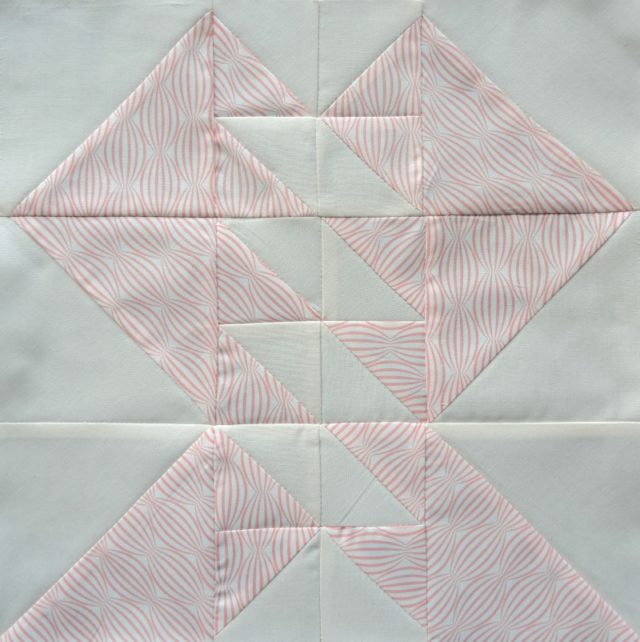 Take note to make sure you have sewn the small HSTs together in the right orientation. It's easy to get them mixed up (just ask me how I know…)!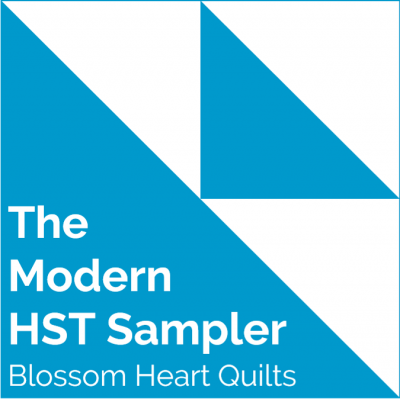 I hope you have fun making Ribbon! You can share them on Instagram using #modernHSTsampler (and feel free to tag us too – @blossomheartquilts and @msmidge), or in the Blossom Heart Quilts group on Facebook. If you have any questions, please don't hesitate to ask in the comments.
Click here for all the Modern HST Sampler quilt block tutorials